Yesterday we told you about how OnePlus plans to unveil the OnePlus 3 with the help of a VR (virtual reality) launch. It introduced the OnePlus Loop VR headset with which you can experience the unveiling of OnePlus 3 in VR. Not just that, you can also buy the OnePlus 3 from within VR.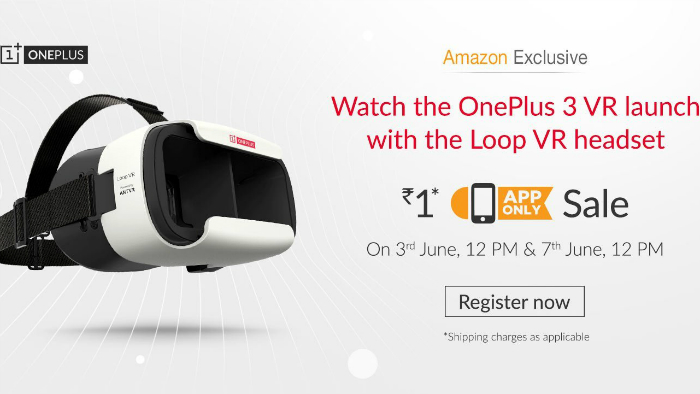 There were 30,000 units of this VR headset available for free (with shipping charges on you), and as one should expect, all of them were claimed pretty quickly and are currently out of stock. However, OnePlus fans in India are still in for some luck as the Loop VR headset will go on sale in India on June 3.
In fact, OnePlus has scheduled two sales, one on June 3 and the other on June 7. The sale will commence at 12 pm. Going by the sale registration page on Amazon India, it looks like you will be able to buy the headset for ₹1 (free, sort of) with shipping charges applicable.
As is with the VR headsets today, the Loop VR headset can turn your smartphone into a private 360-degree theater. Unlike the previous VR headsets made of cardboard, OnePlus has this time made the headset out of relatively better materials. It has been developed together with AntVR. The Loop VR provides 100-degree field of view, is compatible with 5-6 inch devices and weighs 366 grams. Head on to the source link below to register yours and be sure to read all the instructions carefully. Talking about the OnePlus 3, there's no information regarding the date when it will be unveiled, but, it's expected to launch sometime in June this year.