OPPO N1 with 13 MP swivel camera launched in India for Rs. 39999
We had information that Oppo is all set to launch its flagship Oppo N1 in India. Just as expected the company has announced the smartphone for the Indian markets.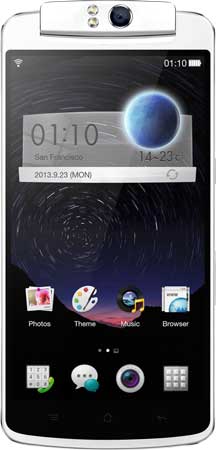 The launch of the Oppo N1, which also marks the entry of Oppo into the Indian markets. The device was launched by the company's brand ambassadors, Hrithik Roshan and Sonam Kapoor. The handset has a 5.9 inch full HD display with a massive density of 377 ppi. The phone is known for the unique swivel camera, which doubles as rear and front camera.
The OPPO N1 is powered by a 1.7 GHz quad core Snapdragon 600 processor along with 2 GB of RAM and is available in 16 GB and 32 GB options. The device has the Swivel camera which lets you rotate the 13 MP camera, which has an f/2.0 sensor along with 6 lenses stacked over one another and a dual LED flash. The phone runs on the Colors OS, which is based on Android v4.2.2.
The Oppo N1 is priced at Rs. 39999 and would be initially available only in Delhi, Mumbai, Kolkata, Chennai, Bangalore, Hyderabad, Pune, Ahmedabad, Lucknow, Chandigarh, Jaipur and Ludhiana until the company expands its distribution network to other cities.
Specs of the OPPO N1:
5.9 inch display
1920 x 1080 pixels resolution
1.7 GHz quad core Qualcomm Snapdragon 600 processor
Adreno 320 GPU
2 GB RAM
16/32 GB
13 MP rotating camera
Colors OS
3650 mAh battery