Just recently we saw Chinese phone maker Gionee launch its flagship E7 in India, following the lead, Oppo too has similar plans for the Oppo N1 and is expected to launch the device in the country at the end of January.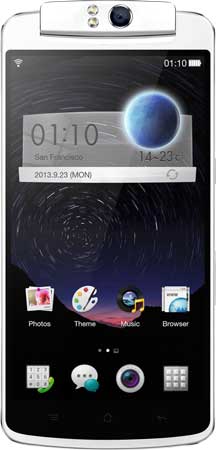 According to sources, the Oppo N1 would be launched in India on January 30 by Bollywood stars Hrithik Roshan and Sonam Kapoor, thus marking a grand entry into the country. The device has a 5.9 inch full HD display with a massive density of 377 ppi. The smartphone is powered by a 1.7 GHz quad core Snapdragon 600 processor along with 2 GB of RAM and is available in 16 GB and 32 GB options.
The Oppo N1 is known for its Swivel camera which lets you rotate the 13 MP camera. The camera has an f/2.0 sensor along with 6 lenses stacked over one another and a dual LED flash. The phone runs on the Colours OS, which is based on the Android v4.2.2. While the pricing of the device is not revealed, considering it is priced at $571, we can expect it to be priced in the Rs. 40000 range in India.
Specs of the OPPO N1:
5.9 inch display
1920 x 1080 pixels resolution
1.7 GHz quad core Qualcomm Snapdragon 600 processor
Adreno 320 GPU
2 GB RAM
16/32 GB
13 MP rotating camera
Colors OS
3650 mAh battery