To compete with existing social media networks which are trying to offer more, Path has updated both its Android and iOS mobile apps. The new updates feature a lot of improvements along with some new features.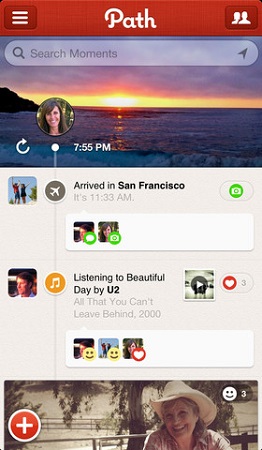 Path is a personal social network designed to help you be closer with family and friends. The updated Path 3 app makes this even simpler. The update incorporates Private Messaging thus making communication private between the users. You can add voice, location, photos, and files in the private messages.
Besides this, we've new Stickers, which can be sent back and forth thus making communication without actual words possible. While some stickers are free, the more fancy ones are paid and cost from $0.99 to $1.99.
The purchases, like stickers or upgrades, can be made in The Shop. It also offers some premium filters for the photos. Also this update makes sharing across other social networks very easy. You can post your Path moments to Facebook, Twitter, Foursquare, and Tumblr and also import your photos, statuses from Instagram and Facebook.
You can download the Path app from the Google Play Store HERE or the Apple App Store HERE.