Finally a reason to rejoice Windows Phone owners! Yesterday we saw Rovio saying that the new instalment from the Finnish makers of world-popular Angry Birds games, the Angry Birds Space will not be arriving on the Windows Phone platform and the company has taken a full 180 degree turn and goes on to say that Angry Birds Space will eventually arrive on the platform.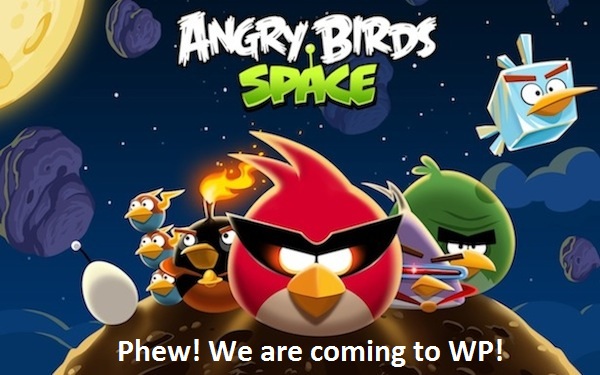 This flip-flop from Rovio's Peter Vesterbacka yesterday statement comes from Rovio Chief Executive Mikael Hed in a conversation to Reuters.
Mikael Hed said, 
"
We are working towards getting Angry Birds Space to WP7.
"
So why did Rovio take such a U-turn? No one knows actually but may be the reaction from the media from the Windows Phone lovers have made the company to take such a better decision. 
 
Peter Vesterbacka had said that the Rovio was not bringing the Angry Birds Space to Windows Phone as in order to do so they "we have to consider the cost of supplying the smaller platforms. With Windows Phone it's a lot of work to technically support it". Now this reason was definitely weird and not worth buying.
 
So Rovio decided to retaliate and announce that they will finally release the game on Windows Phone. But again they have not mentioned any timeframe or release date so for now we do have to wait for some time.