Good news has rolled in for Blackberry Playbook owners. Blackberry has posted on its blog that a new update is set to roll in for. And the best part is that it will have inbuilt Android apps!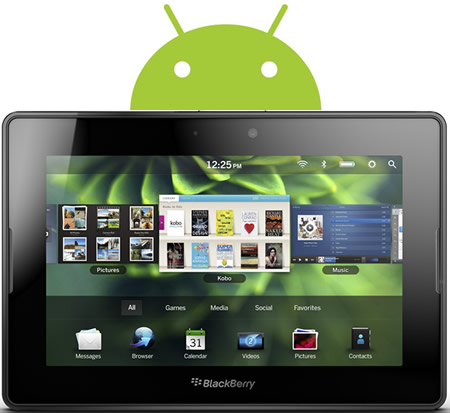 RIM, it seems is getting on full stream to make its Playbook a profitable venture. After selling Playbooks at almost half the original price, an update is one charming surprise and Android apps sound like a jackpot. RIM has even set Feb 6 as a deadline for developers to submit their Android apps for Blackberry.
By providing Android apps on its platform, Blackberry has done what many others couldn't. It has cashed on a rival's advantage and instead of competing it has actually taken it and used it for its own system. But, Blackberry has done it quite cleverly. They have asked developers to remove the word Android and all links to Android market from the app. Clever, this way they can avoid a lawsuit. What remains to be seen is how Google takes it.
So, for users the Blackberry Playbook scene gets even more interesting as now they are slated to get the best of both worlds. Playbook might be finally worth its salt, something that we haven't felt as yet.