Qualcomm has announced the Qualcomm 205 Mobile Platform today in India at an event held in New Delhi. The Qualcomm 205 Mobile Platform is an entry-level mobile chip which is specially designed to bring 4G VoLTE connectivity to feature phones.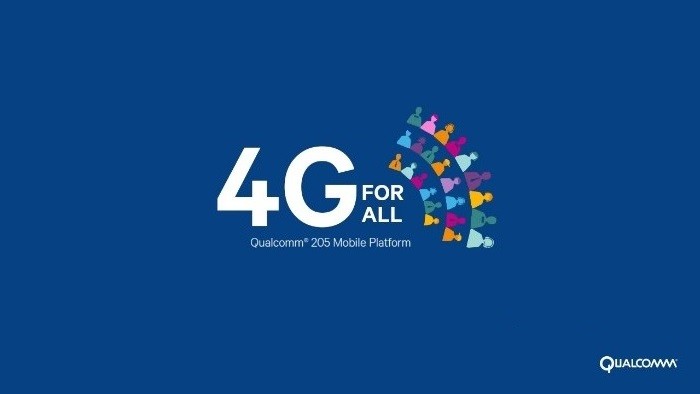 Thanks to Reliance Jio, the usage of 4G data in India has been on a rise for the past couple of months now. Jio's cheap plans have resulted in other telecom operators reducing the price of their 4G data plans as well. This has helped more people get on the 4G network than before. Right now, people can only consume 4G data on their smartphones, however, with Qualcomm's 205 Mobile Platform, OEMs will be able to manufacture cheap feature phones which will come with support for 4G VoLTE.
Cheaper feature phones with support for 4G VoLTE means more and more people will be able to get on the 4G network without having to shell out more money to buy a 4G enabled smartphone. The Qualcomm 205 not only supports 4G VoLTE, but, it also supports VoWi-FI (Voice over Wi-Fi) services as well. This chipset would help OEMs manufacture cheap feature phones with 4G VoLTE connectivity for the people in emerging markets like India, Latin America and Southeast Asia.
"India and the South East Asia regions present growth opportunities in the telecom space with 4G adoption rising and continued adoption of feature phones. The launch of Qualcomm 205 Mobile Platform presents a unique opportunity for OEMs, operators and content providers to extend superior experiences to users by enabling data on feature phones. A greater percentage of the population will now have access to data and services at speeds that help dramatically improve user experience." said Jim Cathey, Senior Vice President and President, Asia Pacific and India, Qualcomm Technologies Inc.
"Qualcomm Technologies is committed to the migration of users and networks from 2G, 2.5G, and 3G to 4G. Feature phones are a lifeline in many emerging countries and the Qualcomm 205 Mobile Platform allows us to bring 4G connectivity and services to the masses with devices at price points never seen before." said Kedar Kondap, Vice President, Product Management, Qualcomm Technologies, Inc.
Key Features of Qualcomm 205 Mobile Platform:
LTE Cat 4 modem with up to 150 Mbps download, 50 Mbps upload
Support for 4G, 3G and 2G networks
Support for 802.11 b/g/n, Bluetooth 4.1, ANT+, FM radio
Dual Core CPU at 1.1 GHz
Qualcomm Adreno GPU
3 MP rear camera
3 MP selfie camera
VGA display at 480p and 60 frames/second
HD Video streaming
Support for Linux based OS
Support for dual SIMs
Pin-compatible with Qualcomm Snapdragon 210/212
Qualcomm has partnered with Reliance Jio, Micromax, TCL, Borqs, CKT, Flex, FIH/Megafone, HiPad, Huiye, LYF, TSM, Viroyal and Uniscope, hence, we hope to see more feature phones like the Lava 4G Connect M1 to be launched in the coming days with support for 4G VoLTE.