Today we have so many gadgets and they are replacing the need for magazines and newspapers thanks to various apps. Take for instance the Zinio app for the BlackBerry PlayBook.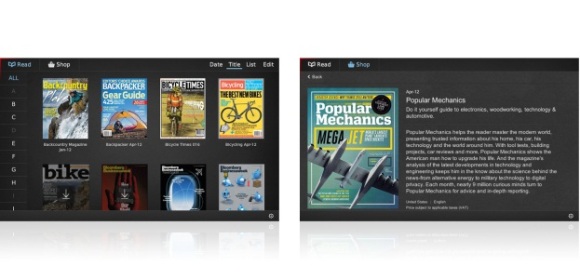 The app, which is available for PlayBook OS 2.0 users, is a premium magazine app which gives readers access to thousands of global titles. The viewer can also read and download single issues or subscriptions their favourite magazines and sync his/her library to their home computer, smart phone and tablet.

This application offers trending topics and stories from magazines like Rolling Stone, The Economist, Hello!, US Weekly, T3, Macworld, Travel + Leisure and many more. The app provides users with access over 5,000 magazines on the go in 33 different languages.
Sync your library instantly to your other mobile devices or your home computer

Over 5,000 magazines to choose from in 33 different language titles from Top Publishers

Access to your magazines on the go from a BlackBerry PlayBook

Read while online or download your favorite issues for easy offline access

Read magazines with rich color and imagery

Thousands of top magazines from the world's largest newsstand

Full subscriptions or single issues available so you can choose what you want
There is also a limited offer for users, if they download the app and register it, they will be eligible to receive two free magazines (Elle and Esquire). These magazines will be offered globally upon launch.