Ignorance is your new best friend! Well, have you ever wanted to read WhatsApp messages but don't want to reply them for some reasons? These pesky blue ticks always get you when you open WhatsApp to read the messages. "So, what can be done? How do I read WhatsApp messages secretly without blue ticks." There is a cool trick which lets you read WhatsApp messages without being detected even if the blue ticks are turned on in your WhatsApp privacy settings. Your friends will never know that you have read their messages.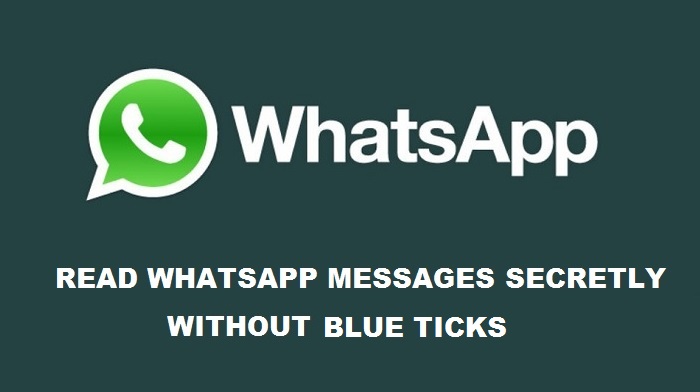 You already heard many people saying to turn off the Wi-Fi or keeping your phone in Airplane mode will save you from detecting your WhatsApp message status by blue ticks, but certainly the ticks will appear blue as soon as you connect to the internet. Also, disabling the blue ticks from the privacy settings isn't much worthy. But what I have here is something that will blow away your mind when you got to know it.
Your friends are too desperate to check the messages being read by you because these blue ticks are a huge pain in the butt as they appear right after you read their messages. If you want to read WhatsApp messages without the blue ticks, then follow our guide below
How to read WhatsApp messages secretly without blue ticks
No need to put your phone in offline mode to read the WhatsApp messages, you can read them safely. There are two tricks to read WhatsApp messages secretly without getting the blue ticks.
WhatsApp Trick 1: Using the WhatsApp widget
Use the WhatsApp widget available on your phone. On the homescreen, access the widget menu, find the WhatsApp widget and add it on the homescreen. The widget will show all the text messages in a scrollable window.
Note: You can't see images, videos and can't reply to anyone with WhatsApp widget.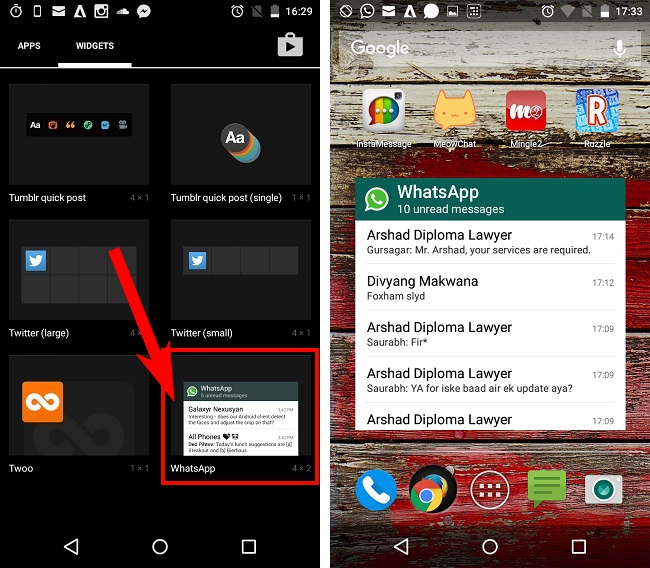 WhatsApp Trick 2: Using an Android app
There is an app available on Google Play Store named Shh WhatsApp Incognito (a.k.a Shh ? No Last Seen or Read) that lets you read WhatsApp messages secretly without blue ticks.
Step 1: Download and install WhatsApp Incognito.
Step 2: Open it and give accessibility permissions to the app. It requires accessing the WhatsApp notifications for reading the messages.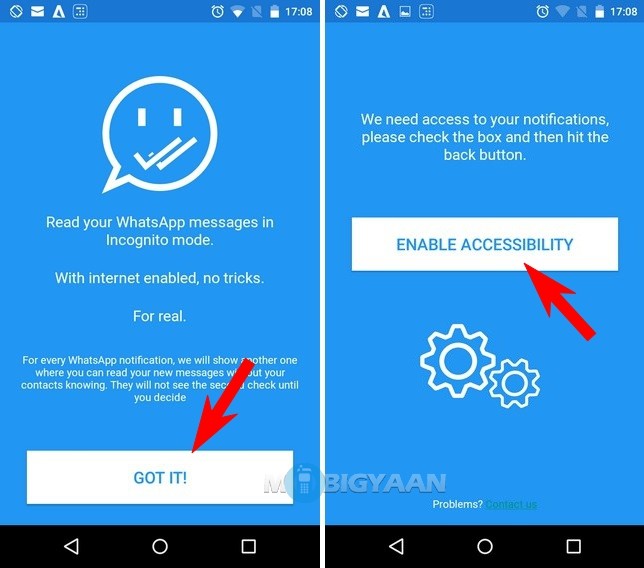 Step 3: Tick the box you see on the right side on the Shh – WhatsApp Incognito app to enable it for notification access. Hit OK.
Tap back button to return to the app.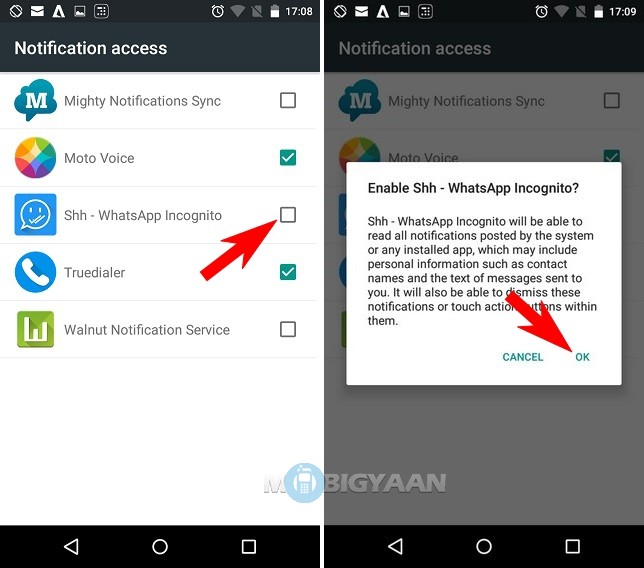 Step 4: The last thing you have to do is to let the app show you messages about which type of messages. It can be personal messages or groups messages or both of them. Choose the one you want, I have chosen 'users and groups' so that I can read group as well as personal messages. Tap OK, LETS GO!.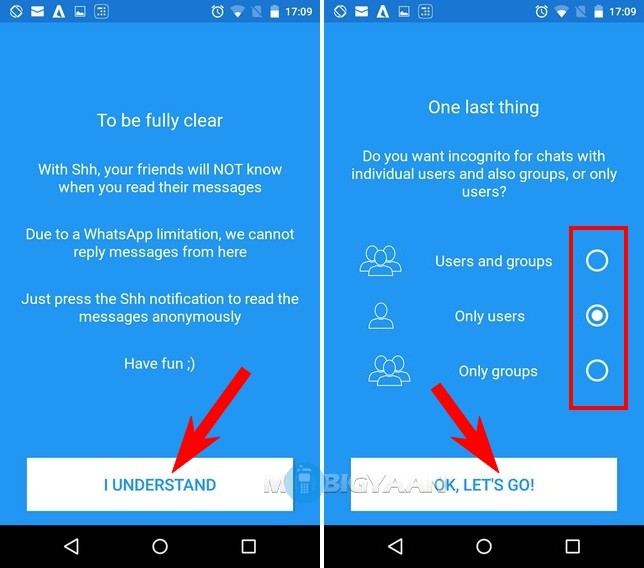 Step 5: Now wait for someone to message you on WhatsApp. Once you get a message, you will be notified by the app externally. The messages you get will be on WhatsApp as well as on the newly installed app 'Shh – WhatsApp Incognito'.
It's something like a sandbox that brings all your WhatsApp messages to a place and you can read them safely.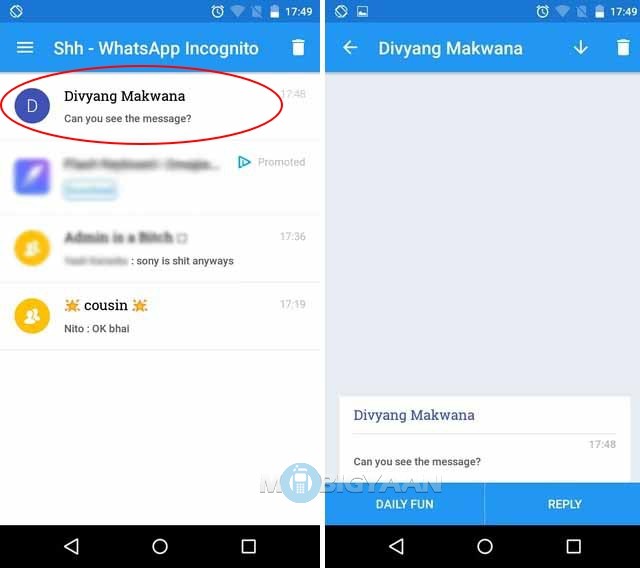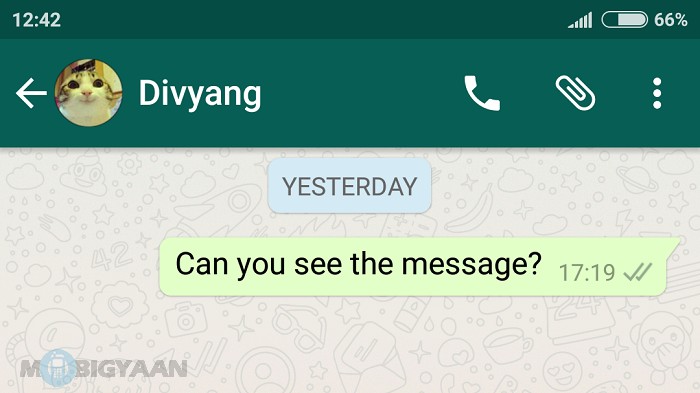 The only downside of this app is you can't see images and reply to that messages due to WhatsApp limitations.
Isn't it cool? No blue ticks when you read the messages. The good thing is your last seen status will be hidden with this trick.
Check your friends' last seen WhatsApp status even if it's kept hidden.
Share this amazing trick to your friends using the social buttons provided. If you like this guide, then you will also like more such type of guides on our How-To Guides.