Reliance Communication has launched a new postpaid plan which is called the All Share 499 plan which is in other terms is a family plan and entitles members of a family to share Voice, Data and SMS with up to 10 members and only as a single bill.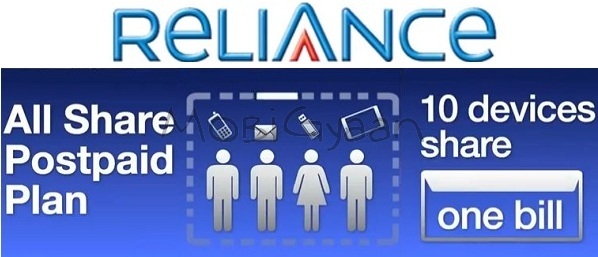 Each user under this All Share plan entitles to get 1000 Local & National Minutes, 1000 Local & National SMS, and 1GB Data usage.
The unique thing about this plan is that if there are say 4 users under this plan, the combined free usage that Reliance would allow is 4000 Local & National Minutes, 4000 Local & National SMS and 4 GB of data usage (1000×4). So for all this usage, Reliance will only send a bill of Rs. 1996 (taxes extra) at the end of every month.

But out of the 4000 minutes of calls, it doesn't matter if Person A uses 800 minutes, Person B uses 1500 minutes, Person C uses 500 minutes and Person C uses 1200 minutes as it is all combined and Reliance will only consider the limit of 4000 minutes. Reliance will charge for extra if the combined usage exceeds 4000 minutes.

The same applies to SMS usage and Data usage. The Data usage will be 2G or 3G depending upon the circle and availability. In case if the connections are on the CDMA network, then EVDO usage up to speed 3.1Mbps will be provided by Reliance.

There are a few conditions under this plan and they are as follows:
Minimum 3 Mobile connections in the same account are required for this plan in order to have Pooling benefit else Pooling benefits will be withdrawn

For Blackberry users, existing BlackBerry data plan charges will apply additionally
Check out more details of the All Share 499 plan below.