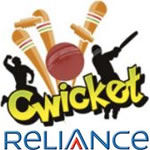 Reliance Communications has introduced a new VAS 'Cwicket', a multi-lingual and fully featured voice based mobile cricket game. In order to play the game, Reliance users have to call and subscribe at 505101065. Cwicket features audio based matches in the India Ka Public league. Once the user's mobile number has been registered, they can choose one from 10 different teams – Kolkata Kite Flyers, Bangalore Techies and Chennai Super Annas to name a few.
A user is allowed to choose to play the game in either English or Hindi. The commentary is pivotal as users need to listen to the commentary and decide the shot he wants to play. 1000 points are awarded for every game played, 400 extra for a win and 100 each for every six or wicket. The points can be redeemed to enter virtual tournaments, power plays, real prizes and custom bats and balls. To activate the service you need to dial 505101065, charges are Rs 15 for 15 days.
Personally I would not like to play it, but there are many Cricket Crazy people (Dont mean to offend anyone) who might give it a shot. So what about you, will you be playing Cwicket on Reliance Mobile.