Reliance Communications launches 'Socially' Application on RWorld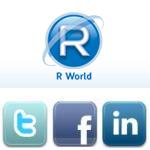 Reliance Communications has launched a new VAS application – 'Socially', made available through its data portal RWorld. The new application is designed to enable users to follow the recent activity of friends and to update their status on different social networks like Facebook, Twitter and LinkedIn through a single client.  

Socially also shows up-to-date social information of the caller during an incoming call and collates significant events across social networks and pushes them as alerts on select smartphones supporting the application, enabling users to have better conversations.

Mr. Krishna Durbha, Head – VAS, Reliance Communications, said, "An address book is at the core of mobile usage. In it a user stores all the critical people he or she networks with, of which one application is making voice calls & SMS. Now with this service, Reliance Communications has empowered its consumers and made the phone address book far more powerful & linked it to social networking sites like Facebook, Twitter & LinkedIn. In future, the use will also be extended to video calls & other cool enablers for a person's social network."

RCom claims that this application is extremely secure and brings a host of other interesting features such as alerts of friends' activities on the idle phone screen.

Socially is downloadable from RWorld and users can subscribe to the service @ Rs. 10 / 30 days without having to pay any additional browsing charges.