Watch IPL on your mobile, courtesy July Systems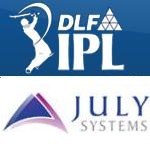 I recently wrote an article informing you about – How you can watch IPL 2010 on mobile by accessing youtube. Here is another way to watch IPL matches on your mobile phones.
The Indian Premier League (IPL) and its licensing partner Global Cricket Ventures (GCV) partnered with July Systems, to launch an IPL mobile internet service, specifically designed for the Indian market. Almost every Indian with an internet enabled mobile phone, across income groups, educational backgrounds, handset types or networks, will for the first time have access to live ball-by-ball video updates, action replays, video score cards and much more. Users can access this service from their mobile phone by calling the MiX toll-free number 08 123 123 123 or by accessing m.iplt20.com.

During the television broadcast of the IPL, the phone number 08123123123 will be displayed on the TV screens. The IPL service is initiated by calling this simple toll free phone number, which results in a SMS being sent to the user, with the link to the IPL mobile internet service. Users click on this link to watch real-time video clips IPL videos on their mobile phone. The service has been designed to deliver international quality video experiences optimized for low bandwidth networks and for the vast array of handsets that are available in the Indian market.

What does this Partnership offers to various group?

For consumers: The service has been designed for the common man who may not have accessed the internet ever before. The consumers may not be aware of typing out URLs or navigating pages in a browser. A simple phone call is all that is required to get started.

Freemium, a combination of free and premium content, based pricing makes the service affordable to all users. A significant part of the IPL service including video content has been provided for free – subsidized by advertising. While certain premium sections are available on payment of fees.

For Advertisers : With over 120 million mobile internet subscribers ( TRAI –Jan 2010 ) advertisers now have an immersive advertising platform to engage directly with a large audience pool. The mobile internet is also inherently more measureable providing good ROI for advertisers

For Handsets OEMs : A rich media service like the IPL is a great reason for users to purchase mobile internet and video enabled mobile phones. Handset manufacturers can look forward to growth in their sales driven by such services.