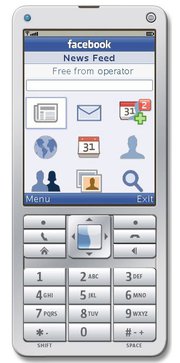 Reliance Communications and Facebook today announced the launch of a new Facebook app for Java-powered feature phones which will be available exclusively  for Reliance subscribers in India for a period of 3 months. Reliance is providing a special promotional offer where all users can enjoy this app free for three months without incurring any data charges.
The Facebook mobile app is compatible with over 2500 mobile phones. The application is aimed at providing a better user experience to every mobile user. Facebook has worked closely with Snaptu to bring out this application. The application provided a better Facebook experience for the most popular features, including an easier-to-navigate home screen, contact synchronization, and fast scrolling of photos and friend updates.
The new Facebook app is optimized to use as little data as possible.The app will be available for Reliance Communications customers to download without incurring any data charges from RWorld on their Reliance phones. (http://wap.rworld.co.in)
Features of this app includes :
Viewing photos from your mobile phone

Synchronizing your local address book contacts with your Facebook friends

Facebook login to third party services within the app, such as news, sports, games, and weather
"This agreement between Reliance Communications and Facebook will unleash the real power of Social Networking in India. This tie-up will enable anytime anywhere access to Facebook from almost every popular handset model currently available in India", said Prashant Gokarn, 3G Business Head, Reliance Communications. "Our mobile network spanning 24000 towns and 6 Lakh villages serving 97% of Indian population will also promote access to popular social networking platforms across the length and breadth of the country", he added.
"We are always looking to work with innovative operators on ways to enable people to easily access Facebook wherever they are," said Henri Moissinac, Head of Mobile Business, Facebook. "Through our collaboration with Reliance Communications, we're thrilled to offer yet another way for people to stay connected with their friends and family through Facebook and bring a high quality and high speed mobile app experience to feature phones in an affordable way."