MNP Wars : Reliance losing the MNP Battle (Complete details of MNP : January 2011)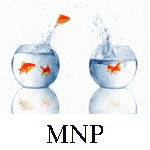 We recently published an article mentioning that Vodafone is leading the MNP battle. Today, we are sharing statistics of who is loosing and who is winning the MNP war. To begin with, as we mentioned in our earlier article, Vadafone is currently on Top of MNP Charts and Reliance Communications is at the bottom. Surprisingly newly launched operators- Uninor and Videocon have been able get 5th and 6th spot.
Here are the complete details.

The subscriber data is as on 31st January 2011