Last week, we heard about Ookla crowning Airtel as India's fastest mobile network for 2016. At that time Airtel was also the fastest 4G network in India according to TRAI. However, the latest data coming in from TRAI's MySpeed Portal puts Reliance Jio at the top spot when it comes to download speeds on a 4G network.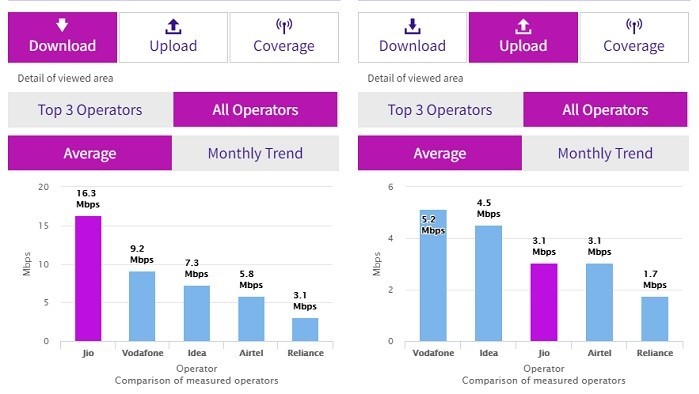 According to TRAI's MySpeed Portal, Reliance Jio had the fastest 4G download speed for the month of February 2017, having an average of 16.3 Mbps. Following Jio is Vodafone with an average download speed of 9.2 Mbps, Idea at 7.3 Mbps, Airtel at 5.8 Mbps and Rcom at 3.1 Mbps. These are all average download speeds that users get in India on 4G network.
While Reliance Jio is leading the group when it comes to download speeds, it falls back to the third spot when we talk about the upload speeds. Here, Vodafone has got the fastest average upload speed at 5.2 Mbps which is then followed by Idea at 4.5 Mbps, Reliance Jio and Airtel at 3.1 Mbps and Rcom at 1.7 Mbps.
If these download and upload speeds don't match your experience on 4G network and are wondering how TRAI came up with this data, the regulatory authority says that "The results represent the average of the data speed samples collected from various consumers of the TSPs on a crowd sourcing basis during speed test initiated by them over the last 3 months and the monthly trends are updated on the 1st of every month".
You can head on to TRAI's MySpeed Portal to check out your area's coverage and upload/download speeds on various 3G and 4G networks of a telecom operator. Besides, you can also download the iOS or Android app on your smartphone if you want.
By the way, do you get these upload/download speeds on your telecom operator's 4G network?