In an effort to provide connectivity and diversity to the Indian subscribers, Reliance Jio Infocomm Limited has joined the consortium for the establishment of the Bay of Bengal Gateway (BBG) submarine cable system.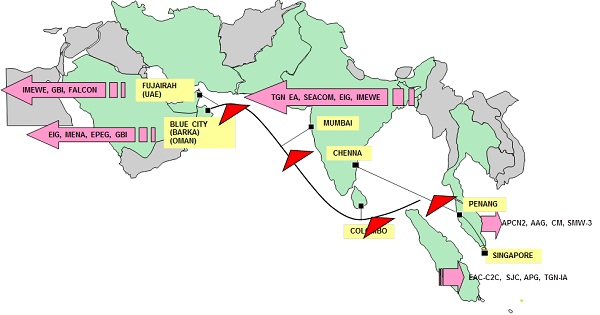 The Bay of Bengal Gateway (BBG) submarine cable system has been collaboratively established by the participating consortium members – Telekom Malaysia Berhad (TM) (Malaysia), Vodafone Group (UK), Omantel (Oman), Etisalat (UAE), Reliance Jio Infocomm Limited (India) and Dialog Axiata (Sri Lanka). The members of the consortium signed the Construction and Maintenance Agreement (C&MA) and the Supply Contract for BBG in Kuala Lumpur today.
As per the agreement, The BBG submarine cable system, spanning approximately 8,000 km, will link Malaysia (through Penang) and Singapore to the Middle East (Oman and United Arab Emirates) with connections reaching out to India (Mumbai and Chennai) and Sri Lanka. The BBG submarine cable system will not only provide connectivity between South East Asia, South Asia and the Middle East, but also to Europe, Africa and to the Far East Asia through inter-connections with other existing and newly built cable systems landing in India, the Middle East and the Far East Asia.
The construction of the cable system, which is a clear indication of the growing demand for bandwidth at the member countries, will also serve as an extraordinary opportunity for business growth as it will help supporting current and future high capacity requirements from the surrounding areas of the region as well as next generation Internet applications. The BBG cable system would be adopting the state-of-the-art 100Gbps technology, which provide upgradable and transmission facilities. The cable is expected to be ready by the end of 2014.