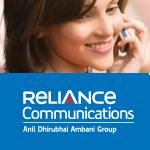 Reliance Communications has introduced two "Festive Dhamaka" offers for its GSM & CDMA subscribers to add to the joy of subscribers during the ongoing festive season. During this festive month – between 1st and 30th November new subscribers will get free calling benefits to any Local Reliance Mobile between 11:00 p.m. and 6:00 a.m. The offer will be valid for a month.
Existing subscribers get Rs. 52 talk time+ extra 52 minutes with recharge of Rs 52, Rs. 121 talk time+ extra 121 minutes with recharge of Rs 121 and Rs. 301 talk time+ extra 301 minutes with recharge of Rs 251. Free minutes can be used for any local call throughout the day. These products have 3, 7, 15 days validity respectively. The new Festive Dhamaka offer is available for all Reliance subscribers (GSM & CDMA) across all plans.
The offer is available through e-recharge in all retails outlets serving Reliance GSM & CDMA customers including the company's retail outlets of Reliance Mobile Stores and Reliance World outlets across India.