BSNL offers free trial unlimited data pack to Blackberry users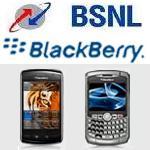 Internet on Blackberry devices has never been truly affordable for the masses. There has been a huge drop in Blackberry internet charges in past 2-3 months and providers are still trying to woo customers with attractive offers just for subscribers to get started with the Blackberry internet services. BSNL has come up with an offer which will allow all Blackberry users to try unlimited 2G data plan (priced at Rs. 399) free of cost for one month. This promotional offer will be available to only those BSNL customers who have Blackberry handsets but not activated Blackberry plan by upto 15.11.2010.
The unlimited free trial offer will end on 14.12.2010.