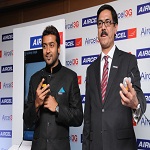 Aircel becomes the first telecom service provider to Launch 3G experience zone in Chennai for the consumers to get a feel of third generation mobile telephony. Aircel is now present in all 23 telecom circles. With a subscriber base of over 47 million, Aircel, is the fifth largest service provider.
Mr. Gurdeep Singh, Chief Operating Officer, Aircel said, "At Aircel we have always had a clear focus on the future and have diligently been the first to introduce, products and services that address relevant needs of the consumers be it the Aircel Pocket Internet, Aircel Pocket Apps store and the Aircel Apollo Mobile Health Care. It has been our constant and consistent endeavor to offer our consumers best in class on the Mobile anytime anywhere. The launch of 3G experience zones in Chennai is a step towards the same as it would equip our consumers and provide them first hands on experience on 3G services and open to them a world of possibilities."
There will be four Aircel 3G experience zones spread across Chennai (Atrium2, Spencers Plaza; Fun City, Express Avenue; Atrium Citi Centre & Aircel Store PH road ) for the consumers to access and get to know what 3G is and what it can do for you. The consumers can walk in and they will be taken through the services available such as the Aircel IVVR (Interactive Video Voice Response), Aircel 3G PocketInternet portal and Video calls.
These services address all segments be it the youth, a housewife, a professional or a senior citizen. There is something for all which 3G addresses, with a 3G phone and access to the 3G network at the Aircel experience zone you can make peer to peer video calls; access the vibrant, colorful Aircel 3G PocketInternet portal with easy access to news, sports etc. ; and through the Aircel IVVR watch your favorite movie songs or  dialogues of your favorite stars for e.g. Rajinikanth, Suriya, Vijay etc.  At Aircel we shrink the world for you with a promise to offer you a world of possibilities anytime, anywhere.