Vodafone offers discounted roaming rates to subscribers travelling for hajj pilgrimage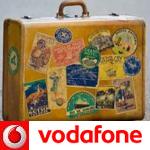 Vodafone Essar, recently announced discounted roaming rates for its prepaid and postpaid subscribers travelling to Mecca for the annual hajj pilgrimage. Vodafone is the first telecom operator to provide their customers with a product exclusively for Hajj pilgrims. Customers can enjoy reduced call rates on all incoming and outgoing calls while roaming in Saudi Arabia. This offer is valid up to November 28th 2010 i.e. the duration of the pilgrimage.
Through this, Vodafone customers can enjoy 32% reduction in incoming rates and 29% reduction in outgoing rates to India or any other international destination. To activate this service, prepaid customers can buy a bonus card of Rs. 499/- and receive discounts on all voice calls and postpaid customers can pay a rent of Rs. 499/- and enjoy reduced rates on all voice calls.
Rohit Adya, CEO Vodafone Essar- Mumbai, said, "Vodafone continues to innovate and provide services for its customers demonstrating how technology can blur distances, bringing emotional and spiritual experiences together. Vodafone's reduced roaming rates will enable customers to be connected to their loved ones."