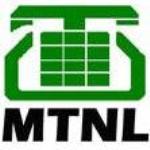 As a festival offer MTNL Mumbai has announced an increase in talk time on its First Time Recharge Coupon (FTRC) of Rs 91 for SIM10. Under this scheme customers' buying SIM 10 along with FTRC of Rs 91 will now get talk time of Rs 91 instead of Rs 41 which was provided earlier.
This SIM 10 comes with lifetime validity. All outgoing calls to MTNL Mumbai and Delhi Network are charged just at 1paise /2sec. All local calls to other networks and STD calls are charged @ 1paise / 1sec. Data download charges are Re. 1/ MB.
This recharge coupon of Rs 91 can be used as first time recharge coupon only with SIM 10. Subsequently the customer can recharge with any of the available top up or recharge coupons.
As a Festival offer MTNL has also announced a special scheme where on purchase of every New TRUMP connection (SIM + FRC), a Top-up coupon of Rs 50 is given absolutely Free. This scheme is available only from MTNL Customer Service Centers (CSC).