Reliance Netconnect offers 1 GB/month for lifetime for Rs. 3001
With the increasing number of first time internet users, Reliance has launched a new lifetime offer for its Reliance Net connect.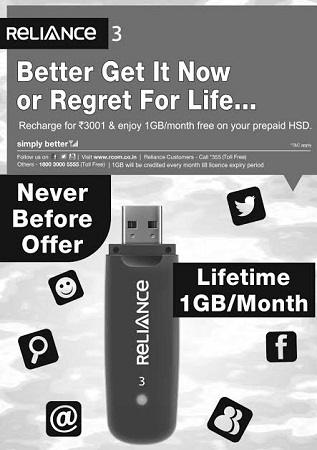 Reliance has introduced a new lifetime plan for the Reliance Net connect. The new plan, which is available exclusively to prepaid Reliance Net connect subscribers, offers 1 GB per month for lifetime. The quota automatically gets replenished at the end of the month and the excess and unused quota cannot be carried over.
The Reliance Net connect lifetime plan is priced at Rs. 3001 and would receive 1 GB per month for lifetime or till license expiry date. The Reliance Net connect offers speeds up to 14.7Mbps on its Rev B network. It also offers all India roaming. The lifetime offer would be valid for at least the next 5 years.