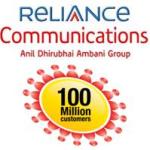 Yes, its party time for Reliance users. Reliance Mobile recently crossed the milestone of 100 million customers. To celebrate it Reliance Mobile is offering Free R2R calls from the midnight of 28th March. Reliance customers can now make free Reliance to Reliance calls all over India without any pack for a day. Reliance had already notified couple of days back about their aggressive plans on the occassion of reaching a subscriber base of 100 million.

To avail this offer a subscriber should have atleast Rs.10 in their main account.
What do you think about this? Share your thoughts.