Spice Mobile Introduces S1200, 12 Mega Pixel Camera Phone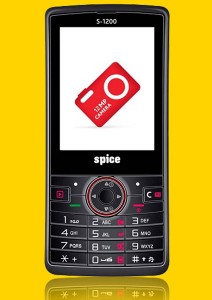 Spice Mobiles Ltd. has unveiled its new handset S-1200 mobile phone with
12 Mega Pixel camera at Rs.14500
. The unveiling of the handset was done by charming actress Sonam Kapoor who has recently been announced as the new face of Spice.
With the launch of S-1200 Spice Mobile enters an unchartered course of high end camera phones. The new handset with its cutting edge technology and advanced camera functionalities brings with it new sophisticated technology which is the first step for future innovations in the expanding brand portfolio from Spice.
Spice S-1200 has a 12 Mega Pixel camera with professional CCD sensor which helps it in getting high quality images. It has high advanced camera functionality like 3X Optical Zoom & 9X Digital Zoom, Xenon Flash ,Multiple Face Detection, Smile Shutter, Auto Focus, Anti Shake, and Advanced 24 preset capture modes including text capture mode. Apart from this it has Stereo Bluetooth, TV out with cable and 32 GB expandable memory support which can store upto 10,000 photos.
"Photography is emerging as a fine art and expression of creativity. Our latest Picture Perfect series phone the 12MP S-1200 caters to this lifestyle need of good photography on the move. At Spice we believe in giving the best to our consumers. S-1200 is the perfect example for this. It offers advanced camera functionalities in a phone, which was unthinkable. With this handset our customers can enjoy the dual advantage of a phone with inbuilt full fledged camera." said Mr Kunal Ahooja, Director & CEO, Spice Mobiles Ltd.
Speaking on the occasion he said, "We are quite delighted to associate with a vivacious actress such as Sonam Kapoor, who I feel is the perfect fit for a strong, energetic and growing brand such as Spice. Our ethos and belief of smart thinking syncs well with the smart and intelligent persona of Sonam."
Speaking in the same vein, Ms. Sonam Kapoor added, "I have always been particular about the brands that I am associated with. Spice is one of the fastest growing and trusted brands, that is contemporary, showcases attributes that go with my own personality. I am happy to be associated with them."