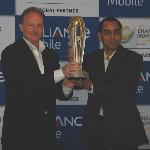 Reliance Mobile, the 'Global Partner' for the ICC Champions Trophy South Africa 2009, today announced various consumer initiatives as part of its partnership for the tournament scheduled to begin next month. These initiatives were announced during the Reliance Mobile Trophy Preview for the ICC Champions Trophy. This marked the beginning of Reliance Mobile's Trophy Preview in India before the tournament commences in South Africa on September 22nd, 2009. The ICC Champions Trophy will be handed over to the winning team of the 2009 edition of the tournament.

Leveraging its association with ICC to benefit customers, Reliance Mobile is planning to organize interactive contests on R-World as part of its ICC Champions Trophy South Africa 2009 initiative. The company plans to organize this contest across various platforms of R-World including CRBT, Voice Portal, SMS etc. Those wishing to participate in this unique contest will have the freedom to choose their platform as per their preference & ease of using a platform. The contest will be launched across both GSM and CDMA networks.

For instance, on Voice Portal, a subscriber will be able to dial a particular multimodal number, subscribe to the Cricket Score subscription services post which he will have to answer a skill- based question. Select winners of the contest could win a trip to South Africa.

Moreover, Reliance Mobile will go Live with all ICC Champions Trophy, South Africa 2009 matches through its R-World VAS platform. Reliance Mobile subscribers will be able to catch all the excitement of this tournament on their handsets. Reliance Mobile will also provide subscribers an option to have match scores and expert commentary on the matches as their caller-tune.