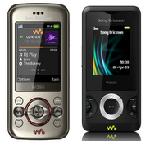 Sony Ericsson has launched two new Walkman phones – the sleek W205 and the slider W395 – for all those who have been a big fan of Sony Ericsson Walkman phones but have not been able to afford one yet, W205 is priced at Rs 5,795 and W395 is priced at Rs 8,395
Sony Ericsson's new W205  Walkman phone delivers a great music experience with its Walkman player, FM radio with recording and TrackID music recognition. The W205 also enables users to easily share the handset with family and friends – its multiple phonebook feature lets up to four users create personalised contact lists that are kept separate. The Bluetooth functionality offers easy sharing. To complete the package, W205 comes with 1GB memory card and premium HPM-64 Bass Reflex headphones for thump music experience. 
Features of W205
FM radio – enjoy latest music and record the radio through FM recording

TrackID – identify the music playing around you or on FM radio

1.3 megapixel camera – take great shots and share the fun instantly

Video recording – capture your favourite moments on film

Bluetooth – share your favourite songs, pictures and video clips

Multiple phonebook – keep your contacts in order and share your mobile phone with your family

1GB memory card to store all your favourite songs

Enjoy thump music experience with bundled Bass Reflex Headphones HPM-64
The slider, W395 Walkman phone, allows users to enjoy super loud music through special stereo speakers that boost sounds or pump up the volume with the HPM-62  stereo headset for a great audio experience. The phone also comes complete with dedicated control keys to help users manage music, a 1GB memory card for storing music and an FM radio to keep them up to date with the latest tracks.The phone also features Sony Ericsson's unique TrackID, which helps one find details of a song, even if one's not sure of the name.
Features of W395

Powerful built-in stereo speakers with high quality bass

Stereo headset to turn your phone into a dedicated music player

T

rue music machine with Walkman™ music player, TrackID and PlayNow

TrackID – find the tracks you love easily

PlayNow – download a full range of mobile entertainment

Crystal

clear 2.0" display – view your photos in all their glory

Motion gaming support.

2 Megapixel camera

1GB memory card to store all your favourite songs