After a huge fall in almost every market, BlackBerry smartphones became a thing of the past as they were overshadowed by Android and iOS devices. With the company going in big losses, they had to pull up their socks to get back into the market. Working for almost a year on their latest OS, the company finally launched the BB10 and also replaced its name to BlackBerry, ditching the old RIM (Research in Motion) tag.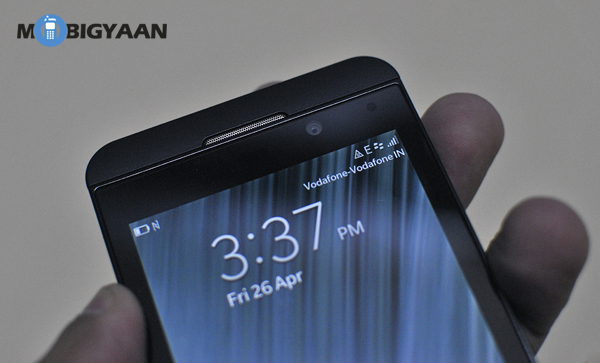 So first of all, the Z10, which is the first BB10 device with a nice and simple looking design and some competitive hardware. At first we were intrigued, and then we tried it out ourselves. Conclusion, we loved it, but with some if-s and bu-ts.  Let's take a closer view.
PACKAGING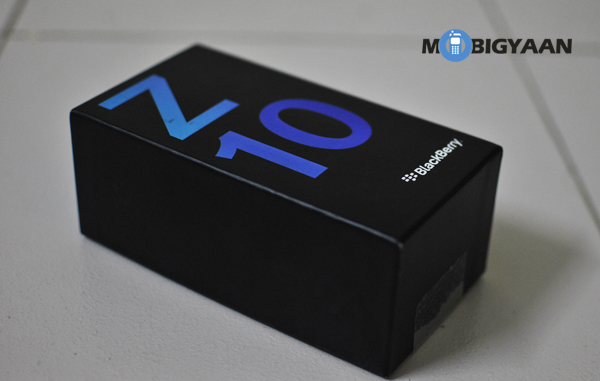 The Z10 comes with the standard set of accessories that you usually see these days with any smartphone. There is a wall charger with a USB port, a microUSB data cable, and a pair of headphones.
BODY AND DESIGN
The best part about the Z10 is its design. It looks how a smartphone should look like. BlackBerry has done a good job with the overall finishing of the product, not to mention a premium device feel.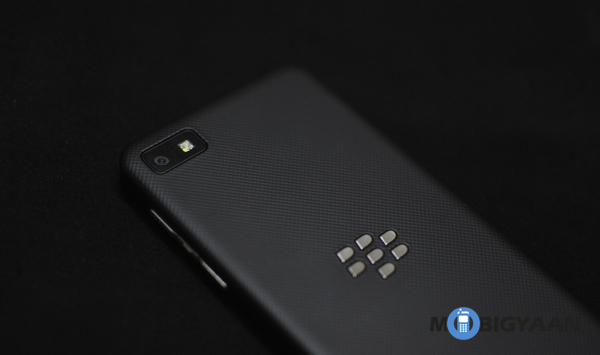 It has a 4.2 inch display with a 1280×768 resolution which is pretty bright and colours come out well with nice contrast and viewing angles. There are no buttons around the display, only a front facing 2MP camera and some sensors on top of the display. On the right, there are the usual volume keys with a center key to control your music and silent mode. On the top you have your lock/power key and the 3.5mm audio jack which has become standard in all smartphones these days. On the left we have the microUSB port for charging and data transfer as well as an HDMI out port.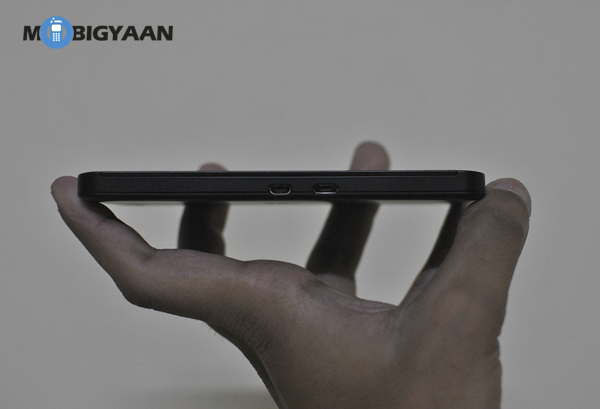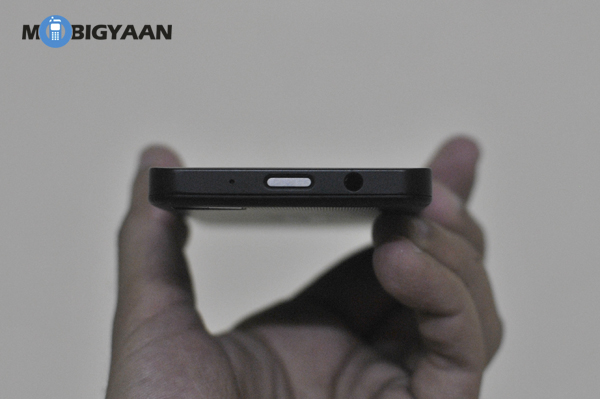 The back has the 8MP camera with an LED flash. The back cover has a nice rubber feel to it that gives you a nice grip to it. Under the back you find an awkwardly shaped long battery and two slots for your micro-SIM and microSD card.
Overall the device doesn't feel cheap although it has a plastic finish to it. The screen seems good and with the dimensions it offers. On the inside, there is 1.5 Ghz dual core processor by Qualcomm with 2GB of RAM. The 8MP camera at the back can take full HD videos at 1080p@30fps and has features like burst mode, image stabilisation, face detection and geo-tagging. The 1800mAh battery seems to be good as we noticed one full charge giving a full day of backup in our tests.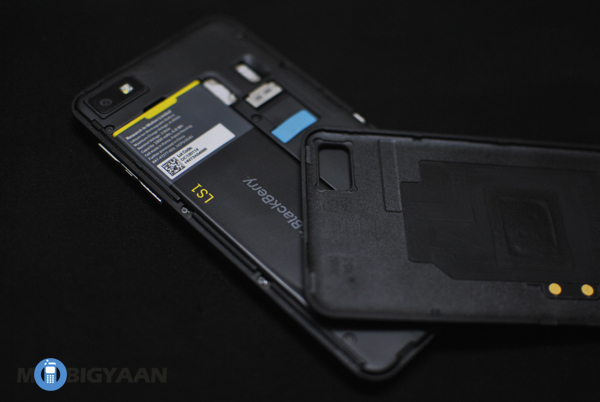 OS
While BlackBerry has brought in BB 10 OS, it took them a lot of time to launch it. With the markets already stocked up with Android, iOS and Windows Phone, BlackBerry 10 might just need to struggle to get into the zone.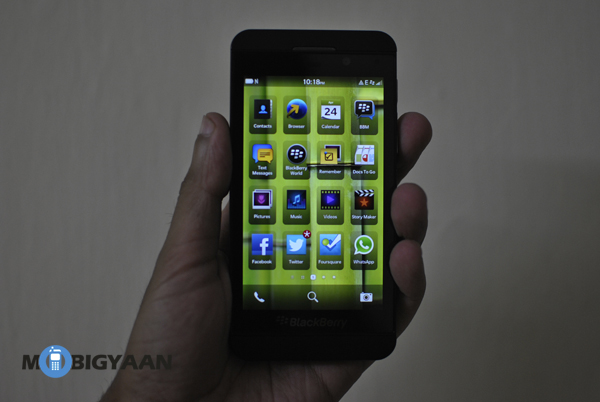 The operating system is simple to use and has its own swipe gestures to control the device which takes a day or two of getting used to. Previous Blackberry owners and fans will love it as it feels a little bit like the older BlackBerry devices. Swiping from left to right gives you all the notifications that you have got like Facebook, Twitter, BBM, Whatsapp, all of which you can integrate into your BlackBerry Hub. Swiping from right to left gives you the main menu which has all of your installed applications. Swiping bottom to top minimizes a running app onto a screen where you can see a thumbnail preview of all the apps running in the background. Swiping top to bottom gives you some quick access shortcuts to your settings like Wi-Fi, Bluetooth, Alarms, Profile and so on.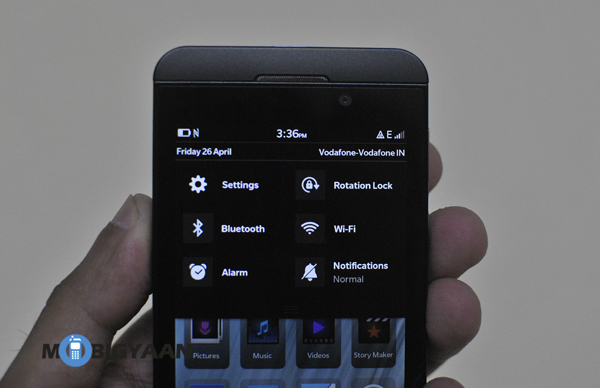 The email client is simple to use and is actually fast. Over a test we saw that the Z10 received an email faster than an Android device (though this also depends on the kind of network you have).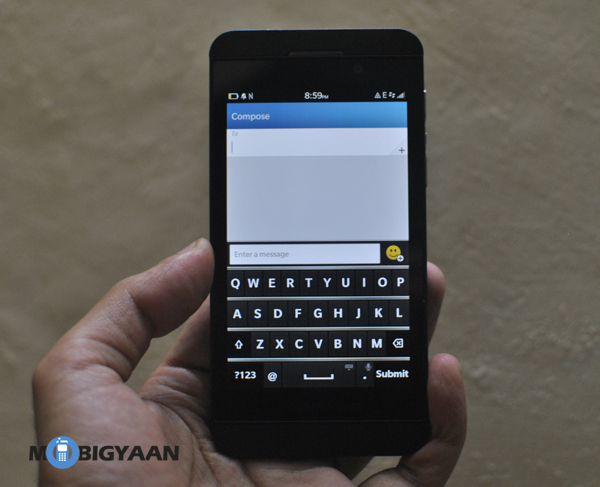 Typing experience is very nice, for which BlackBerry is usually known for. Even on a touchscreen it gives you a BlackBerry experience, thanks to an intuitive keyboard which spells out words while you are typing, making it easy to quickly spell out words. The new lockscreen is a bit of a refresh which gives you notifications in the form of icons, a shortcut to open the camera even when the phone is locked (Although it isn't that fast). Swiping bottom to top unlocks your screen, however there is no such feature to swipe open a notification.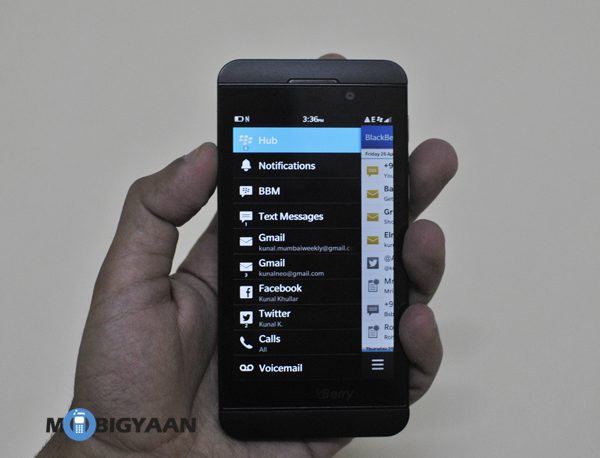 The best feature, and maybe the most attractive one, has been the BlackBerry Hub. One can easily check emails, social network notifications, text messages, missed phone calls, and of course your BBM. Just swiping around it is fun and gets addictive after a point of time. With everything integrated into one, it makes life easier as don't have to go check into all your apps separately.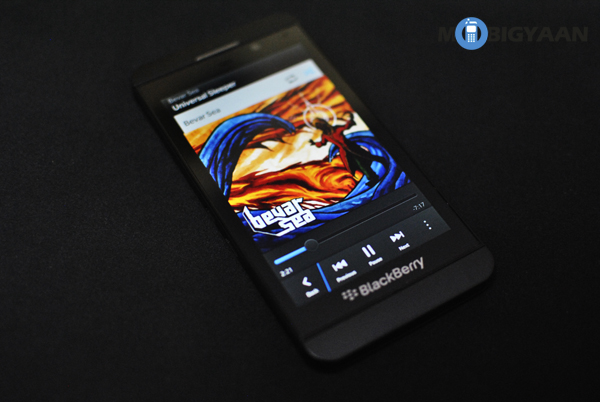 There is nice music player app which seems to look nice as it offers a large area for your album art. The downside of the music player is that it doesn't have any sound equalizers and navigating through the songs can be a little stressful. BlackBerry decided not to put in a radio app, which seems quite weird.
Although there aren't a huge number of apps on the BlackBerry App World, you do get your basic social networking apps, some good games and also navigation and maps. Apps seem to work smooth and quick and we didn't notice any such lags, although we did see the camera app freezing at times.
CAMERA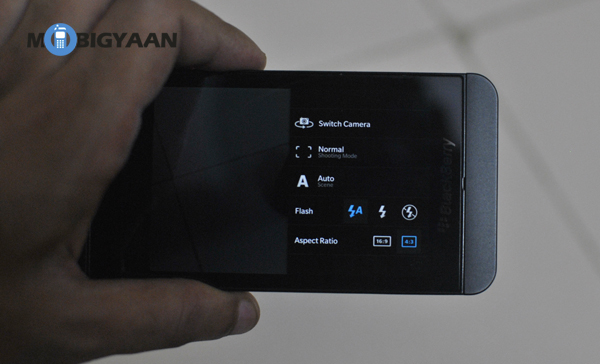 The camera on the Z10 surprised us as it offered some nice features which we liked. There is nice burst mode which is one of the fastest burst modes we have seen on any smartphone. It just goes on and on taking up to 100 frames without tiring itself. There is also face detection and a time shift mode, which basically takes a burst mode, and then you can select whatever frame you think looks the best. There are also the usual scene modes which include Auto, Action, Whiteboard, Night, Beach and Snow. The only weird thing we found was that it doesn't allow you to change resolution, only a 16:9 and a 4:3 mode.  Overall pictures come out good with slightly high saturation, although that isn't a huge problem. Noise control also needs to a slight improvement which we hope further updates will improve (not to mention the upcoming HDR mode).
Video recording is done 1080p resolution and the front cam offers 720p video recording. Focusing is good as you can just touch and drag the focusing box on the screen to focus on the subject. Videos and smooth, however audio seems a bit on the lower quality, probably because it doesn't offer stereo recording. All in all, it gives nice looking videos for those good memories.
CONCLUSION
Although I am not a BlackBerry fan, but this device got me hooked. The looks, and also the smooth OS give the device plus points. However, there is a big but, the price. At Rs.42,000 this is a pricey deal. Even though I am tempted, I wouldn't waste the huge amount on something for which I can get a Samsung Galaxy S4 or even the HTC One.
But then, we still have the hardcore BlackBerry fanatics, for whom I would definitely recommend this device to.