Review : TATA Photon + (Mobile Broadband)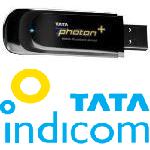 I have been using TATA Photon + for over a month now and so I thought that it would be nice to share my views about TATA Indicom's Mobile Broadband service – TATA Photon +.

For those who do not know what TATA Photon + exactly is, here is a brief non-technical explanation. TATA Photon + is the Mobile Broadband Service which provides internet speeds upto 3.1 mbps. Its a 'Carry wherever you go' USB device. Its a Plug and Play device, so you just need to insert the TATA Photon + in USB slot of your PC or laptop to use it. This is the most simple explantion I could give, if you still have doubts you can send me your queries anytime. To check out Photon + Tariffs click here.

Points I like about TATA Photon +

As I mentioned earlier, its a 'Carry wherever you go' USB device. Whether you are in a train, bus or a taxi you can connect to internet instantly anytime anywhere using Photon +.

When you insert the Photon+ in your PC or Laptop USB slot it installs all the necessary softwares and drivers automatically.

To connect to the internet all you need to do is plug in your Photon + in your Laptop or PC.

TATA Teleservices claims that, using Photon + you can download 1 MB in just 10 second, however I was able to download upto 1.5 MB in 10 seconds.

Its available for both Prepaid and Postpaid users. Tariffs are based on Data/Time.

Watch TV on the go with Photon TV. Its bit costly but if you can afford it you can watch TV on the go. To know more about Photon TV click here


Streaming youtube videos with Photon + is fun.
Points which I do not like about TATA Photon +
Frankly speaking I do not find much points to write about whats not good in Photon +. I would like TATA Teleservices to provide Unlimited Tariffs. Apart from this the only negative point which I figured out in past one month is related to Photon TV. Its fun to watch TV on the go but TATA Teleservices needs to improve this service on grounds of image clarity. Pictures are very unclear. Also, when you switch channels it sometimes happens that you see a black screen for few seconds, you can hear the background sounds but no pictures. Apart from this I was not able to find any negative point.
If you are using it and have something to share about it then do post your comments.