Tata Teleservices Launches Photon TV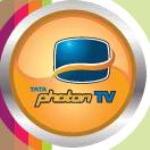 Tata Teleservices Limited today announced the launch of Photon TV, a new application that allows Tata Photon Plus subscribers to watch live television channels on their laptops while on the move, and on their personal computers at home and in the office. The Photon TV service is exclusively available to Photon Plus users.

A personal computer- and laptop-based video-streaming application, Photon TV allows Tata Photon Plus users to view live TV feed from various sports, news, entertainment and regional channels, and to watch recorded TV shows from the library (viz Coffee with Karan, Zoom, Pogo, etc), movies, music and videos on demand.

To Get Photon TV you will have to download an application to view TATA Photon TV. Click Here To Download The Application
Photon TV Charges :
Single Channel : @ Rs. 4 per month.
My 10 : Combination of 10 channels @ Rs 29 per month.
My Full Pack : All channels @Rs75 per month.
These rates doesn't include charges for special events like cricket matches etc.
Browsing charges as per your Photon+ tariff plan would be applicable while viewing Photon TV. These charges would be over and above the subscription charges for the Photon TV. (approximate data usage is 1-2MB per Min).