The tablet market was somewhat established and is still driven by Apple thanks to its iPad. A number of tablets have tried dethroning the champ, but come nowhere close. So the latest 3rd generation iPad or as they call it the 'New iPad', was announced back in March and has been selling well with decent numbers.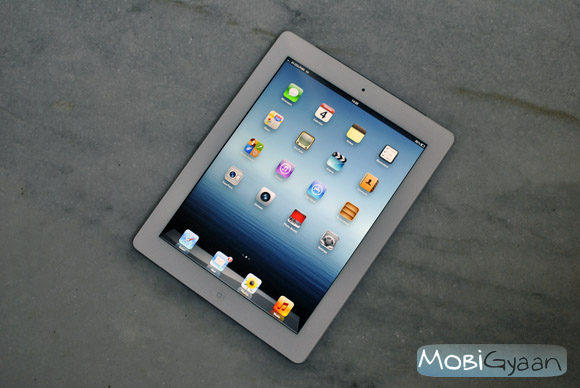 There's a better processor with an awesome GPU, better camera, 4G, slightly better battery and of course the retina display with a 2048×1536 resolution which the new iPad is all about.
If you already have or even used the iPad 2, then there aren't a lot of new features to intrigue you. But yes there are minor changes that make the new iPad slightly better than the iPad 2.
9.7 inch Retina display, with a resolution of 2048×1536, 3.1 million pixels at 264ppi

Apple A5X Processor with quad-core graphics

1GB of RAM

5 megapixel iSight camera

1080p video recording

Voice dictation, similar to Siri without the questions

3G & 4G LTE connectivity

Wi-Fi

10 hour battery life, 9 hour battery on 4G

9.4mm thick, weighs 1.4lbs

iOS 5.1
Packaging: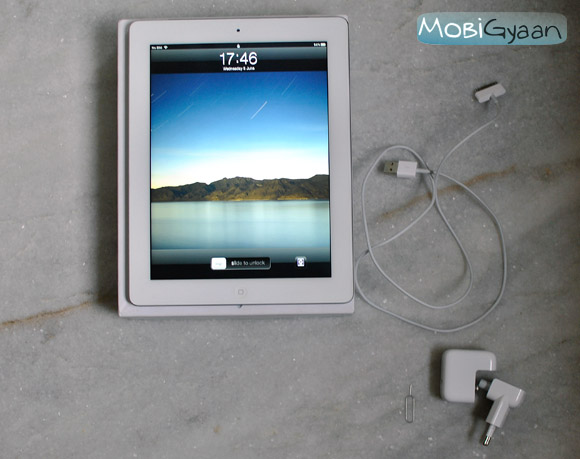 Apple always has a unique and classy packaging of its products. The new iPad comes with the usual set of accessories including the data cable, charger, and a microSIM tray removing pin.
Looks and Design: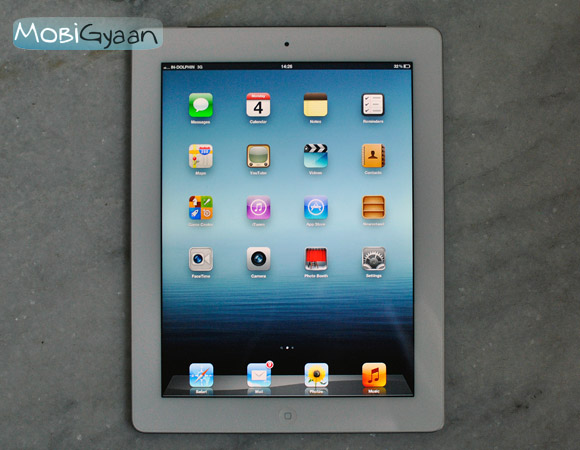 It looks and actually feels just like the iPad 2, with a slight increase in weight and thickness. The new iPad is now 9.4mm in thickness and weighs 652gms and the WiFi + 4G version is at 662gms. The display is excellent and bright and the new Retina display now takes the resolution to whopping 2048×1536 which is 3.1 million pixels at 264ppi.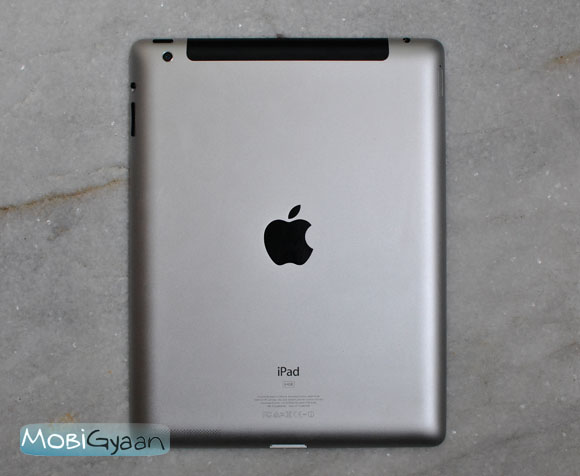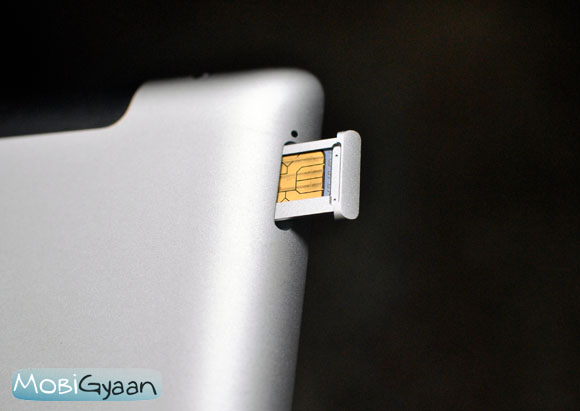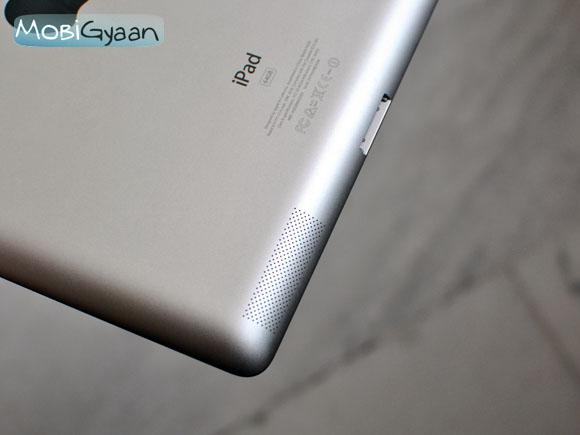 There is the usual dock at the bottom, volume and silent key on the right side, the lock key and 3.5mm audio jack at the top, and the SIM slot on the left. There is front VGA camera right on top of the display and a new 5MP iSight camera at the back. The speaker is placed behind on the left side right at the bottom.
Retina Display: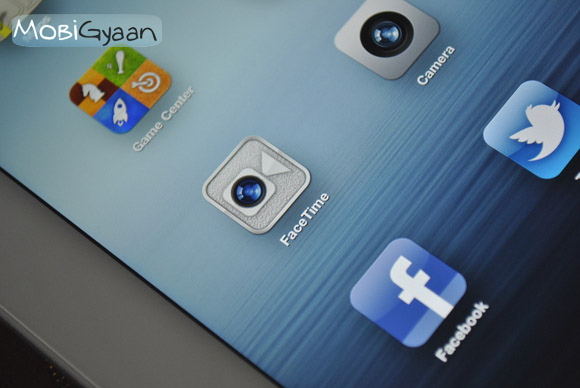 So the big new feature of this third generation of iPad is the new and improved Retina display. Apple had launched this new display on the iPhone 4 and now it has managed to squeeze in 264 pixels per inch into its 9.7 inch display. The resolution and clarity is actually good and if you compare it with the iPad 2, it certainly stands out.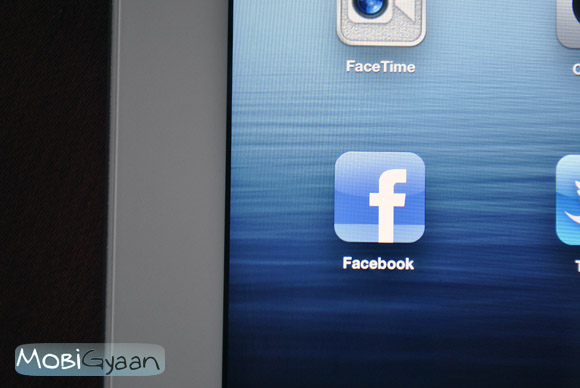 On closer inspection of the display, the icons look much smoother and you don't see crosshatching of the pixels. This means that high resolution pictures look pretty amazing and the amount of detail is exceptional. There is also an improvement in colour saturation as the colours look more vivid.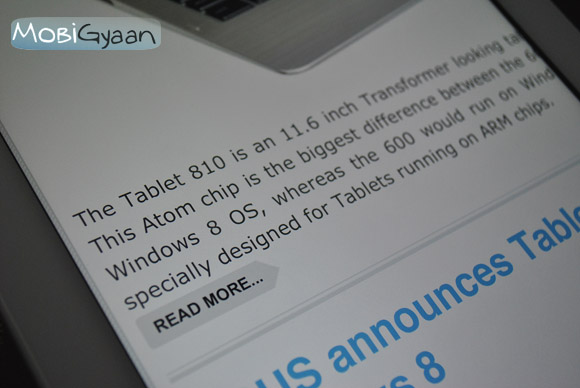 Reading books, articles, etc is pretty good as texts looks pretty sharp and crisp as you can see from the picture above.
The new iPad has an Apple A5X processor with a quad-core graphics processor and 1GB of RAM. There are no lags or hiccups, and everything runs smooth.
I tried some test on the new iPad and I wasn't disappointed, I ran about 10-15 apps and tried switching between them. It was all smooth and easy and none of the applications were force closed. I ran a 720p movie in an MP4 format and kept seeking the movie and surprisingly tablet didn't give any lags or buffer issues.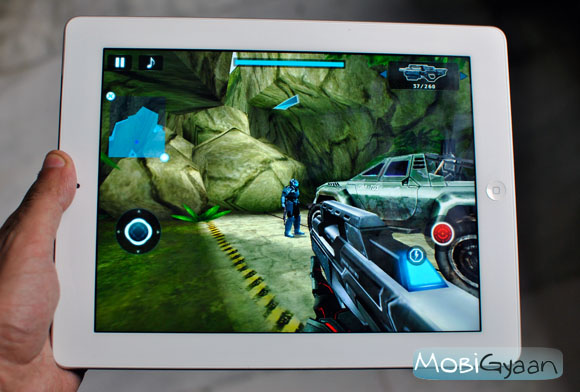 Next up I ran a demo of NOVA HD, which is pretty sweet first person shooting game. The quad-core graphics engine performed well and the game was pretty smooth and the rendering was pretty decent as well.
The battery is a stunner with a claimed 10 hour battery life when you're browsing the web, watching movies, listening to music, etc. I left the iPad idle with the Wi-Fi on for a whole 24 hours and surprisingly I only saw a drop of 10% of battery. On an average usage the iPad gave me about 8 hours of battery which including web browsing, a bit of game play, and some music. It takes a little longer to charge but yes it is worth it.
Connectivity:
Besides the usually Wi-Fi connectivity, the new iPad now supports 4G connectivity as well. Sadly 4G has just started rolling out in India and is a bit too expensive to afford right now. Nonetheless the Wi-Fi+4G version seamlessly connects to 3G and 2G connections.
The new iPad supports UMTS,HSPA,HSPA+, DC-HSDPA on the 850, 900, 1900, 2100 MHz bands and also supports EDGE on 850, 900, 1800, 1900 MHz bands . 3G connectivity is pretty good and I didn't face any loss of connectivity even in area where coverage was not up to the mark.
You can also use your data connections to make a personal hotspot by simply switching it on the settings and you can share your data via Wi-Fi, Bluetooth or USB.
Along with data connections, the new iPad also has Bluetooth 4.0 for connecting your headsets and other Bluetooth enabled accessories.
Multimedia:
Apple has been one of the leaders when it comes to multimedia and the new iPad doesn't disappoint. The music player is great as always which you can also access in the multitasking bar like in all iOS 5 devices. You easily synch up your iTunes music library in a jiffy and you are good to go. You can either plug in your headphones or speakers or just use the built-in speaker which isn't all that bad and provides a decent output.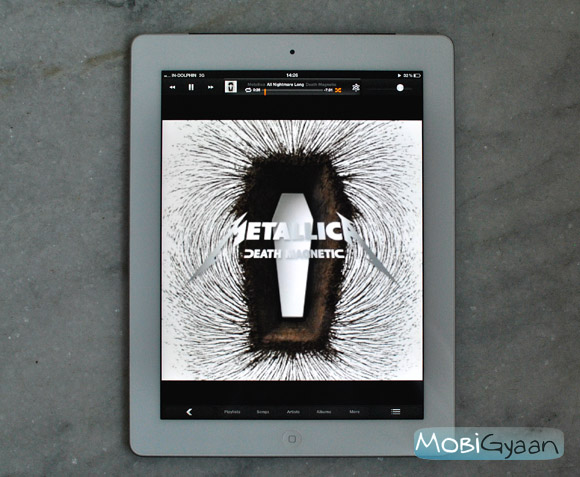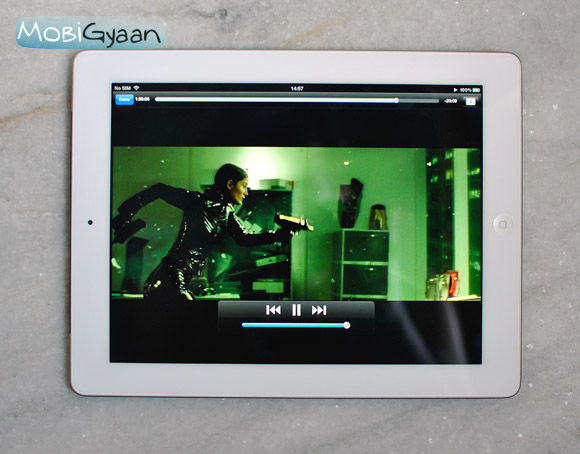 The video player is a delight as it runs HD movies and it supports H.264 .m4v, .mp4, and .mov MPEG-4 formats.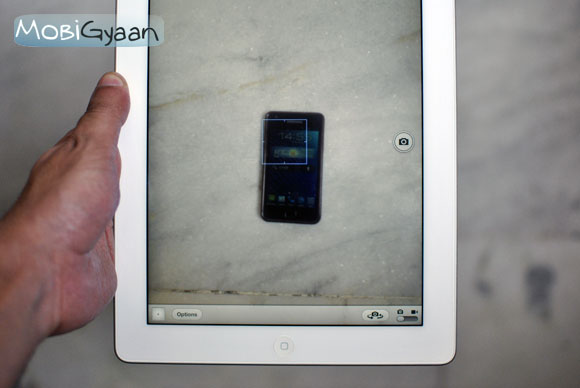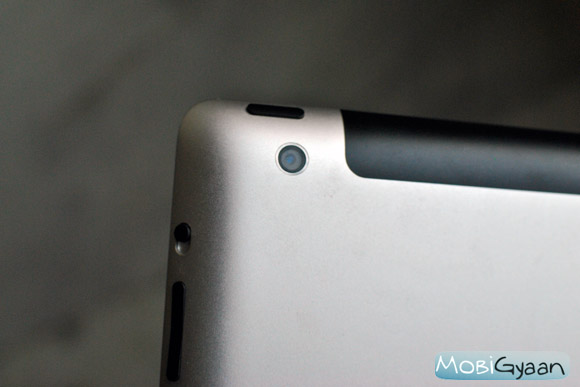 The camera at the back is quite an improvement from the previous iPad as it now has a 5MP sensor. Of course it's not something revolutionary but then it works great. It has autofocus, face detection and can record full HD 1080p videos at 30fps. The front camera has a VGA resolution and provides the similar 30fps which is pretty good when you use facetime.
I am not a big Apple fanboy, but then I don't hate it either. The iPad is an awesome device to have, and seems to have a slight edge over the various tablets available in the market. Will I buy one? Probably not because I don't get the flexibility, and it's not just the iPad, it's all of iOS devices.
Should you buy it? If you know your requirements, if you love Apple products, then I highly recommend this. If you already own an iPad 2, then I'll recommend you to stick with it as there isn't a whole lot of new stuff, but of course if you really think the new upgrades matter, then you should go for it. Here are the official Indian prices of the new iPad:
iPad Wi-Fi : 16GB Rs. 30500, 32GB Rs. 36500, 64GB Rs. 42500
Wi-Fi +4G : 16GB Rs. 38900, 32GB Rs. 44900, 64GB Rs. 50900