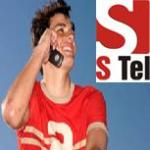 S Tel Pvt Ltd, a joint venture between Siva Group (formerly Sterling Infotech Group) and BMIC Limited, a subsidiary of Bahrain Telecommunications Company (Batelco), today announced its plans to launch its GSM mobile services in India. The company will commence operations beginning with the Himachal Pradesh telecom circle where services are expected to be launched within this week. Telecom circles for which S Tel has licences are Odisha, Bihar & Jharkhand, Jammu & Kashmir, Assam and North East.

The company launched two most preferred tariff plans which will charge the consumer @ 1 paisa/ second and 50 paisa/ minute respectively, both for STD and Local outgoing calls.

The company has a host of VAS services packed with localised content that is relevant to its audience. Besides Astrology, Bollywood and Cricket & Sports, the portfolio of VAS services have tips on devotion (Gita, Bible, Gurbaani, etc), career & education (interview & exam tips) as well as female care (beauty, cookery, fashion, etc tips). S Tel has entered into an agreement with Indiatimes.com to offer rich localised content to its consumers.

All the telecom operators make huge investments while starting and running the business. S Tel has entered the Indian Telecom Market at a time when a fierce battle is going on between Telecom Operators. S Tel will find it hard to get positive cash flows for next few years. What do you think? Do share your views.