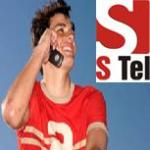 S Tel today announced the launch of its GSM services in the North Eastern states – Tripura, Nagaland, and Meghalaya. Starting with towns including Agartala, Dimapur, Udaipur, Kumarghat, Ranir Bazar, Chumukedima, Jowai ,Nongpoh ,S Tel is planning to expand its services so as to reach across 87 towns & over 26% of the population in the states by year end. S Tel is already present in one of the North East states Assam, where it commeneced its service in the month of July.
S Tel's Starter Pack is available at Rs.49. It comes with 30 days validity. S Tel also offers per second plan (1p/1sec) with recharge of Rs. 6  with the starter pack. As an promotional offer, S Tel is offering full talk time on all top-ups.
S Tel customer care in North East can be reached at 9131012345 from any landline or mobile number. Besides this, S Tel users can access the toll free customer care number 1212.