The third quarter report from Gartner has just been released and it suggests that 
the worldwide sales of mobile phones declined by 3% in the third quarter of 2012 while the smartphone sales increased by 47%.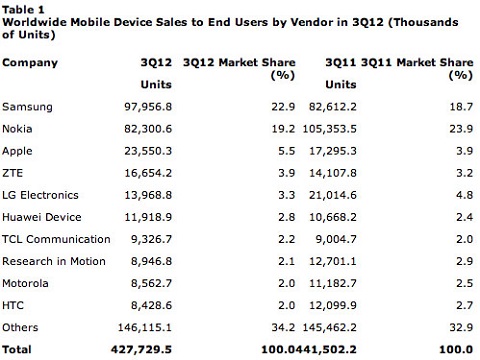 Samsung was the leader by selling a total of about 98 million mobile phones out of which 55 million were smartphones and captured a market share of 22.9% which increased from 18.7% from the same quarter previous year.

Trailing behind Samsung is Apple selling 23,550,300 smartphones in Q3 2013 which is up 36.2% year-on-year and helped the Cupertino based giant to enjoy 5.5% of market share. 
As per the report, Samsung and Apple together controlled 46.5 percent of smartphone market leaving a handful of vendors fighting over a distant third spot. 

Though Nokia sold over 82 million mobile phones, the Finnish giant sold only 7.2 million smartphones which made the share of the company drop by 21.9% in Q3 and making it drop from third rank to seven.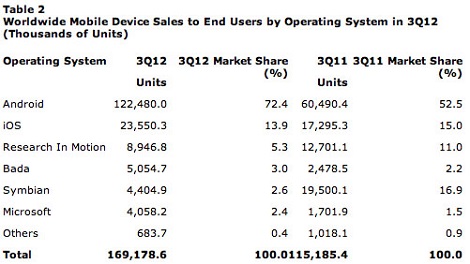 As for the software platform market share, Android is dominating with 72.4 percent share which is up from 52.5 percent last year which is followed by Apple's iOS with 13.9%.
 
Check out more details at the source link below.