If a recent research is to be believed, then Samsung has finally been able to dethrone Nokia from being the world leader in terms of shipping devices to the market and grab the number one spot and become the leaders worldwide.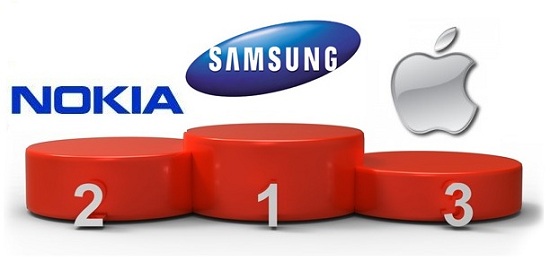 According to the research, from Strategy Analytics, global handset shipments grew a modest 3 percent annually to reach 368 million units in the first quarter of 2012.
And with this Samsung became the star performer during the quarter, capturing a record 25 percent marketshare to become the world's number one handset vendor for the first time ever. Whereas, Nokia's share dropped from 30.4% in Q1 2011 to 22.5% in Q1 2012 making it slip to the second spot worldwide.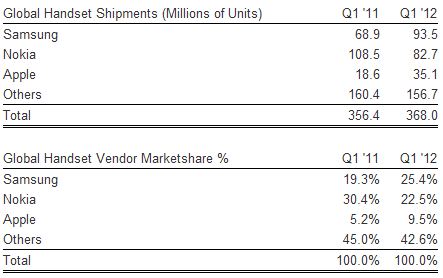 Alex Spektor, Associate Director at Strategy Analytics, said, "
As volumes contracted in key developed markets like Western Europe and North America, global handset shipments grew just 3 percent annually to reach 368.0 million units in Q1 2012. Samsung was the star performer, shipping 93.5 million handsets worldwide and capturing a record 25 percent marketshare. Five years after it captured the number-two spot from Motorola, Samsung has finally become the world's largest handset vendor in volume terms.
"
Apple on the other hand shipped a handsome 35.1 million handsets worldwide in Q1 2012, which is almost double from 18.6 million units in Q1 2011. This makes Apple reach its highest ever marketshare in the overall handset category, capturing a little less than 10 percent of global shipments during the Q1 2012.

Strategy Analytics says that Nokia had been the market leader for shipments since 1998, when it displaced Motorola as the lead and now being pushed down to the second spot by the Korean giant is definitely a big blow to the dreams of the Finnish giant to regain the lost users due to the burning Symbian Platform.

What will be the next move by Nokia to regain its lost mobile users and try to gain the No.1 spot again? Is that even possible or that's it for Nokia?