The Samsung Galaxy Note series has always had one motto – 'big is  beautiful'. But, logic says that there is a level where things go from big to ridiculous. While smartphones have mostly settled around 6-inches as the limit of how big they want to go (for now), tablets have just started to grow in screen size. Samsung has ditched the stereotypical 7-inch and 10.1-inch size for its new Note Pro Tab. It has experimented in this arena by adding a couple inches to the regular tablet size – The Samsung Galaxy Note Pro 12.2 aims to make it big.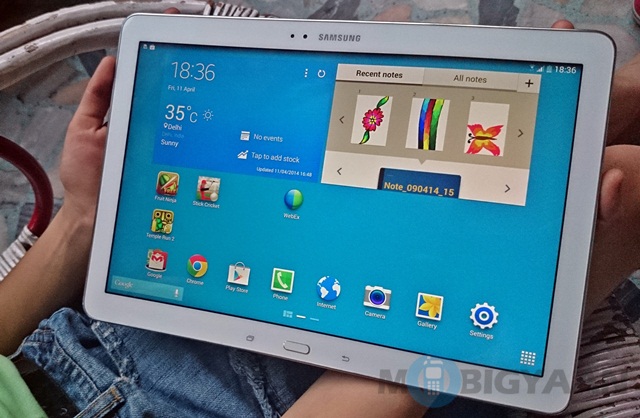 Samsung Galaxy Note Pro 12.2 specs:
12.2 inch display
2560 x 1600 pixels resolution
1.9 GHz octa core Exynos 5 Octa processor
3 GB RAM
32/64 GB internal memory
8 MP primary camera
2 MP front facing camera
Google Android v4.4 KitKat
9500 mAh battery
Samsung brought tablets under the ambit of the Note series by introducing the Samsung Galaxy Note 10.1, back in 2012. In true Galaxy Note tradition, there was never a 7-inch Samsung Galaxy Note tablet and even when Samsung decided to go bigger, it just went so marginally – just right enough to hit the sweet spot of 12.2-inches something which straight off, is between standard laptop display sizes of 11 and 13 inches.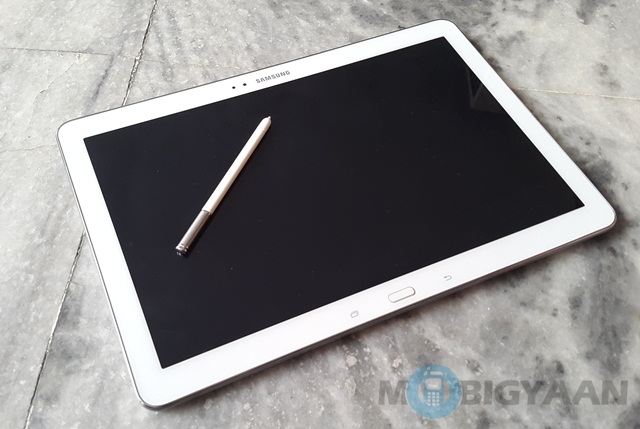 At Rs. 64,900 the Samsung Galaxy Note Pro 12.2 tablet surely captures your attention, but you would be looking much beyond just the size before investing in this tablet. There is not a single doubt in my mind that this tablet isn't aimed at most of us. At 64 grand, Samsung has clearly spelt out that this tablet will mostly be aimed at corporates.
Well, lets take up the challenge and see what this tablet has to offer – here's our full Samsung Galaxy Note Pro 12.2 review.
Hardware
When we talk about tablets, we don't really concentrate too much on sleekness, do we? Well, some tablets such as the Sony Xperia Z tablet and of course, the Samsung Galaxy Note 12.2 are aimed at changing that. This tablet breathes poshness and sophistication. The design is pretty clean, smooth and in fact, adds a zing of style to the that makes this tablet quite a tempting buy despite its monstrous price tag. It is pretty easy to operate and is definitely the best Galaxy Tab I have ever laid my hands on, till date, in terms of usability.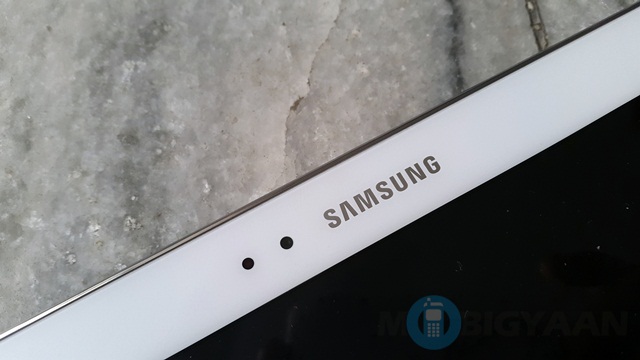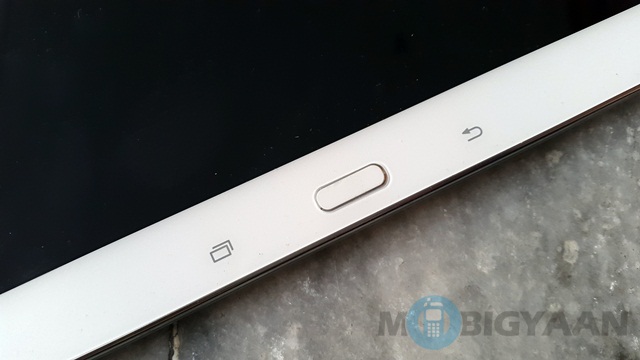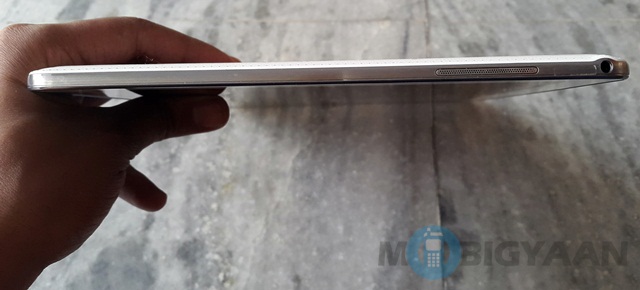 While the 12.2 inch display takes up most of the real estate on the front, the back is bathed in a plush faux leather feel, something that Samsung has developed a fad for, ever since the Samsung Galaxy Note 3.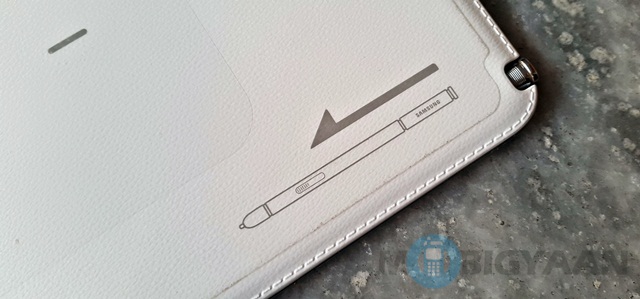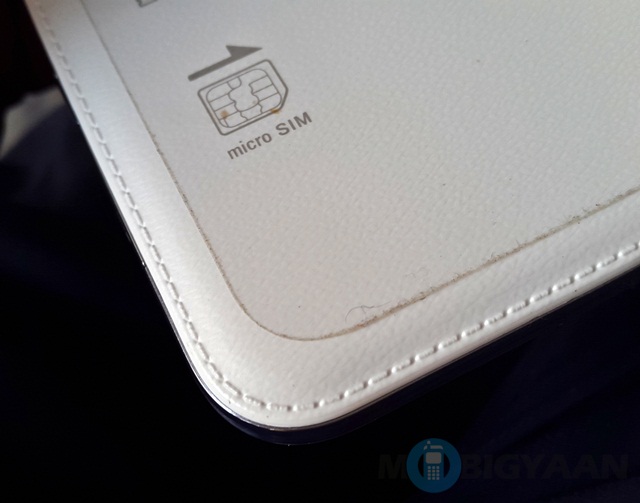 The back comprises of an 8-megapixel snapper and markings to indicate where the slots are.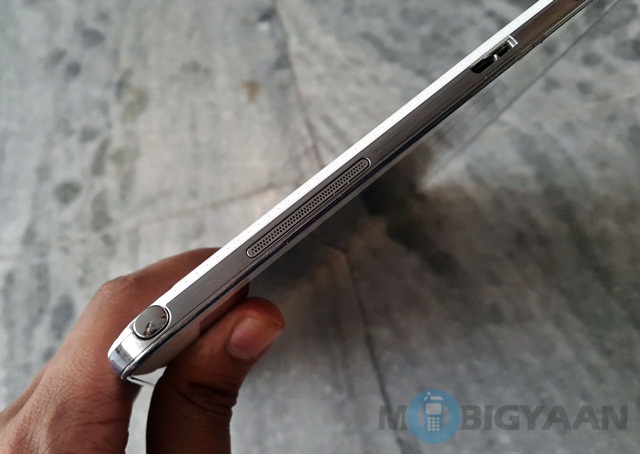 The tablet has dual speakers located on both sides but unlike the the Note series handsets, the Samsung Galaxy Note Pro 12.2 doesn't have the S-pen at the bottom, thankfully, It is located at the upper right corner, which means easy access.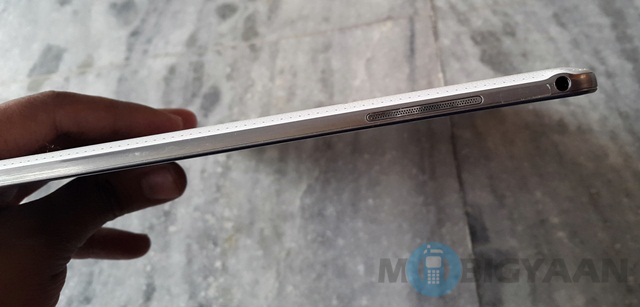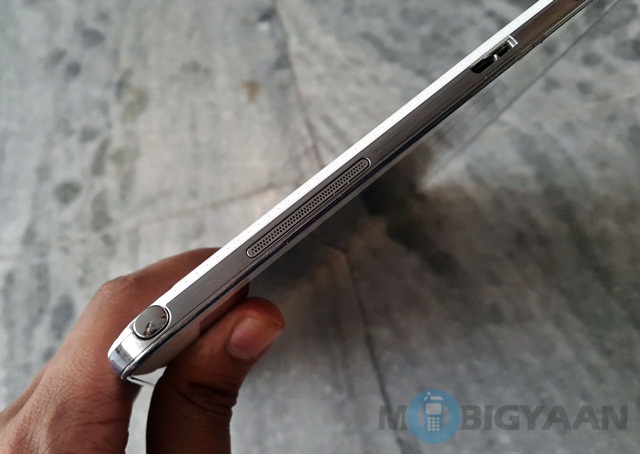 The new S-Pen too pours down from the Samsung Galaxy Note 3, with a button for Air commands and a faux leather tip.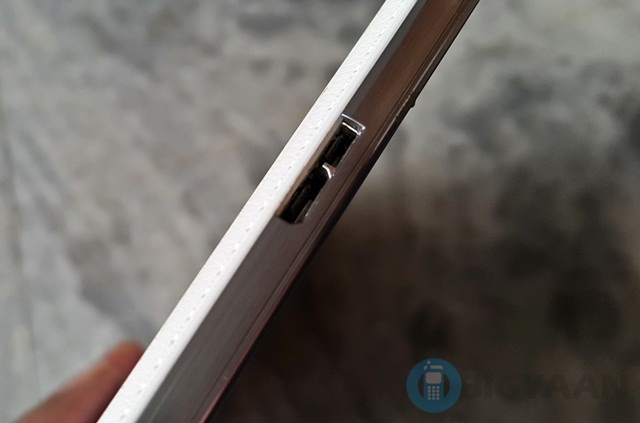 One more thing it has evolved from the Samsung Galaxy Note 3 is the dual MicroUSB and USB 3.0 port at the bottom.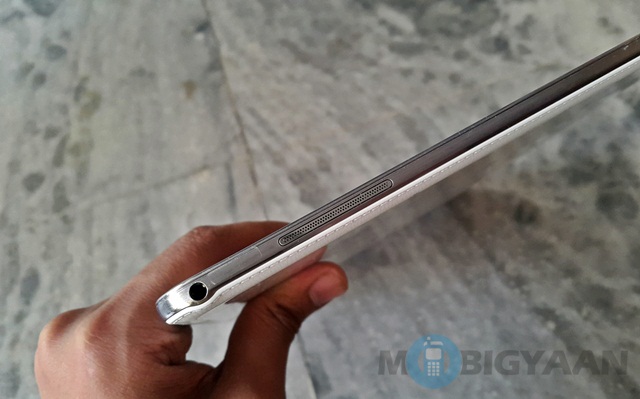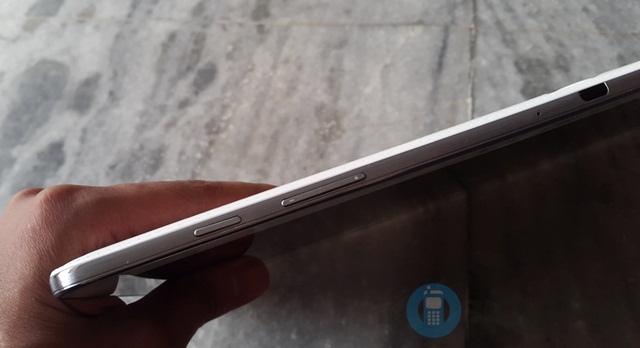 While a 3.5-mm audio jack is located at the upper left side of the handset, there are also accompanying power button and volume rocker along with an IR blaster, located in such a way so as to help you make presentations.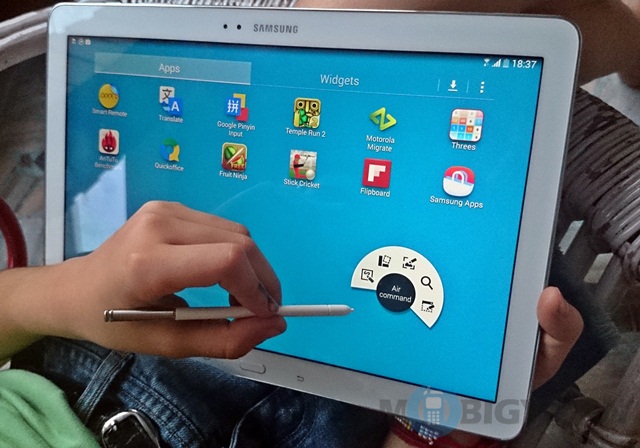 As for the front, it will remind you of the Samsung Galaxy Note Pro 10.1 The Samsung logo is located on the upper part of the tablet, while the bottom is populated with the usual Samsung Home button and accompanying back buttons.
This is one thing that stands out chillingly on this tablet. Had this been a smartphone or even a usual tablet, you wouldn't have questioned their placement. But on a 12.2-inch tab, you should have more freedom to  use it in both the landscape and portrait mode – the placement of these buttons indicates otherwise.
That being said, Samsung has totally executed the form factor exceptionally. Its razor thin 7.9mm figure along with just 750g weight makes it easy to use – something that is a must for every over sized device.
The Samsung Galaxy Note Pro 12.2 mostly does well in the hardware department. If you happen to get your hands on one, you might fall in love with it, mostly due to Samsung's precision in executing the hardware side of this tablet.
Display
Display is definitely the star of any tablet, but with a 12.2-inch, it is more so. Samsung has endowed the Galaxy Note Pro , 12.2 with a TFT LCD rather than a Super AMOLED display. This decision is for the better, quite surprisingly.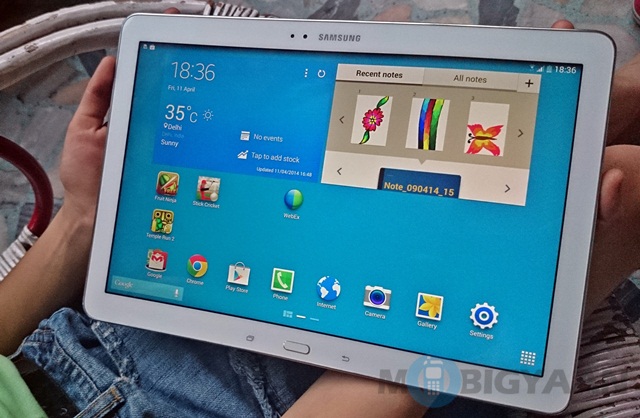 See, if Samsung had used its typical Super AMOLED display on the tablet, it would created such as strong glare factor, that it would have been tough to keep your eyes on the tablet. A 2560 x 1600p 12.2-inch display with 267ppi density means that the tablet is sufficiently well lit for working – neither too less nor too much.
As you might expect, the Samsung Galaxy Note Pro 12.2 is not made for usage in the sun. The sunlight visibility is pretty much despicable, but, then would you actually take this delicate, expensive tab out for a stroll in the garden? I definitely wouldn't.
The only issue I had with the hardware was that my heart was always in my mouth while handling this big boy – it is slim, light and a little too wide, all of which seem crazy as heck if you are not ordained to using it. The fear of dropping it constantly hovers over your head.
Also, intense protection covers might not be available in the market, and you will have to take the risk of damaging it by accident, which is definitely a cause of concern.
Software
Even though the Samsung Galaxy Note Pro 12.2 is monstrously big, it doesn't mean that it would be advisable to overload the tablet with stuff. Samsung might be the last company that you would expect to understand it, but it has actually impressed us this time, in terms of software. Samsung hasn't resisted endowing the tablet with a lot of apps, but it has in fact resisted cluttering the tablet.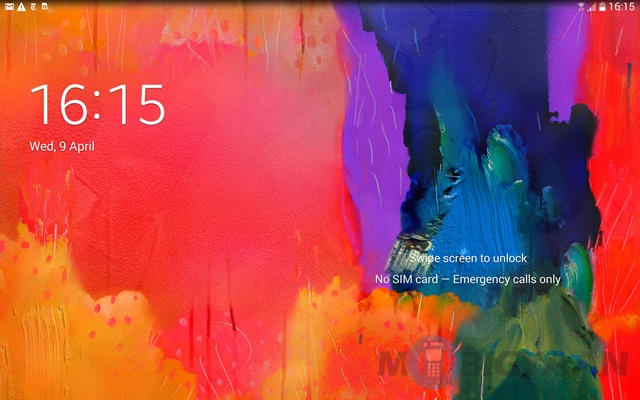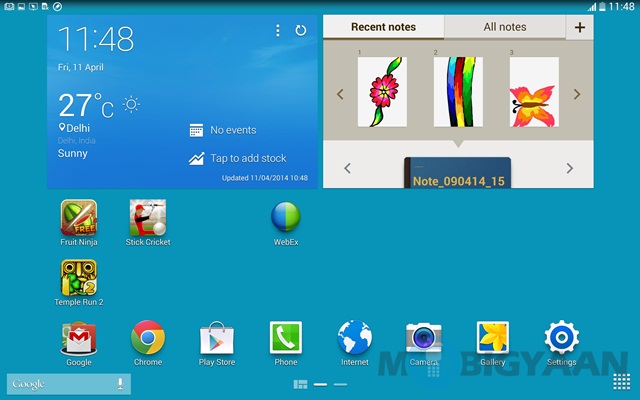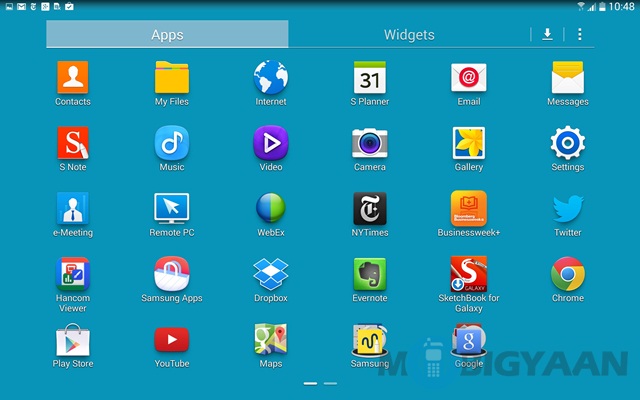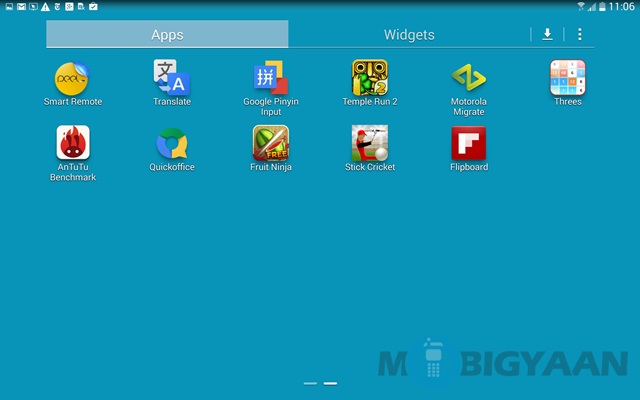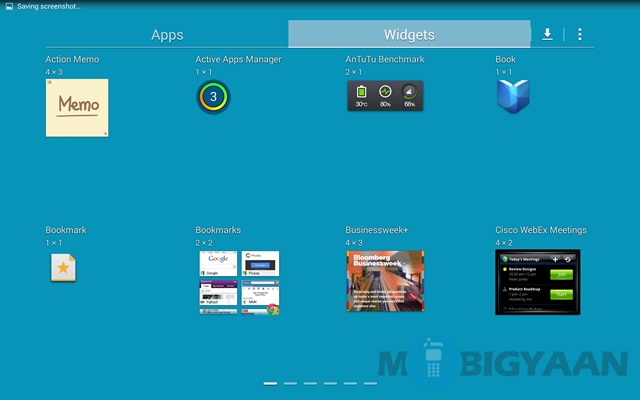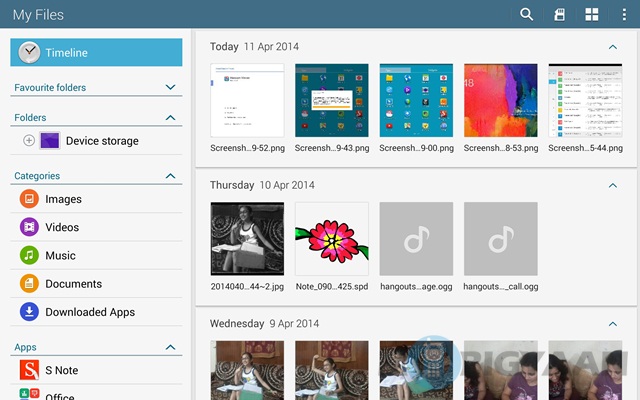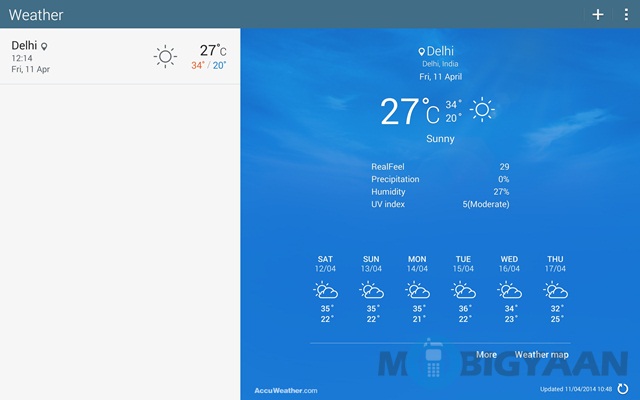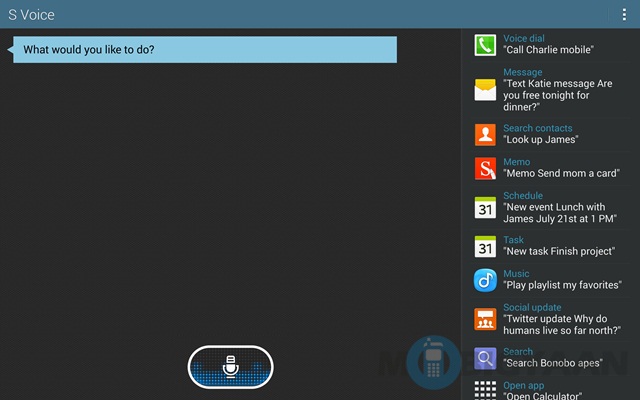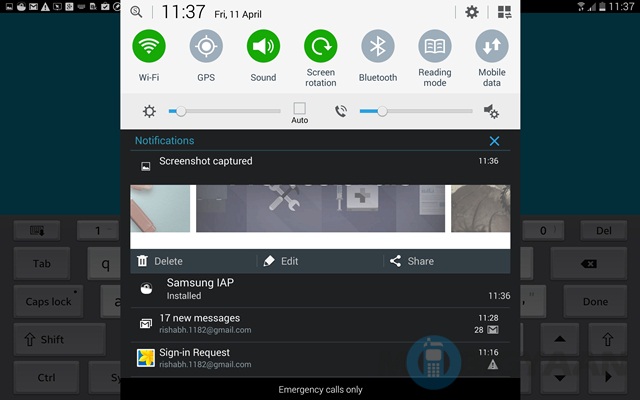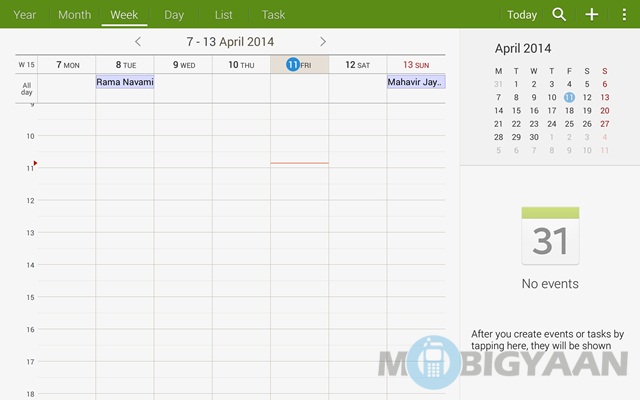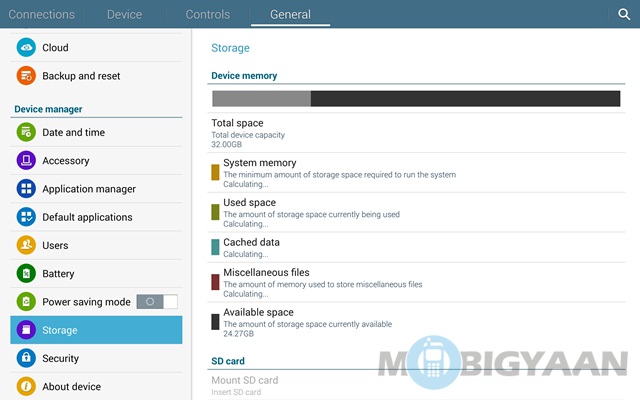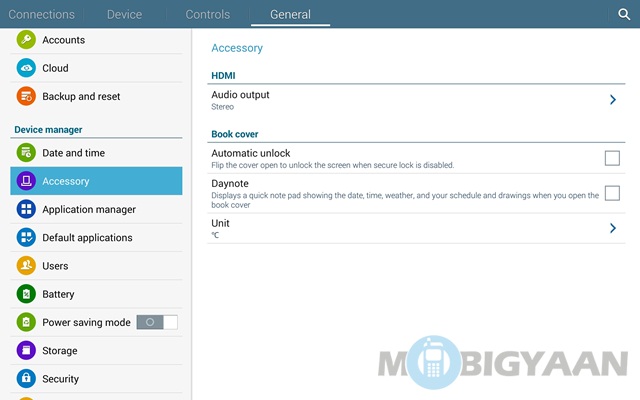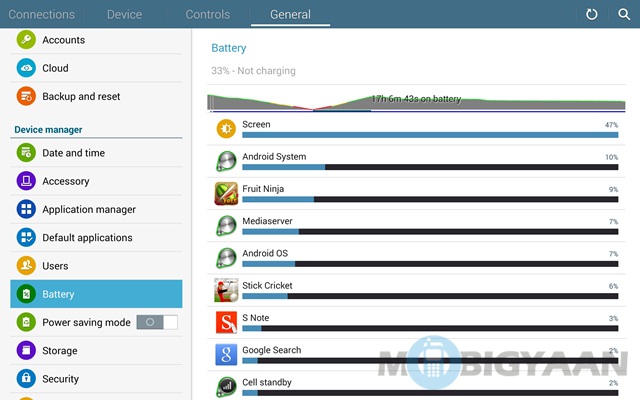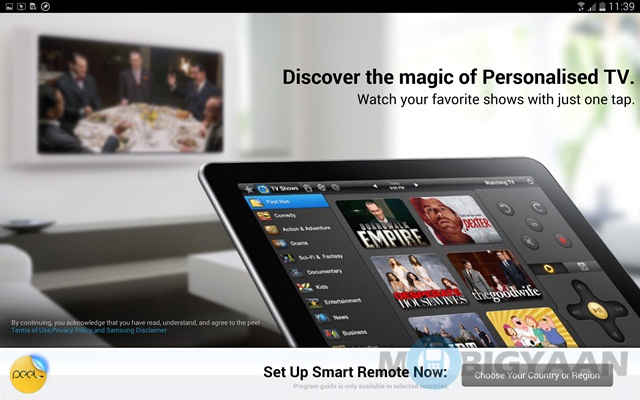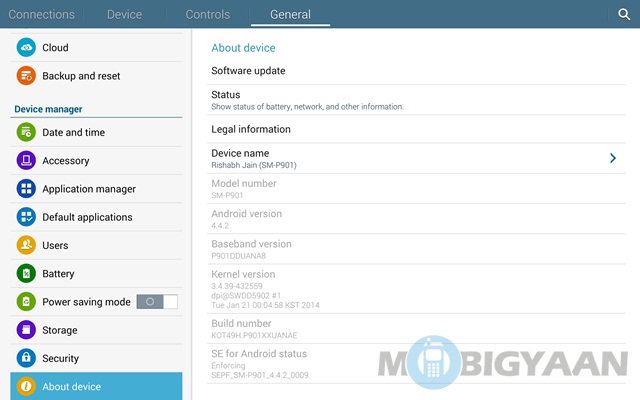 The best thing that Samsung has done is endowed the tab with folders.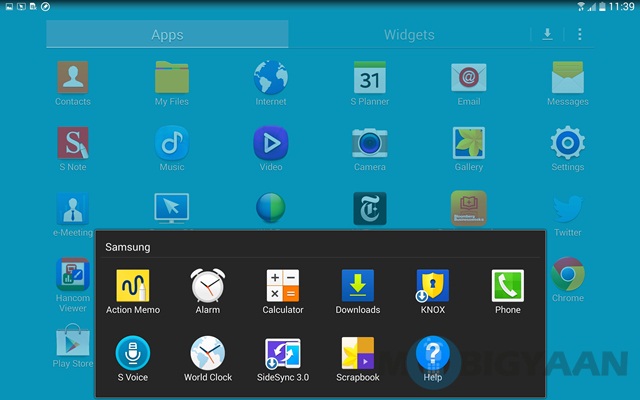 The pre-installed ones are Google and Samsung folders, while you can create your own according to your convenience. The layout is clean and fits in just two homescreens, which makes it a pleasure to work on.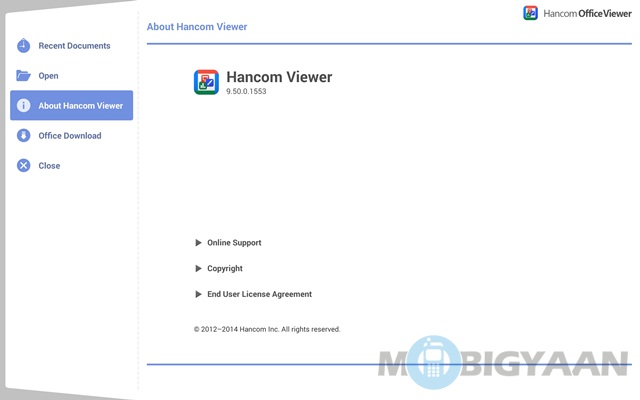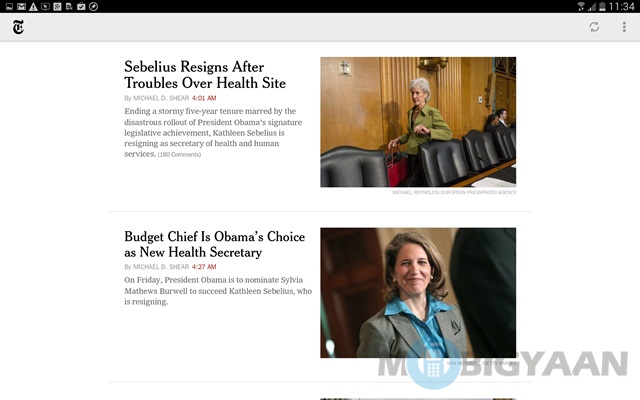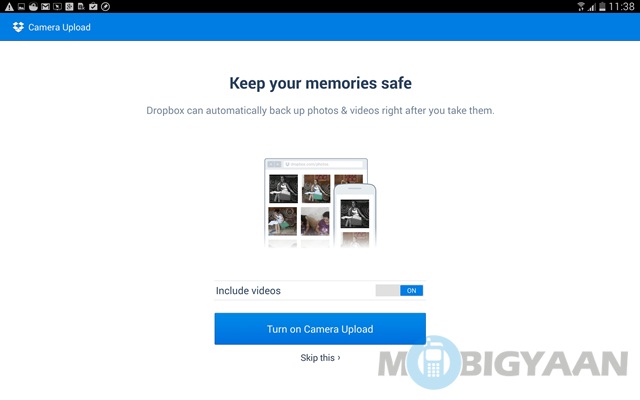 Samsung actually knows that rather than a consumer tab, this one would be more of a corporate tab. This is why the company has endowed it with apps like Hancom Viewer, Remote PC and e-Meeting, besides some common ones such as New York Times and Dropbox.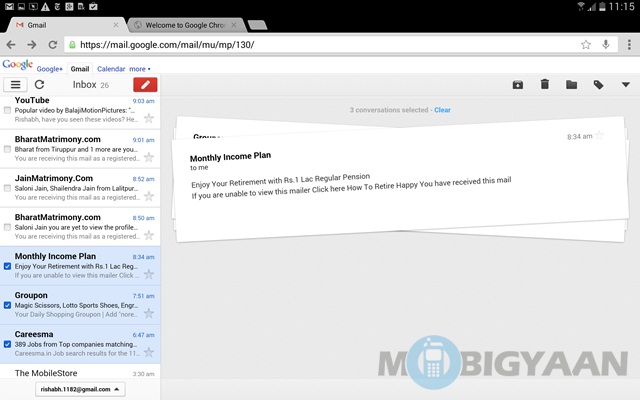 The Samsung Galaxy Note Pro 12.2 comes with mostly the same software as the Samsung Galaxy Note 3. If you swipe from left to right, you will be able to access multi-window shortcuts.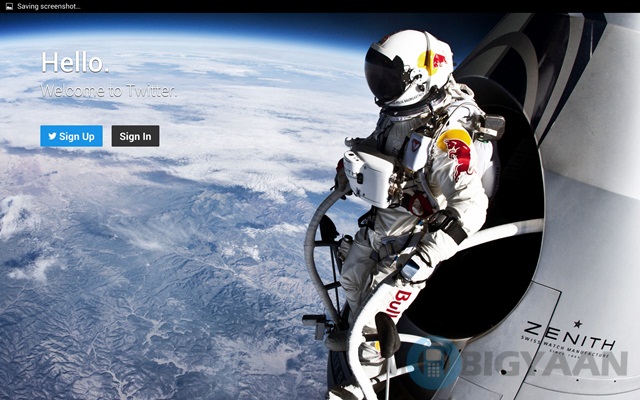 Every app can be optimized for such a large screen size and you feel completely at home doing anything on this tab, even small things like accessing your email.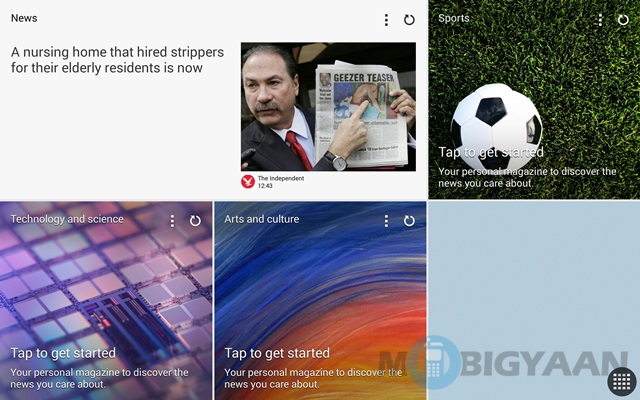 Things like My Magazine have an added pleasure on the big screen. It is, according to me Flipboard with an improved UI.
Since this tab comes from the Note series, it has the usual bows and ribbons i.e S-Pen functionality.
S-Pen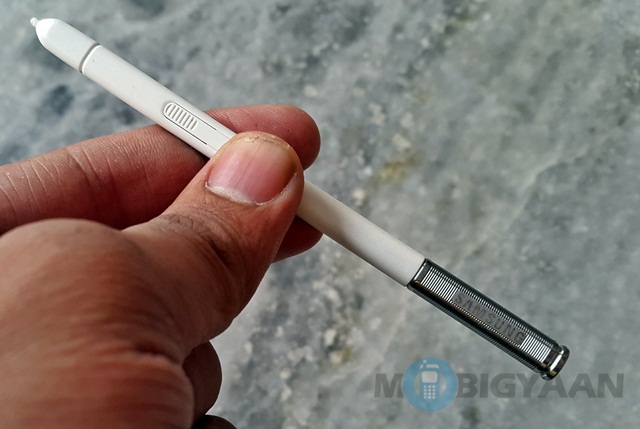 If it was a pleasure to use the S-Pen on the Note series handsets, its a revelation on the Samsung Galaxy Note Pro 12.2. With such an ample amount of screen real estate, there is a world of possibilities with this feature.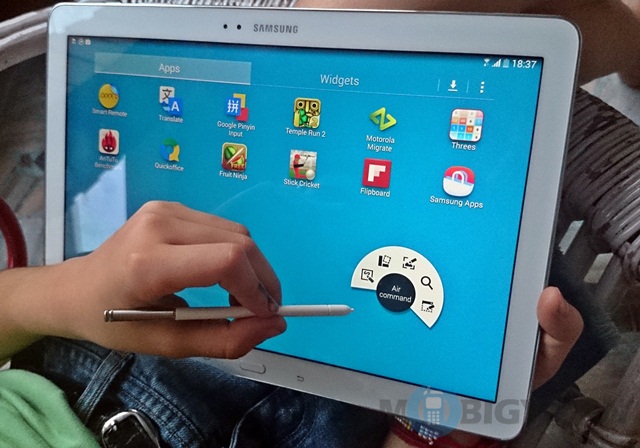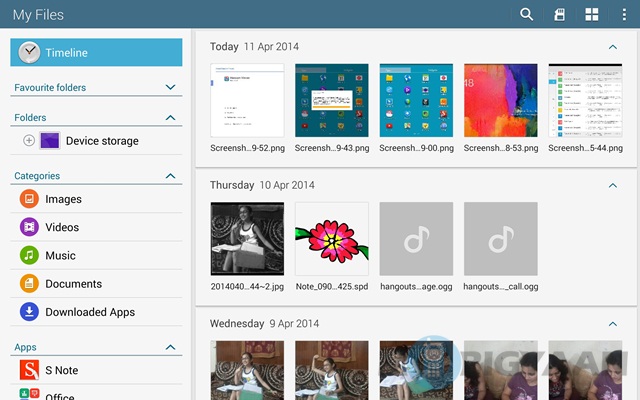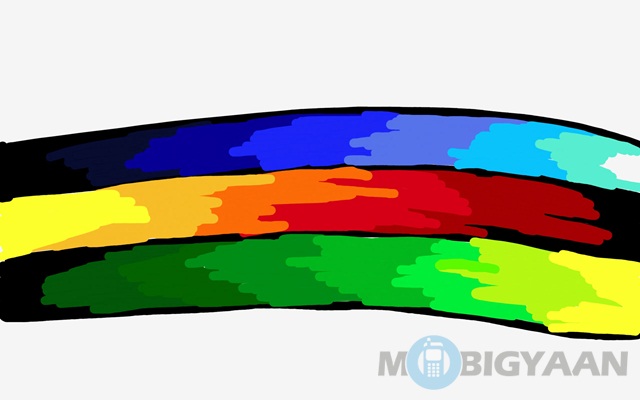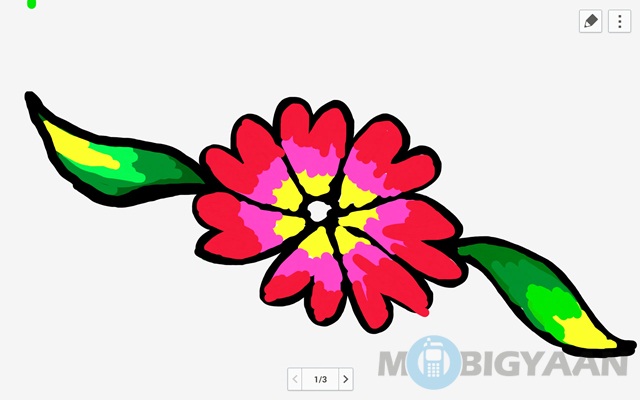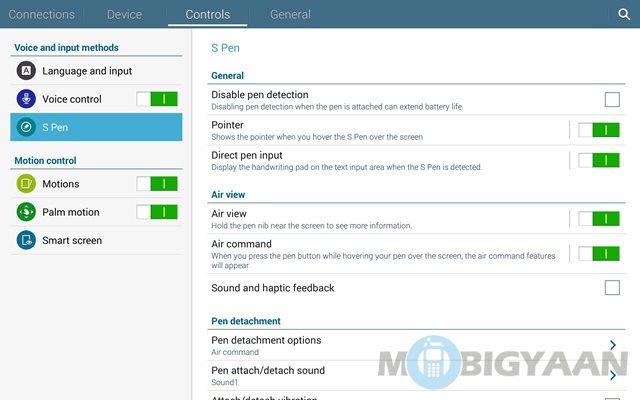 The Note Pro 12.2 S-Pen is no different than the Samsung Galaxy Note 3 S-Pen. It has all the awesomeness intact. Air Command, Scrapbook, Action Memo and the whole team is here. We are a little taken aback though, since Samsung had a chance to add even more S-Pen functionality with this tab, but whatever is there is still pretty cool.
You definitely have a lot of fun with this tab and it will please your heart to use one. Samsung is definitely at the top of the stylus game and if you really want to find out how awesome a stylus can be, I would  recommend getting your hands on this tab.
Business Apps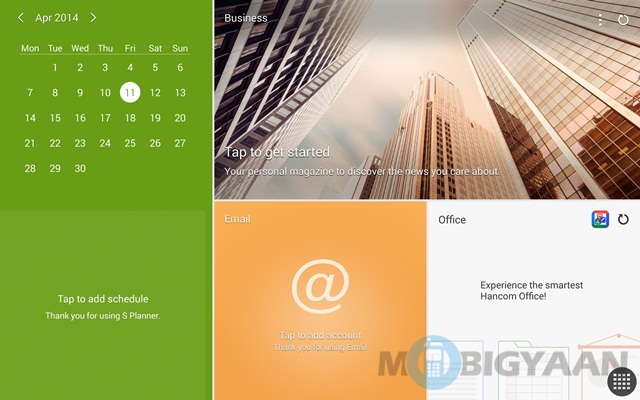 As I have honed on repeatedly, this is a business tab. I don't see laymen like well, most of us getting this tab (It says more about its price tag than it does about us, trust me).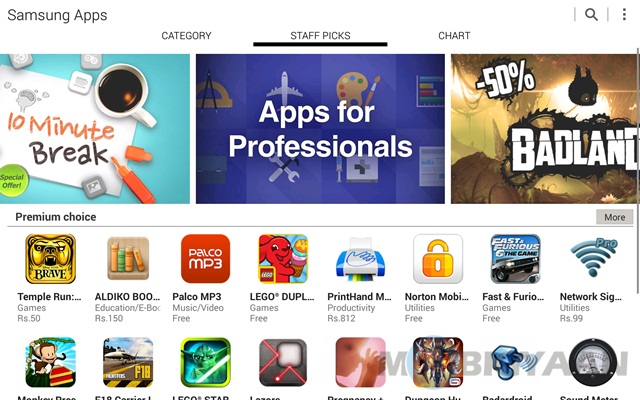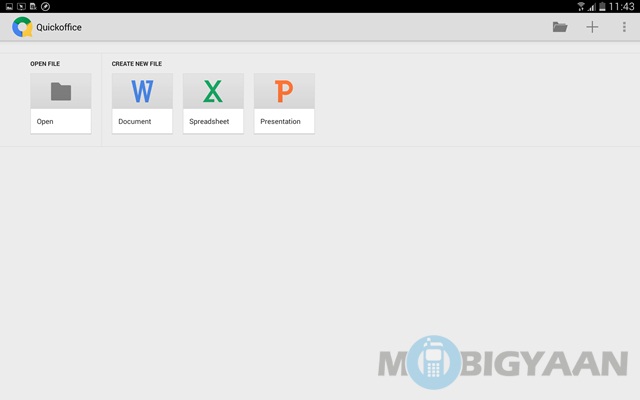 Obviously then, Samsung needed to do its homework regarding this. Thankfully it has.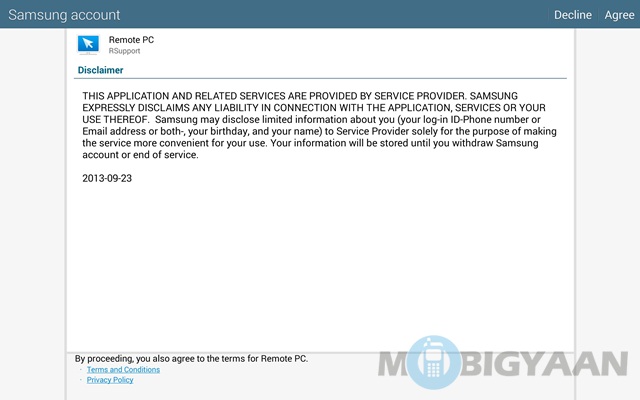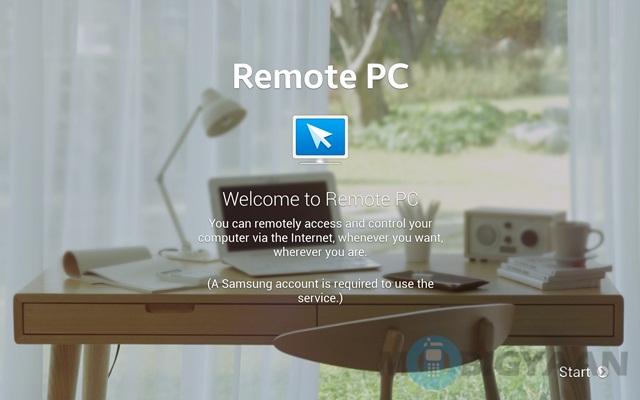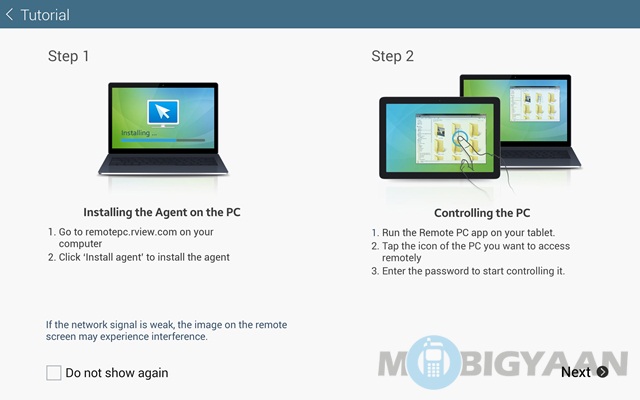 The Samsung Galaxy Note Pro 12.2 will definitely please some corporate honchos, with namely three features – e-Meeting, Cisco WebEx and Remote PC.
Just like a TV remote does for a TV, the Samsung Galaxy Note Pro 12.2 can actually let you control anything on your PC, right from the tab. This feature will come in handy during presentation.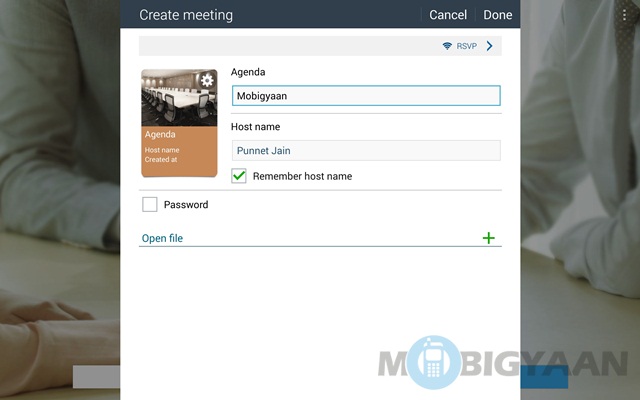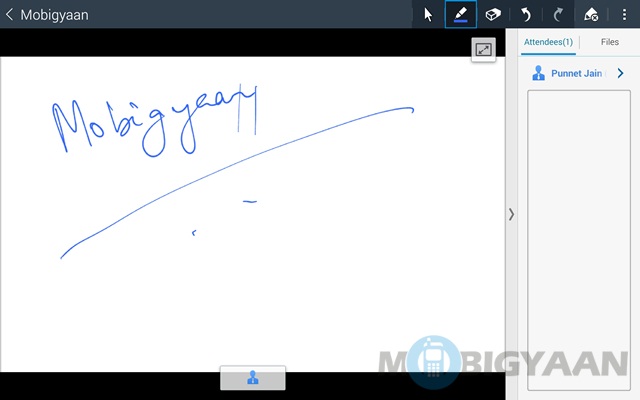 E-Meeting on the other hand is a much better alternative to apps such as Teamviewer, Yammer and Asana. It combined with ChatOn which lets you send up to 1 GB files easily, should work out great if you have a vast team you need to collaborate with.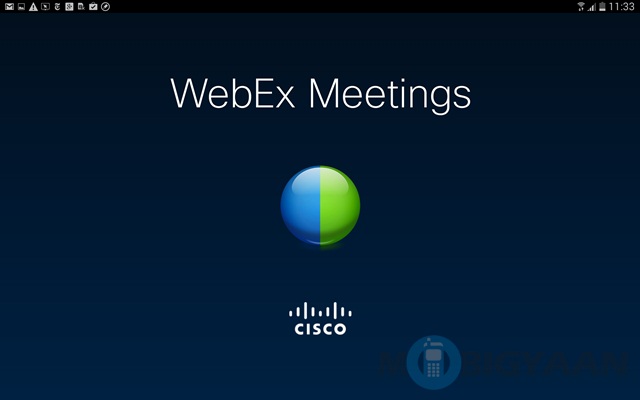 The Cisco WebEx is a third party app is once again a conferencing app, except it lets you set up online events.
Performance and Battery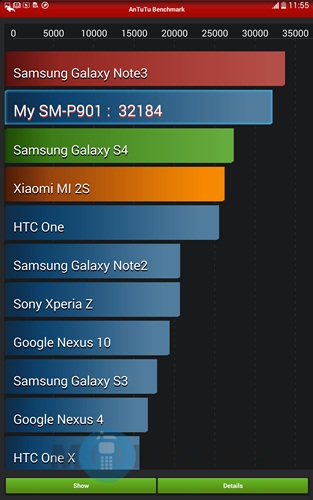 Tabs have always been a cause of complaints, when it comes to performance and if the Samsung Galaxy Note Pro 12.2 wants to go corporate, it needs to break this perception, it needs to be flawless.
Well, it definitely tries its best. Mostly, I would say it comes quite near to achieving it also, thanks to the octa-core Exynos chip and 3 GB RAM under the hood.
The feedback from the tab with almost anything, whether it was gaming, media or inbuilt apps is nothing short of fantastic. But if you go in deeper and try running many apps at once, it kind of slows down a little.  Otherwise, it was fantastic overall.
As far as the battery goes, at 9500 mAh, it is the biggest I have ever experienced. Thankfully the tab is optimized well and performs coolly under all conditions. But I kind the dearth of power saving modes here.
Camera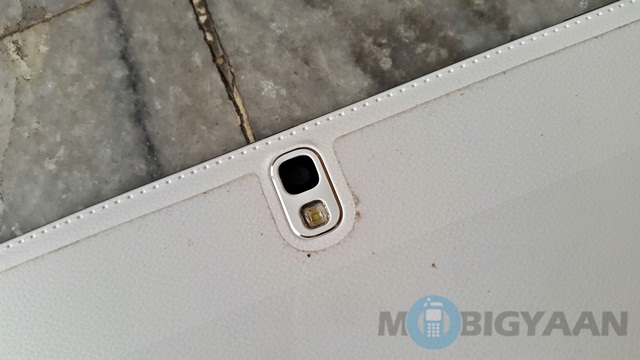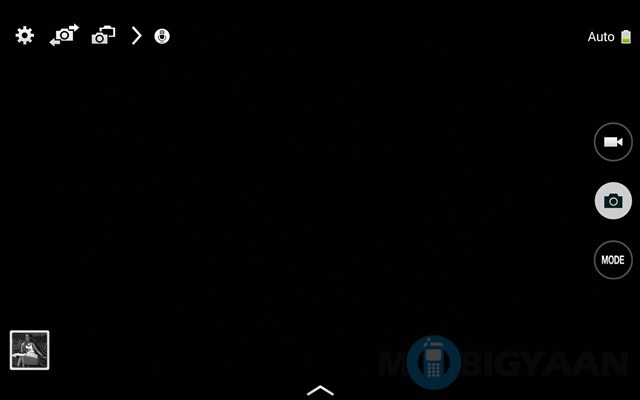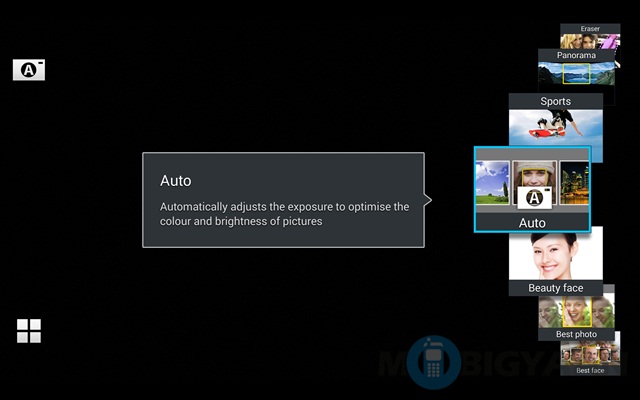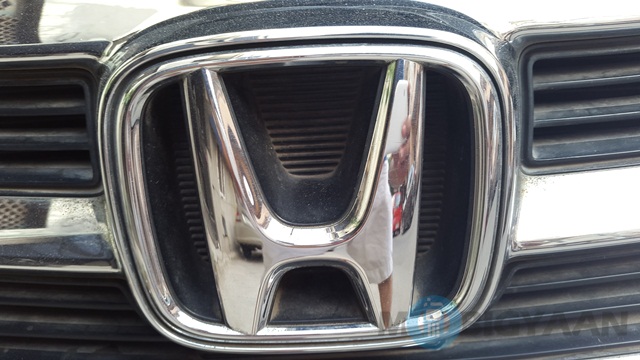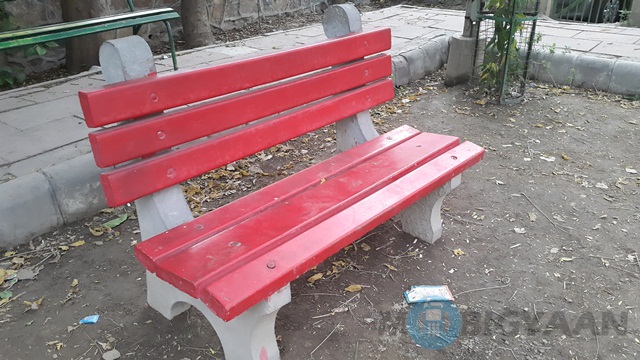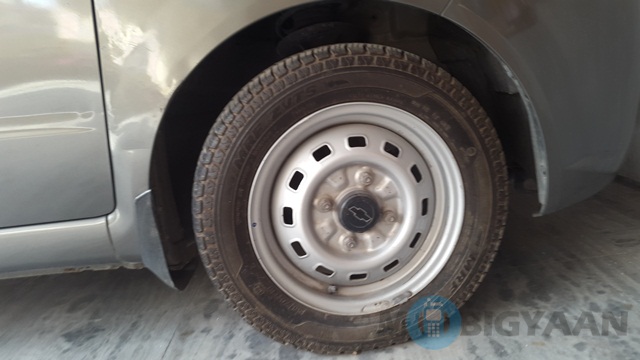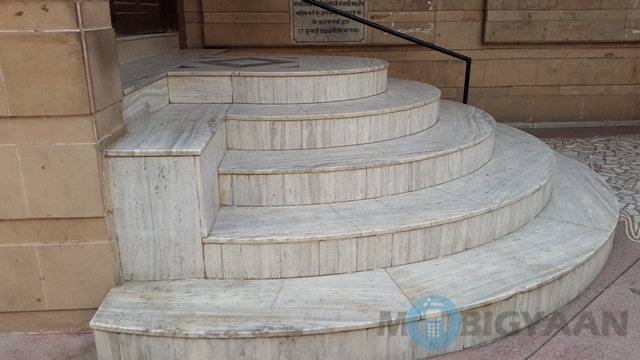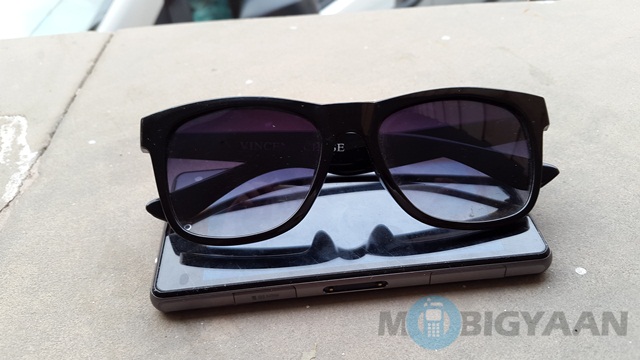 Ever hauled a 12.2-inch slugger around town just to take pics?
I did, and people found it more than funny. As far as the Samsung Galaxy Note Pro 12.2's 8-megapixel cam goes, I wasn't left too impressed. But, yet again, common sense dictates that it is necessary to have one on board, although you might not be using it too much.
Verdict
The Samsung Galaxy Note Pro 12.2 is definitely one of the most awesome tabs I have handled till date, although I wouldn't rate it as the sleekest. Samsung has once again gone out on its own and made something different than the usual.
At 12.2-inches, it is a pretty cool thing to have  but at Rs. 64,400, it can only serve as two things – a veritable boy toy or a corporate tab.
It definitely is pleasing to the eyes and feels pretty cool. But it faces competition from smaller, sleeker tablets such as the Sony Xperia Z Tab.
If you have money stashed away in the Caymans, you can get your hands on one and definitely have a gala time with it.
Its cool, only at Rs. 64,400, its out of reach for most of us.