The Sony Xperia Tablet Z is a contender amongst premium tabs – it is designed for people for huge pockets and great  tastes. It is also one more attempt by Sony at targeting the tablet segment that it has not as yet established a great presence in. Without the shadow of a doubt, it is one of the sleekest and most loaded tablets out there. It is in fact, a tablet version of its smartphone counterpart just like its name states and it has inherited both the form factor and water-resistance of the smartphone sibling but also stands out as a tab.
To get a clear picture, lets first have a look at the specs:
10.1-inch TFT screen (1920 x 1200p)
1.5 GHz Qualcomm Quad-core processor
2 GB RAM
GSM/HDPA/LTE/MicroSIM connectivity
64 GB MicroSD support
8.1-megapixel camera; 16x digital zoom
3.5 mm Jack
172 x 266 x 6.9mm dimensions; 495 gms weight
Android 4.2
A-GPS support and GLONASS
Bluetooth 4.0
6000 mAh battery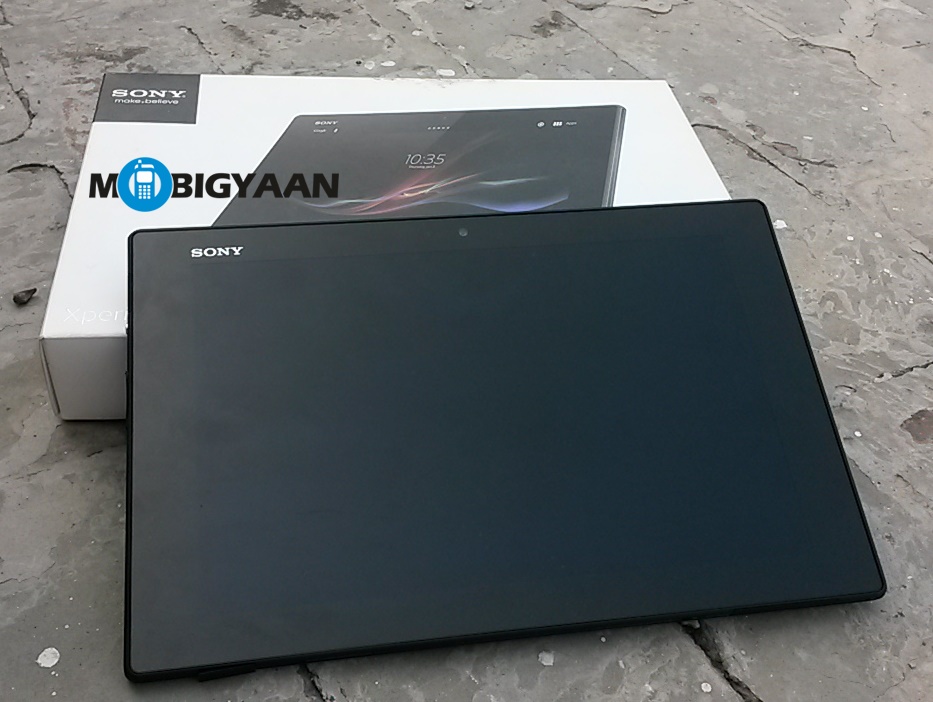 Packaging:
Sony has a no frills package for the Tablet Z. It comes with a pair of headphones, a charger and a data cable.
Body and design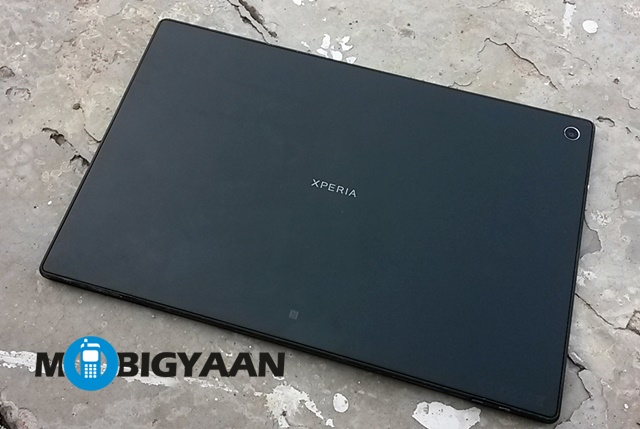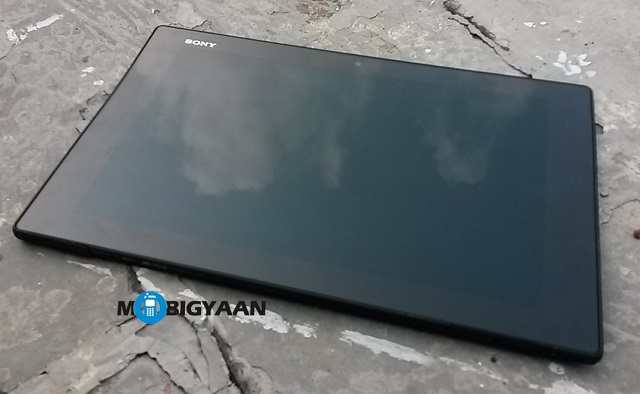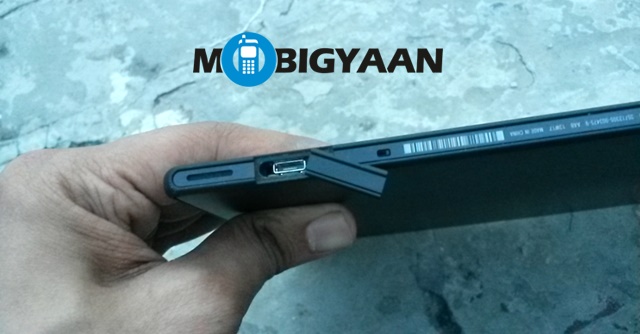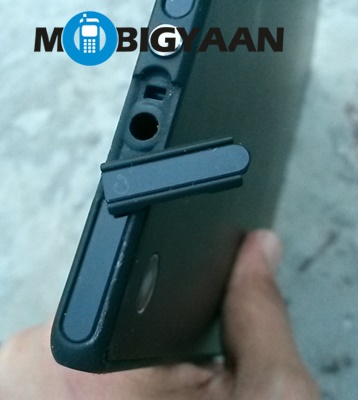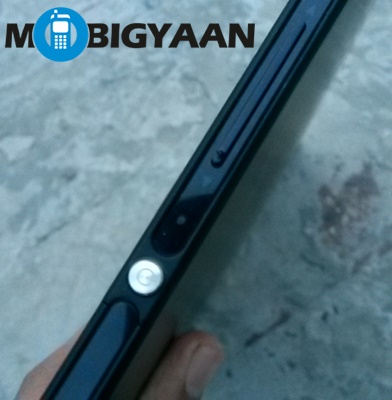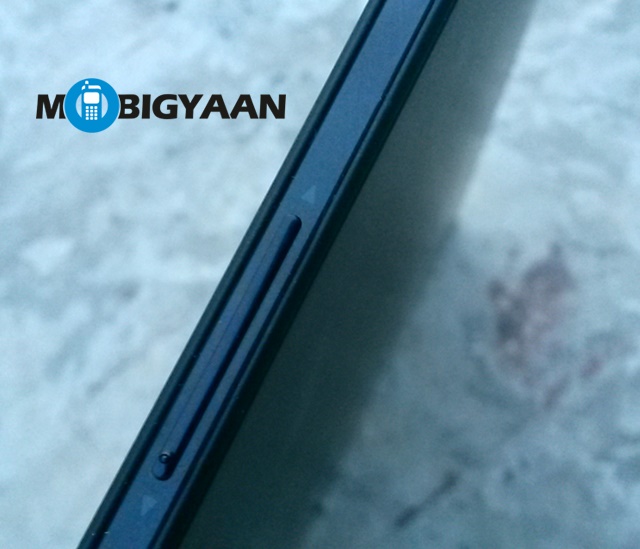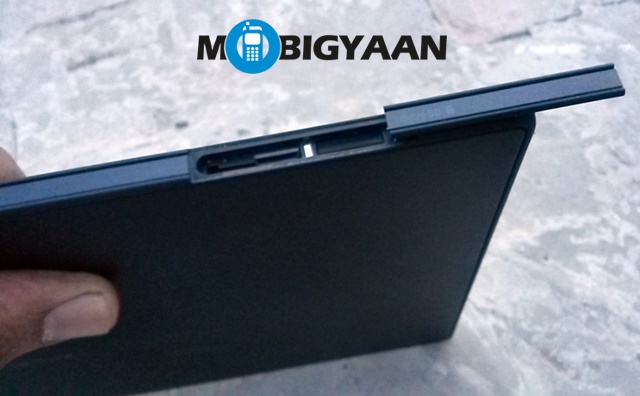 Well, design is where Sony has done nothing less than excelled. It is quite a sleek thing to have actually. You never feel too plasticky. The edges are pretty sharp but not too sharp. You can hold the tablet easily, work with it easily and use it to do anything you  want. In fact, it is so well-designed that at first you have actually look at the sides and actually hunt for its 3.5 mm Jack,  charging and MicroSD/ MicroSIM slots. There is a front camera and speakers close to the edges.
The volume rocker and power button are located on the left side of the tablet while the 3.5mm Jack and MicroSD/MicroSIM slot is located on the side. Every slot and every button is almost perfectly placed. The tablet is a pleasure to hold. Apart from being the world's thinnest and lightest tablet, the Sony Xperia Tablet Z is pretty solid and you would need to worry about the fragility of the design affecting its working.
As far as the design is concerned, the tablet gets full marks in this department. We have no qualms saying that it was in fact the best designed tablet we ever laid our hands on. Every angle and every detail has been taken care of when it comes to the design. This is a posh, sophisticated tablet and it deserves nothing less than admiration.
Android, UI and features
Right off the bat, the Tablet Z came with Android 4.1 – but Sony also gave us an OTA Android 4.2 update, which was pretty easy to download and install and worked easily on the tablet.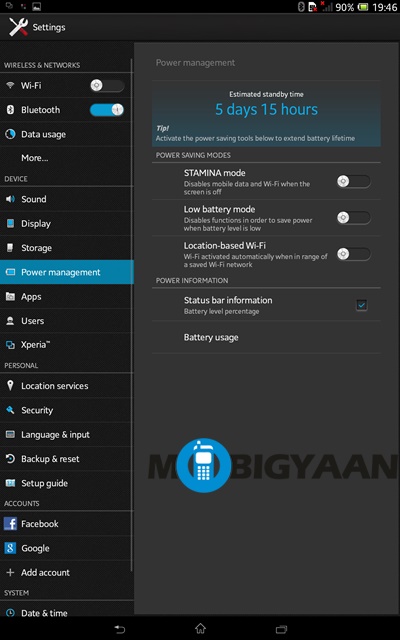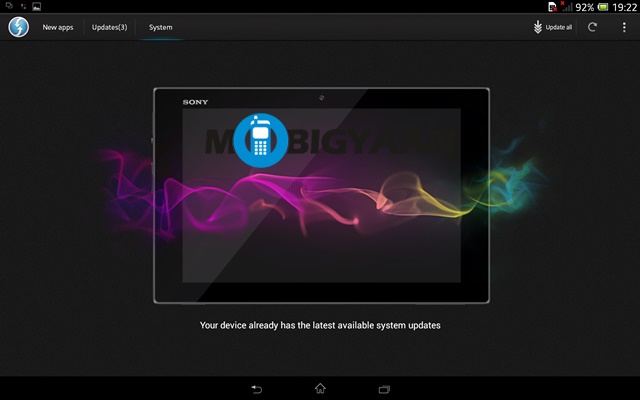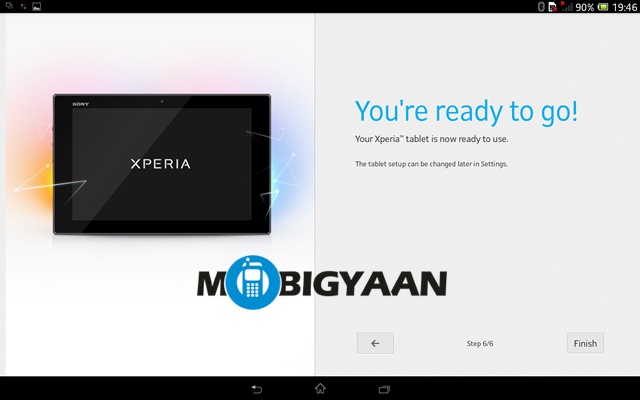 The tablet comes with a lockscreen that is easy to operate provided that you understand how to do it. All you need to do is to use your thumb and slide it down to up over the screen.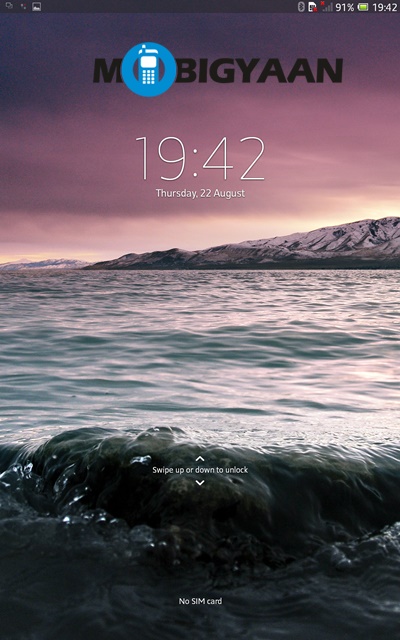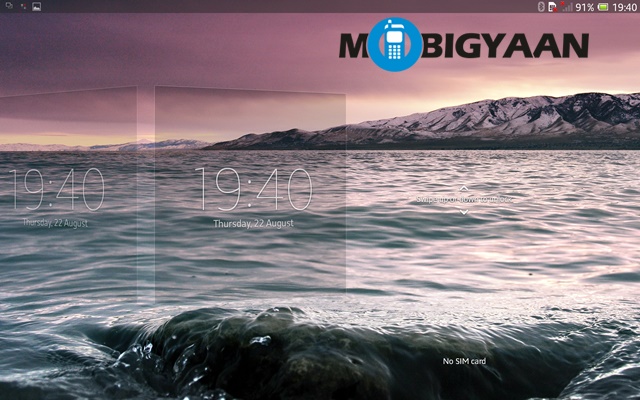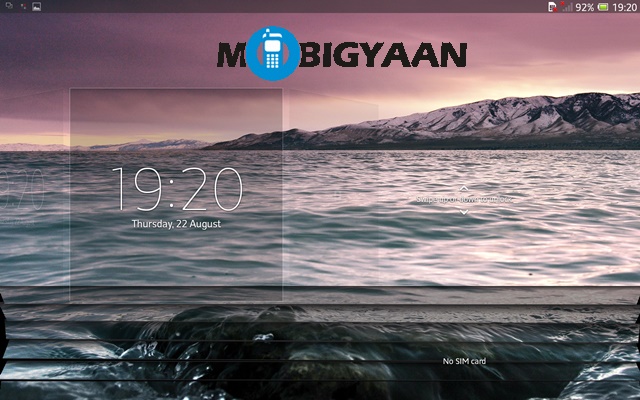 Besides the lockscreen, there are many home screens and awesome animations right on the wallpaper.
The UI from Sony is pretty great too. There are a range of stuff available and easily accessible. The Only complaint we would have in this department would be that it is sometimes too dark to take full advantage of the tablet's brilliant screen. You can easily use hordes of apps right from the home screen and it is altogether smooth as silk.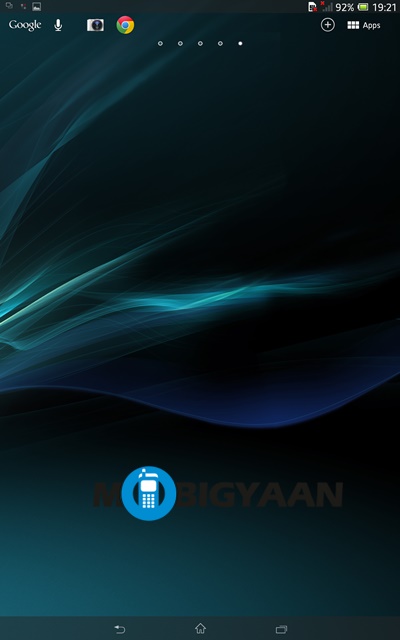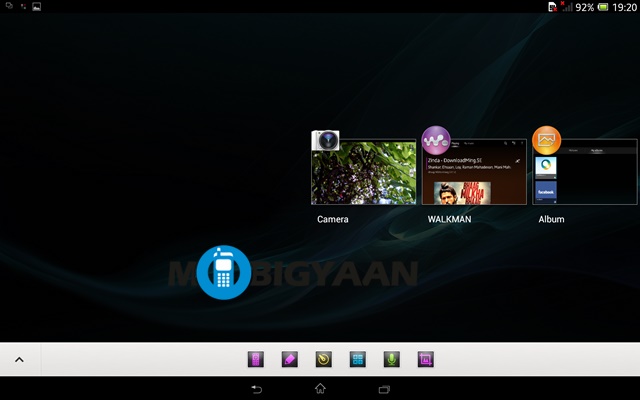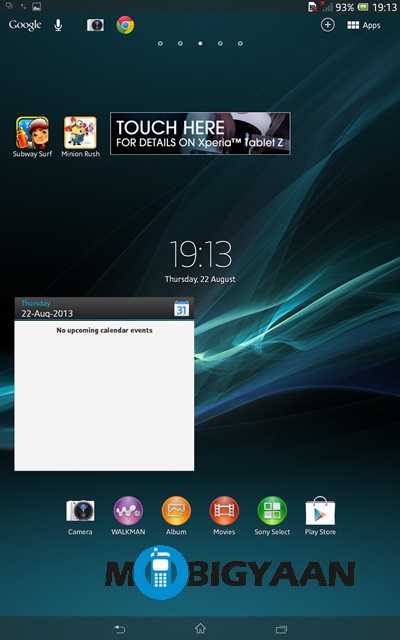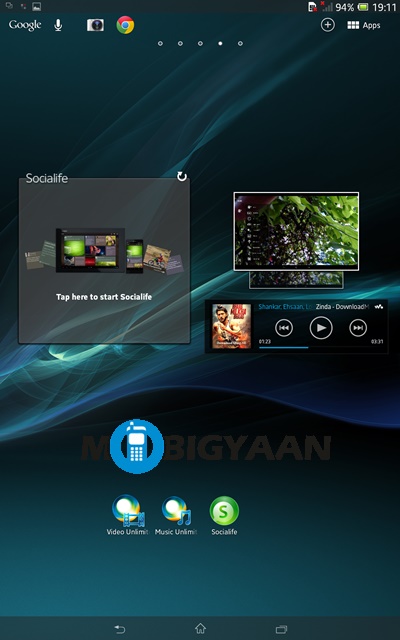 Sony has equipped the tablet with many features each of which simply reeks of awesomeness. Features include: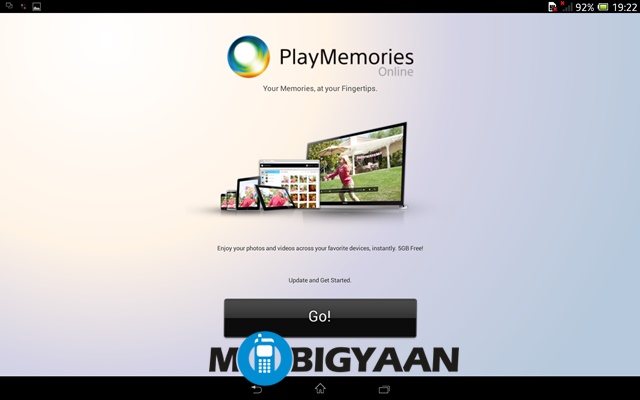 PlayMemories: Sony gives you 5 GB of cloud storage for your pics and videos.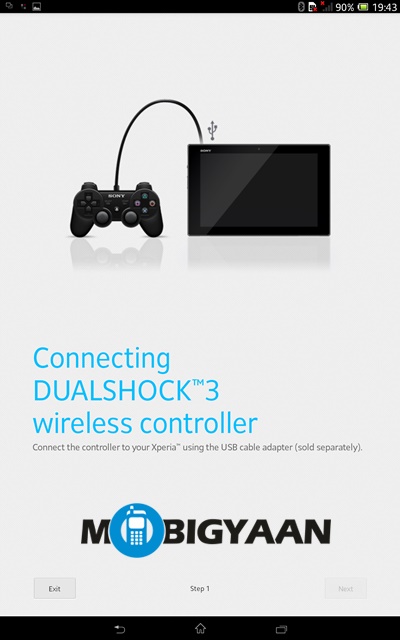 Dualshock Wireless controller: The Dualshock Wireless controller (if you purchase it separately will give you a PSP-esque experience on your tablet.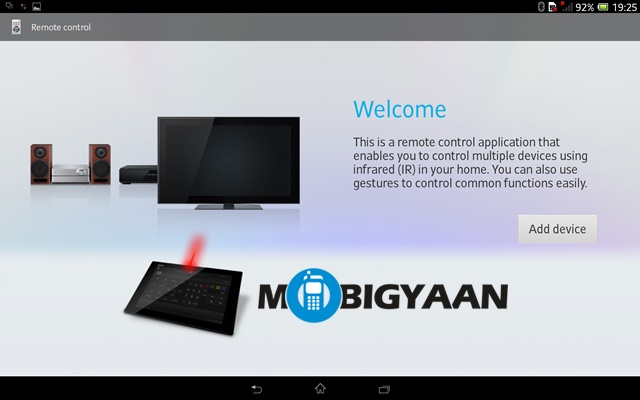 Remote Controller: Likewise, you can also use the tablet itself as a remote controller for your Sony Devices at home such as TV and Music systems.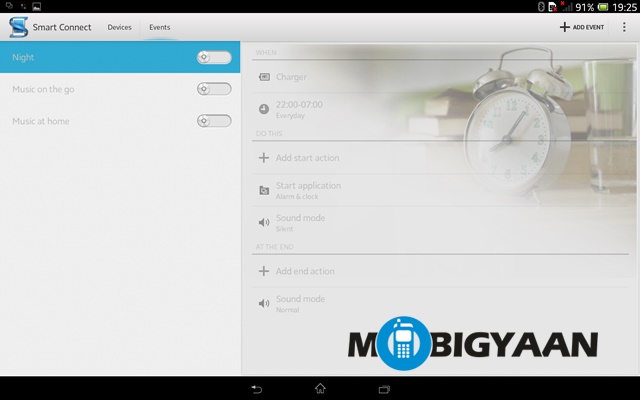 SmartConnect: There is also a SmartConnect application on board which will let you use different devices together or act as a reminder or an alarm.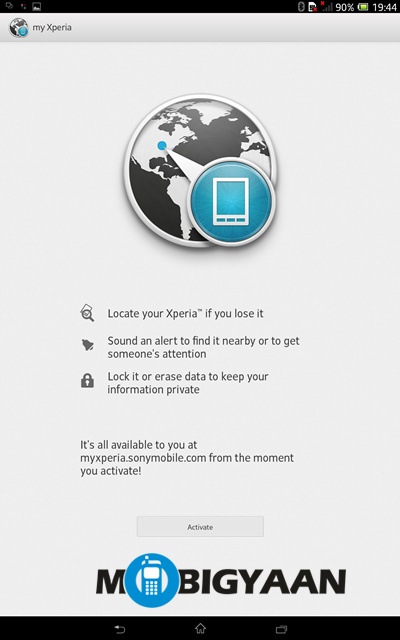 MyXperia: Sony has provided us with a Find My device kind of service called My Xperia which can help you easily locate your device.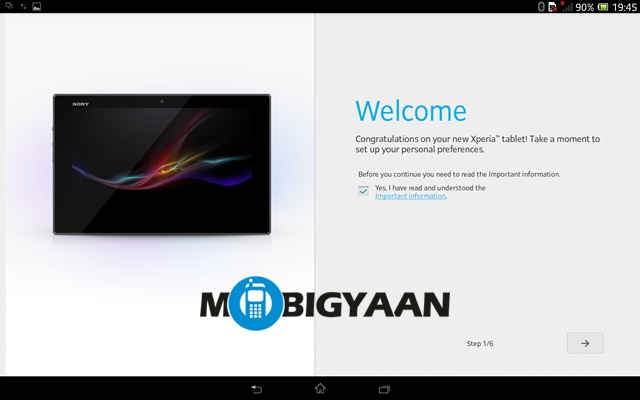 Customization: You can also customize  the device according to your preferences.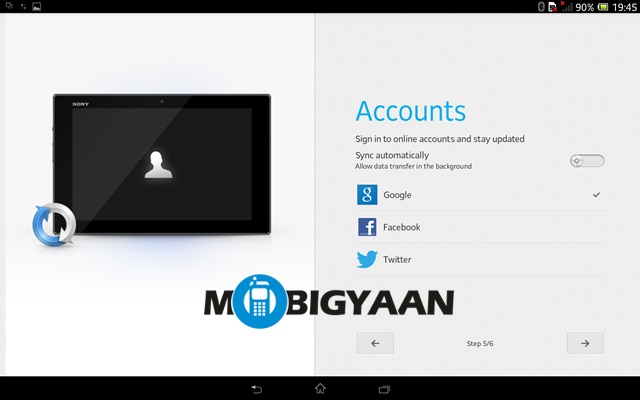 Social Networking: You can easily set up social networking accounts on the tab.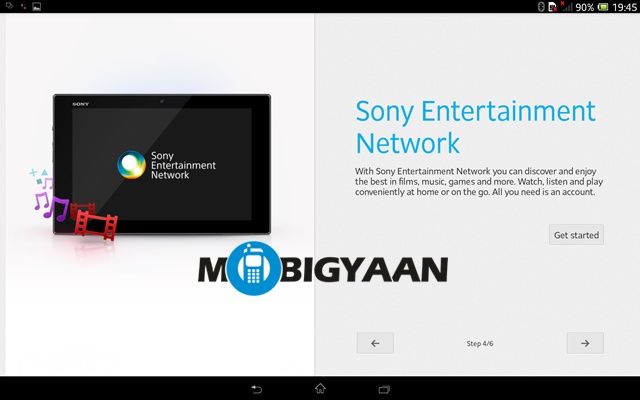 Content: Sony also offers a wide range of content to surf and stream.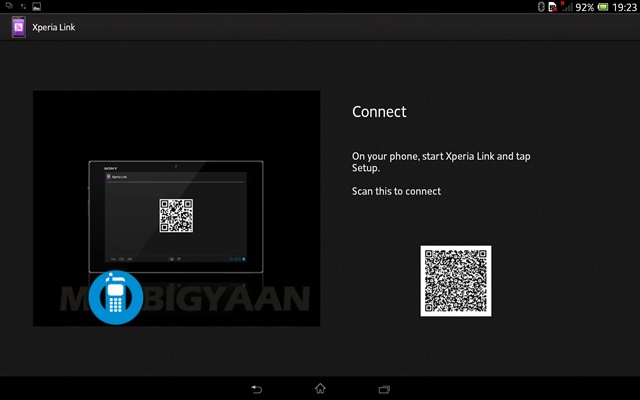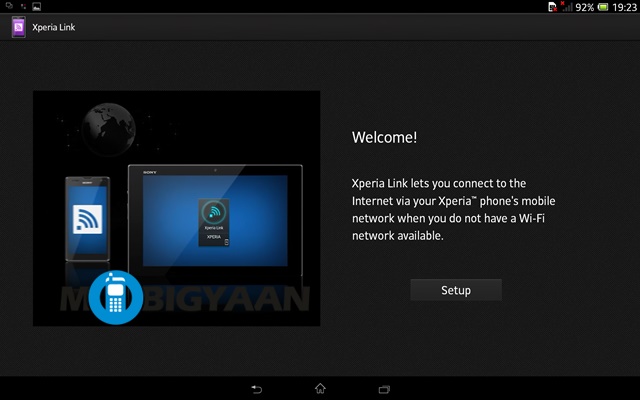 Xperia Link: Easy connection from tablet to smartphone.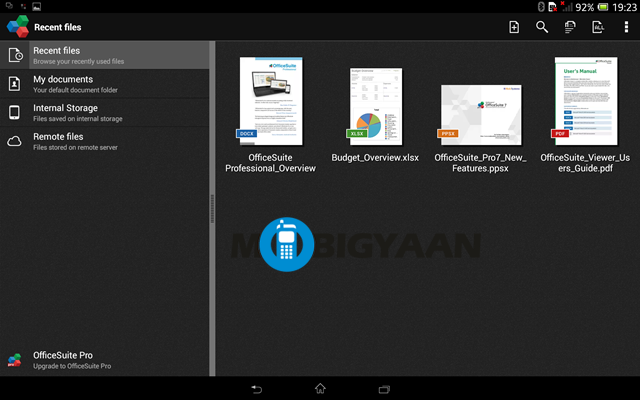 Office Suite: Sony has endowed the tablet with an Office suite, so that you can do almost everything work related pretty easily on it.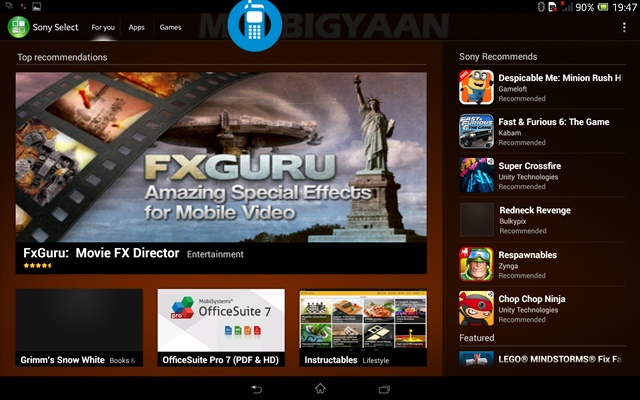 Sony Select: It is a selection of apps from Sony. Well, we have seen these kind of stores on many other tabs and smartphones, but this one is certainly the best that we have come across.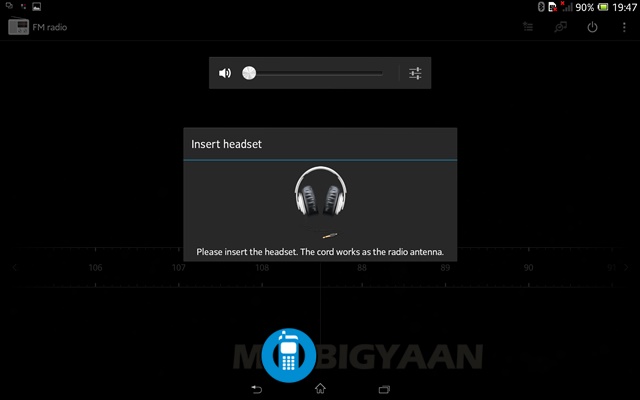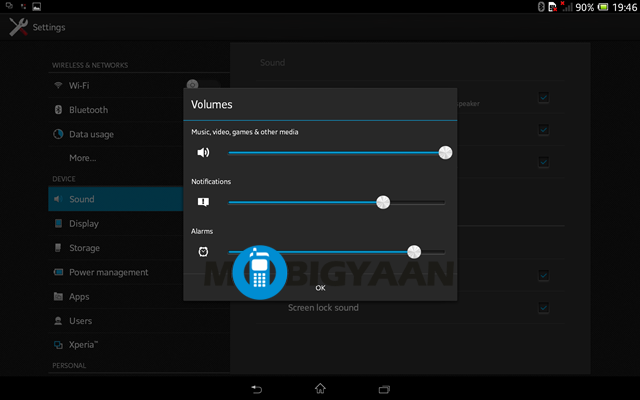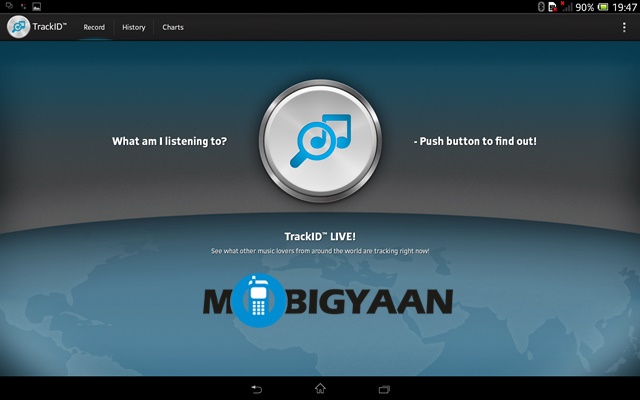 Music player: Sony is known for its music and this tablet never disappointing us for a single moment when it came to its clarity loudness or other worthy features.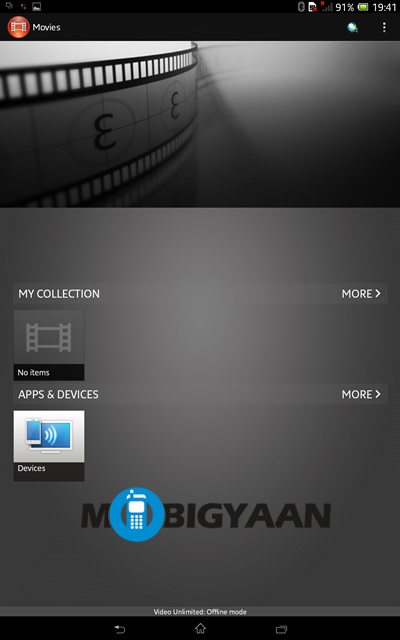 Videos: There is a specially dedicated movie player on board, which is excellent at playing movies.
But, that is not all. One significant aspect of any smart device is the camera.
Camera: Tablet cameras are not well known for their snapping abilities. But, Sony continued to surprise us when it came to the camera – it is actually a great snapper and has a lot of stuff on offer.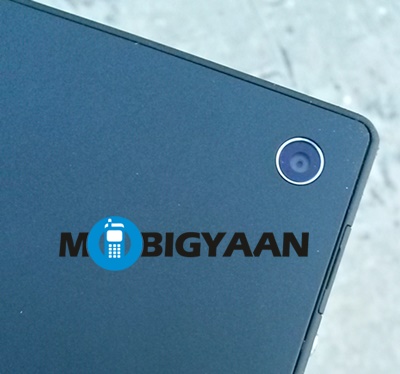 The secret behind the camera performance of this tablet is definitely the Exmor R camera sensors that Sony has endowed it with. The 8-megapixel camera is better than most we have seen, at least in the tablet range. You have access to lot of modes and editor. While there is no flash on board, the clicking quality is pretty good and easily covers up for that.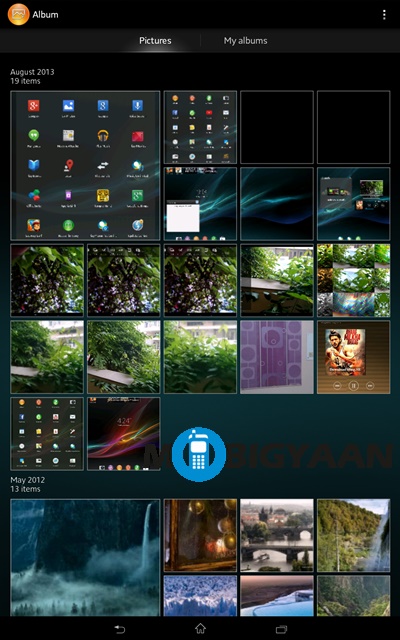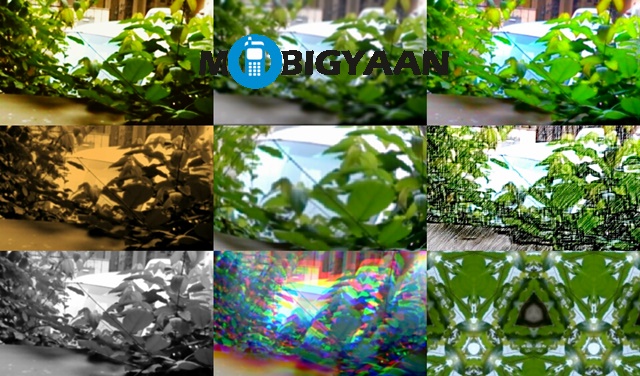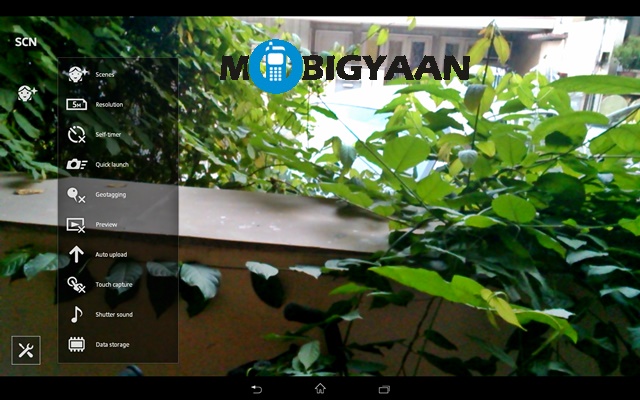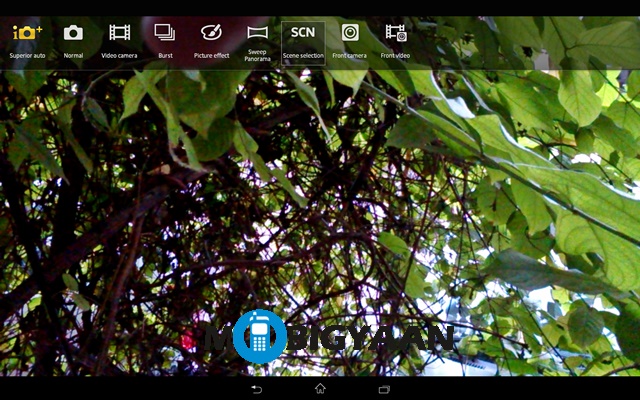 Performance:
As far as  performance is concerned, this tab does pretty good with a few itty-bitty issues here and there. It has 6000 mAh battery last okay but you have to spare some time to charge it.
One more thing, it does not have a great sunlight receptiveness, so it is kind of inconvenient to use it outdoors, which is one of the reasons you would actually want to invest in a water-resistant tablet.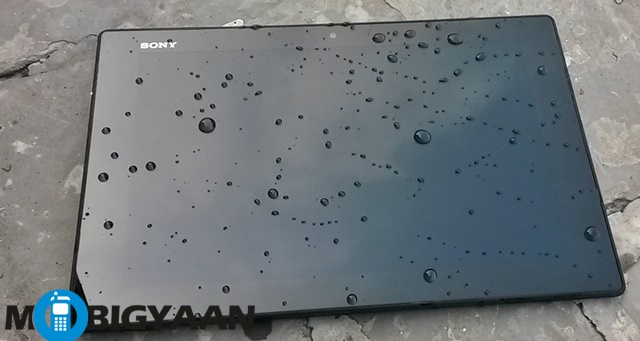 But, when it really comes to working under water as in rainy weather, it gets inconvenient, although with some efforts, you do get it to do some things.
 Basically, everything else works pretty fine.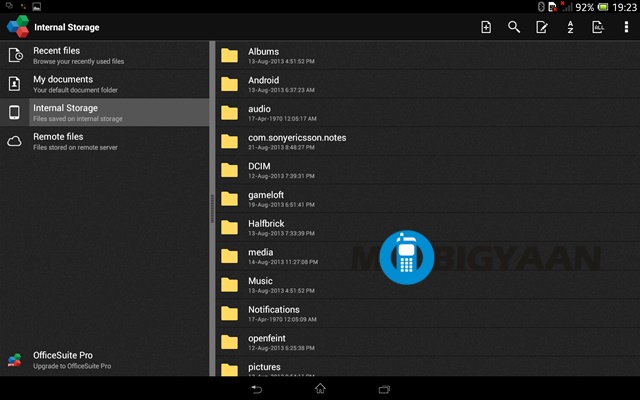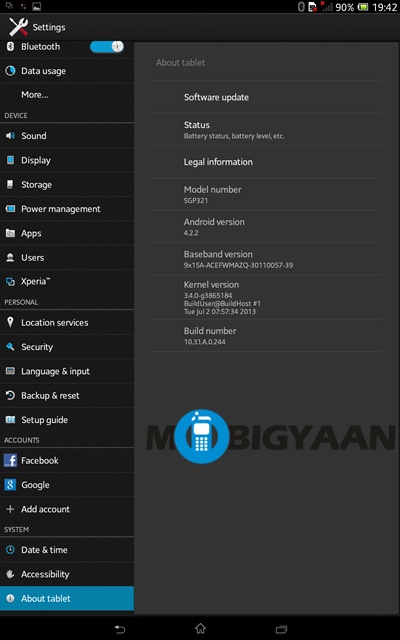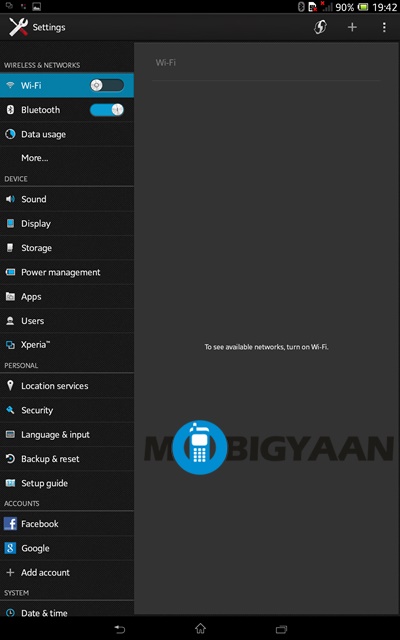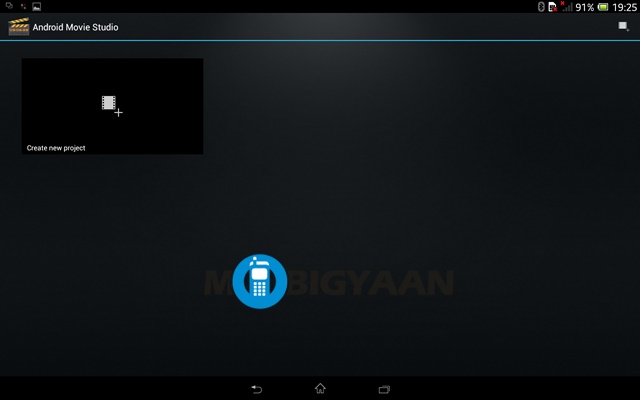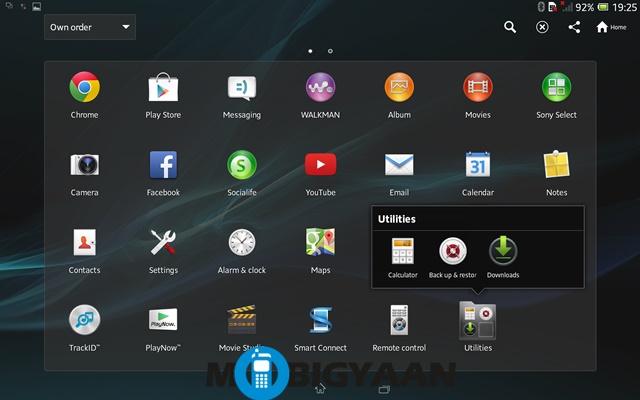 The connectivity is pretty great, whether it be the SIM or 3G connectivity.
Conclusion:
This is the best tablet we have ever seen from Sony and one of the best Android tablets out there. It is a great thing to have and if you have a PS or a Sony TV in your home, this would be the ideal companion for those. If you are a fan of sleekness and usability, this is the thing for you. You will love to do most of the stuff on it. But, you will also need a large pocket for its  Rs. 31,000 price tag. The water-resistance is there bu it is not too much of a thing to be buzzed about. But the rest of the stuff will impress you. If you can command the price, it is worth looking into.