While Samsung has enough problems to recall all the Galaxy Note7 units due to battery explosions, Galaxy Note7 users may face issues at airports in India as the handset has been completely banned from flights in the country.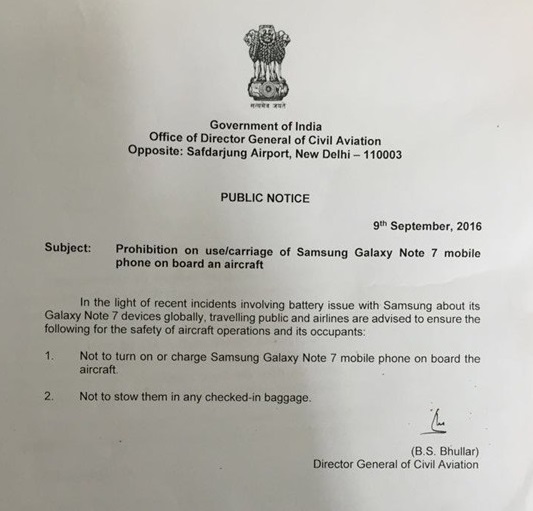 According to the order issued by the Director General of Civil Aviation (DGCA), Government of India, the Samsung Galaxy Note7 smartphone has been restricted on any Indian airline to ensure safety of aircraft operations. As such, flyers are not permitted to use the handset when on-board any flight. Users are not allowed to power on the device or even charge the handset in the flight.
However, the DGCA has permitted to carry the Samsung Galaxy Note7 in a turned-off state. The handset is also not allowed to be stored inside any checked-in baggage including cabin baggage. The move from the DGCA office comes after global authorities like the FAA and others restricted the usage of the Galaxy Note7 in flights.
Samsung has already acknowledged the issue with the Galaxy Note7 and termed it as a manufacturing defect. The company has already terminated the sales of the handsets and is already recalling the units sold. The recall is said to be one of the biggest in the history of smartphone industry and is expected to hit Samsung by quite a few billion dollars.
In a statement issued in this regard, a Samsung India Spokesperson said, "We are aware of the Directorate General of Civil Aviation (DGCA) notice. Consumer safety and peace of mind are our top priority. Galaxy Note7 sales have not started in India, and we have delayed sales to alleviate any safety concerns. We plan to expedite new shipments of Galaxy Note7 soon to reduce any inconvenience for our customers".