Samsung Galaxy S and Galaxy S II reach a combined sale of 30 million units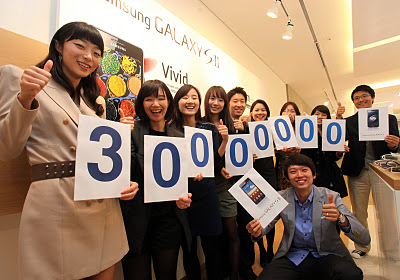 Samsung Electronics has announced that its Samsung Galaxy S and Galaxy SII smartphones have reached a combined total of 30 million global sales.
The Galaxy SII had earlier set a new record for Samsung, generating more than 10 million sales and also received five out of the total ten Mobile Choice Consumer Awards 2011 in the UK as well as 2011 Gadget Award for being chosen as the best smartphone of the year by T3.
The Samsung Galaxy S, the one that started it all, has reached almost 20 million sales, making it the highest-selling mobile device in Samsung's portfolio to date and another record-breaker for the company and the mobile market.
"Since its launch only five months ago, GALAXY SII has seen tremendous sales success and garnered enthusiastic reviews from consumers and mobile industry watchers across the globe. This is in addition to the continued sales momentum behind GALAXY S, which we launched at Mobile World Congress 2010 as continues to be a run-away success with consumers," said JK Shin, President and Head of Samsung's Mobile Communications Business.