It seems that Samsung is going Nokia's way. First, we saw app exclusive to Samsung's Galaxy S III Flipboard's apk leak out. And today at XDA Forums, we see another S III app, the S Voice leak out, even before the smartphone has gone on sale.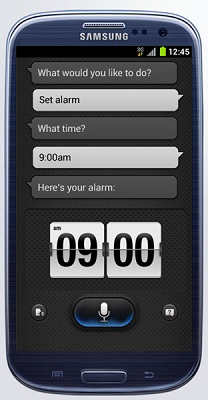 The app which is a mere 26.6 MB in size is available for download and can be installed on almost all rooted Android devices running Android 4.0 Ice Cream Sandwich. The app is said to install in a jiffy and without any hassles on most device but then it might not be that smooth for all. 

Even if the app installs well, it is not guaranteed to run that well, given the fact that the app is designed to work only on the Galaxy S III and may have loads of issues and bugs. But as we do know, developers may by now be working in full swing to make the app compatible with most devices and we may see custom APKs being released for smartphones in the coming few days. 
 
Until then, if you wish you to experiment with the app and try to run it on your Android 4.0 smartphone, grab the APK, head over here and enjoy and don't forget to brag about it to your friends who own Apple's virtual personal assistant Siri. 
 
Also if you are able to run the app and play with it, share your experience with us, in the comments section below.