While the rest of us have been busy speculating what the specs of the upcoming Samsung Galaxy flagship S – series device could be, people in some parts of the world have already seen the picture of the upcoming device. Most would be inclined to think its some tech blog that reported the alleged leak, but NO! It was lying on Picasa, the web album.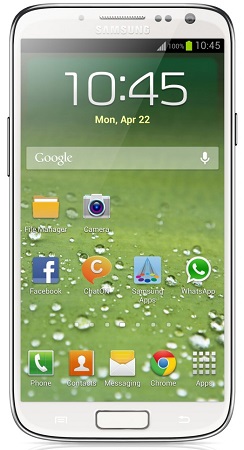 The image which appears to have been uploaded by a student from Hong Kong, who seems to have no professional relationship with the South Korean giant. The image was apparently uploaded on December 27, 2012 and has been residing on Picasa, freely visible for the public. The image also displays the generic name of the device as expected Galaxy S IV GT-I9500.

If the image is to be believed the product will definitely live up to the expectations. Although it looks quite similar to the Galaxy S III , the edges have been redesigned to give it a nice feel. The home screen button seems to be a big fat button compared to the previous editions.
 
The expected specs of this device are: 
4.99 inch full HD Super AMOLED screen

Screen resolution of 1920 x 1080 pixels

1.8 GHz Exynos 5 Octa processor

2GB RAM

Mali – T658 GPU

13 Megapixel rear

camera

2 Megapixel

front

facing camera

Android 4.2.1

S-Pen functionality
Another fact worth noting is the date on the screen of the image which 
shows
Mon, Apr 22, and happens to rightly fall in 2013 and the recent
rumor
suggests that the Samsung Galaxy S IV be unveiled on March 22nd which keep us wondering if there is any change of plans by almost a month.
The next few weeks are bound to be interesting as we expect more information on the Galaxy S IV to flow and stay tuned to us for all the juicy tidbits.

Amol Mathur contributed to this report