With less than a week remaining for the grand unveiling of the fourth gen Galaxy S device of Samsung, we have some more details as to what could be expected in the much anticipated smartphone of the year.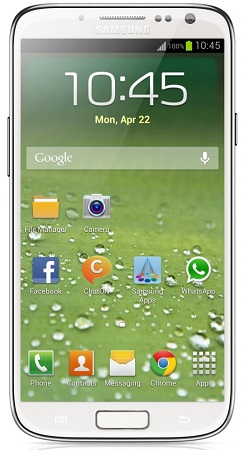 The earlier suspicion that the Galaxy S IV would come in two variations, one with the rumoured Exynos 5 Octa and the other with a new Snapdragon chip is nearly confirmed. As per sources, Samsung is developing two Galaxy S4 models which would be slightly different from the each other. One would be fitted with an LCD display and a Qualcomm Snapdragon 600 chip while the other would see the AMOLED display with the Exynos processor.
The leaks also claim that the Galaxy S IV would be controlled without actual touch. The device is expected to have floating touch which was earlier seen in Xperia Sola. The Floating touch technology lets you interact with a touchscreen by hovering your fingers a few centimetres above it. The screen incorporates sensors that detect the electrical field that flows around your fingers, and accurately determine their position.
We had earlier reported that Samsung would also introduce Eye-scroll in the Galaxy S IV. So with floating touch and eye-scroll, we could operate the smartphone without having to literally touch it at all. But currently the issue troubling us is the two variations of the Galaxy S IV. Would both the devices be launched in the markets or would we see just one? If both are launched, which markets would get the traditional Exynos powered device and how would this affect the sales of Galaxy S IV on the whole? All this will be known to us in just less than a week.