Samsung Galaxy S4 Crystal Edition with Swarovski elements unveiled in Thailand
With the Gold version of popular smartphones becoming increasingly common, Samsung has taken the craze to the next level by introducing the Crystal Edition of the Galaxy S4.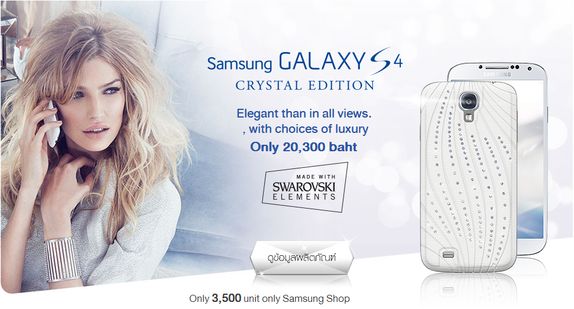 The crystal version of the Samsung Galaxy S4 is made with Swarovski elements. The device based on the international version with the Exynos 5 Octa Core processor, has a faux feather on the back on which the Swarovski crystals are embedded forming a striking pattern. The front of the device, however is the same as the regular device.
The crystal version of the Samsung Galaxy S4 has been unveiled in Thailand and has just 3500 units. The device is priced at 20300 baht which translates to around Rs. 38650. But before you get all excited, note that the regular Galaxy S4 costs approximately Rs. 32950 (17300 baht) in Thailand. Given the limited quantity, you will have to fly to Thailand immediately if you want one these devices.