With the launch date of the Samsung flagship drawing near, a lot more intricate details of the device are surfacing.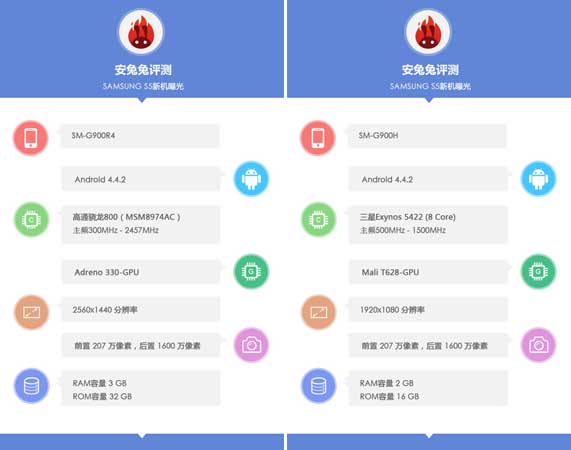 The Samsung handsets SM-G900R4 and SM-G900H were spotted at the AnTuTu Benchmarks. While it is well known fact that both the devices are the upcoming Galaxy S5, the former is the US Cellular version while the latter is for the European markets. Interestingly, both the devices seem to have varying specs, not just in terms of processor.
The benchmarks reveal that the handset would have a 5.2 inch display but the first with resolution of 2560 x 1440 pixels and the other with resolution of 1920 x 1080 pixels. Further, the first model is powered by a 2.5 GHz Snapdragon 800 processor instead of the latest Snapdragon 805 along with 3 GB of RAM and 32 GB of internal memory. However the variant has a 1.5 GHz octa core Exynos processor but with just 2 GB of RAM and 16 GB of internal storage.