Last week we told you that Samsung Galaxy S7 and S7 Edge will have model numbers SM-G930 and SM-G935 respectively. We also added that there will be two variants of both these devices. One will be powered by Qualcomm's Snapdragon 820, whereas, the other will be powered by Samsung's Exynos 8890. Needless to say, both these chipsets are performance beasts, so there shouldn't be much of a concern regarding the performance of the Samsung Galaxy S7 and the S7 Edge.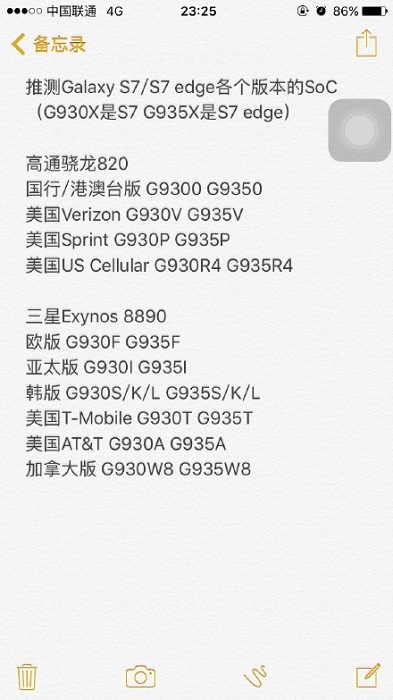 Below is the list showing which models will be powered by Snapdragon 820, and which will be powered by the Exynos 8890, along with the carriers.
Samsung Galaxy S7 and S7 Edge models powered by Snapdragon 820:
China – SM-G9300 and SM-G9350 models
Verizon – SM-G930V and SM-G935V
Sprint – SM-G930P and SM-G935P
US Cellular – SM-G930R4 and SM-G935R4
Samsung Galaxy S7 and S7 Edge models powered by Exynos 8890:
International unlocked – SM-G930F and SM-G935F
T-Mobile – SM-G930T and SM-G935T
AT&T – SM-G930A and SM-G935A
Canada – SM-G930W8 and SM-G935W8
Korean variants – SM-G930 S/K/L and SM-G935 S/K/L
Going by the above list, one can say that the Snapdragon 820 powered models will be restricted to the CDMA carriers, whereas, the Exynos 8890 powered models will support some international carriers.
It's worth noting that this information comes from an unofficial source and Samsung is yet to make any official announcements about the Samsung Galaxy S7 and the Samsung Galaxy S7 Edge, so jumping to conclusions based on these kind of rumors is too early. We can only wait for the official announcements.