Soon after we saw reports from a Samsung employee about the upcoming flagship, another employee has now leaked a slide revealing the possible Galaxy S7.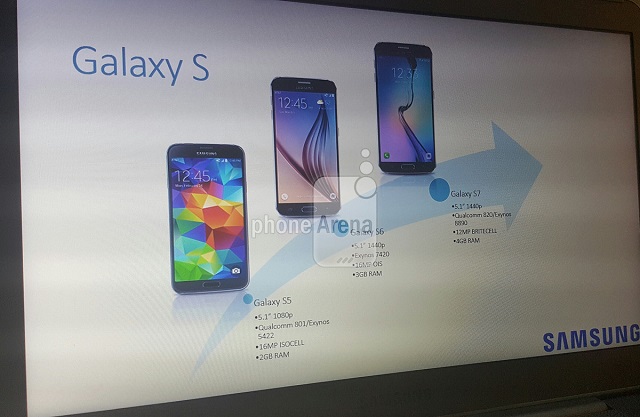 An alleged Samsung employee has leaked a presentation slide comparing all the Galaxy S flagship and possibly throwing light on the upcoming flagships Galaxy S7. To begin with, the image used seems to be strikingly similar to the Galaxy S6 but then again it could be just a placeholder. However, previous reports have also suggested the new flagship would have almost the same design as of the Galaxy S6.
The slide also throws light on some of the specs of the upcoming flagship Galaxy S7. For starters, the 5.1 inch display with super high Quad HD resolution of 2560 x 1440 pixels is mentioned. Also cited is the powerful Qualcomm Snapdragon 820 and the Exynos 8800 processor variants with 4 GB of RAM. Lastly, the slide also mentions the reduced 12 MP camera sensor which is said to have the lowest aperture.