We have been hearing quite a few rumours about the upcoming Samsung flagship, including a possibility of multiple variants. Now one of the alleged flagship handset was spotted at benchmarks.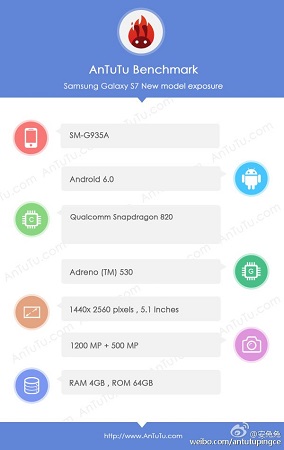 According to sources, the upcoming Samsung Galaxy S7 was spotted at the benchmarks, revealing all the details. As per the listing, the flagship handset sports a decent 5.1 inch display with super-high resolution of 2560 x 1440 pixels. Also seen is the powerful Qualcomm Snapdragon 820 processor with 4 GB of RAM and 64 GB of storage. Also present is a 12 MP rear camera and a front facing 5 MP camera.
Clearly, this handset is one of the Samsung Galaxy S7 variants with a small display, the other being with a 5.5 inch display. Also, while it is surprising to see that Samsung is using just a 12 MP camera, it is said that this has a larger sensor and smaller aperture, making it better than the 16 MP camera used earlier. We can expect the announcement of the Galaxy S7 along with the Galaxy S7 edge in February.