Leaks galore. Images, videos and renders of the Samsung Galaxy S8 and the Galaxy S8+ just won't stop surfacing online. Couple of hours ago, we talked about the leaked video of the Samsung Galaxy S8 which showed off the rear-mounted fingerprint scanner on the device. Well now, we are looking at the hands-on images of the Galaxy S8 and S8+ that have surfaced online.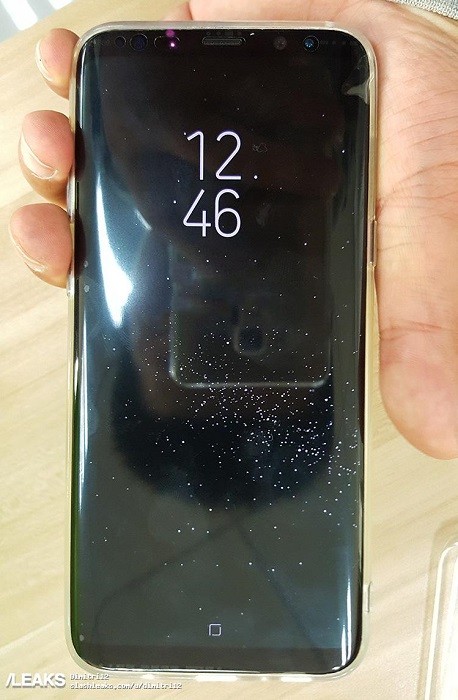 These images of the Galaxy S8 and Galaxy S8+ come from a case maker who chose to remain anonymous. You can see the images with a protective clear case on. These leaked hands-on images show off the devices from multiple angles. You can see the small bezels on the Galaxy S8, and, the screen is also on with what looks like a wallpaper. Also visible is the on-screen square shaped button. Above the display is the earpiece, front camera and Iris Scanner. Well, this is inline with what we have seen through past leaks.
Moving on, at the back is the primary camera which is flanked by LED flash and Heart Rate Monitor on one side and the fingerprint scanner on the other side. At the right side of the device is the power button whereas the volume rocker is located on the left along with a dedicated button for Bixby below it. At the top is the SIM card slot (and probably microSD card as well) along with secondary microphone, and, at the bottom is the the USB Type-C port which is flanked by 3.5 mm audio jack, primary microphone and speaker.
All this matches up with what we have seen in the past leaks, hence, it's very likely that this is what we will actually see at the time of unveiling on March 29. Moreover, both the Galaxy S8 and S8+ boast the same design, with the only difference being screen size, and hence, battery capacity. Apart from that, both the Galaxy S8 flagships will pack the same hardware under the hood.
We think that the only thing that will be left for Samsung to announce on March 29 is the price and some other software features. However, going by the amount of leaks that have been pouring in on the Internet, we won't be surprised to hear something about that as well before the Galaxy S8 duo is made official by Samsung later this month.