We are more than three weeks away from the unveiling of Samsung Galaxy S8, however, this flagship doesn't stop making rounds on the Internet. We have been hearing about the Galaxy S8 for some time now and keep coming across some images or renders of this device every other day. Well, today we aren't looking at any image or render, but, we take a look at the leaked video of this upcoming Samsung flagship.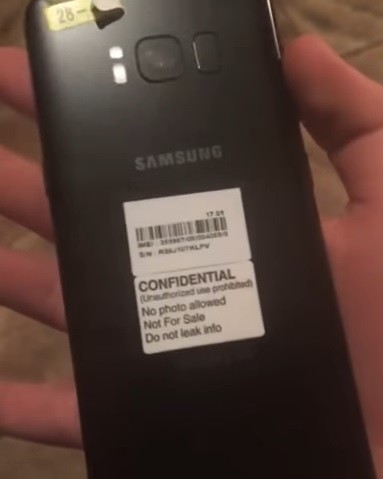 This leaked video is just a short video clip of five seconds which gives us a quick look at the Samsung Galaxy S8. The device is black in color and shows off the Iris Scanner on the front. At the back, you can see the primary camera along with the flash and awkwardly placed fingerprint scanner. Also visible is the Samsung and Galaxy S8 moniker.
While this video shows the Galaxy S8, you can expect the larger Galaxy S8+ to have the same design. Also, this isn't the first time a video of the Galaxy S8 has leaked online. A video leaked last week not just showed the on-screen navigation buttons on the Galaxy S8, but, the Galaxy S8+ as well.
The Samsung Galaxy S8 is going to be unveiled on March 29, but, it is reported to be available for pre-orders from April 10 with the global launch said to be on April 21. Samsung is also expected to unveil and launch the Galaxy S8+ on the same date. Both these devices are said to pack the same hardware, but, they will be differentiated by their screen size and battery capacity.
We will keep coming across more such leaks and rumors until the Galaxy S8 is made official by Samsung later this month.