Samsung just revealed its Gear IconX, a wireless pair of earbuds that not only let you enjoy the music but also helps you in tracking all your fitness activities such as heart rate, calorie meter, steps count and more. When we talk about wireless, it is completely wireless there are no cables connecting those earbuds. For fitness freaks out there, Samsung Gear IconX could be your new fitness accessory, want to know more, check out our Samsung Gear IconX review.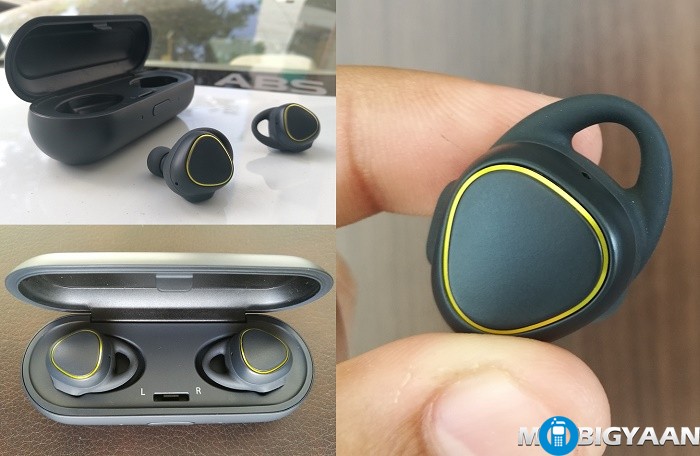 What's in the Box
Samsung Gear IconX Wireless Earbuds with built-in battery
Chargeable Case with built-in battery
Micro USB Cable
OTA Adapter
3 different size Eartips and Wingtips
Quick Start Guide and Warranty Card
Samsung Gear IconX Specifications:
Earphone Type: Wireless Earbuds (Cordless)
Protection: Splash Resistant (P2i Nano Coating)
Storage: 4 GB onboard (3.5 GB usable)
Connectivity: Bluetooth 4.1 (BLE), 2 Microphones per Earbud
Sensors: Heart Rate Monitor, Accelerometer, Capacitive Touch
Frequency Range: 20 Hz – 20 kHz
Sensitivity: 89.5 dB ± 3 dB / 1 mW
Impedance: 16 ohm
Driver Units: TBD, Dynamic Driver
Max. Power: Battery powered
Port: N/A (Wireless)
Battery: 47 mAh (Earbuds), 315 mAh (Case)
Compatibility: Android 4.4 or above, 1.5 GB RAM
Others: Fitness Tracking, Standalone Music Player – (MP3, M4A, AAC, WAV, WMA v9), Voice guide (available in 15 languages)
Dimensions: 18.9 mm x 26.4 mm x 26.0 mm (Earbuds), 35.3 mm x 30.3 mm x 92 mm (Case)
Weight: 6.3 grams per earbud (Earbuds), 52 grams (Case)
Colors: Black & Lime, White & Silver, Blue & Cyan
Price: ₹13,490 ($199)
Warranty: 1 Year Manufacturing Warranty
There was a time when Fitness trackers were not been able to provide accurate results but now they are becoming more accurate. We saw their Gear Fit2 fitness band that provides accurate data. Fitness trackers were designed to wear on your wrist, until now, here comes the stunner – Samsung Gear IconX, a wireless earbuds fitness tracker that tracks your fitness activities while you are enjoying the music on the go.
Unlike fitness bands, you plug it in your ears and it takes care of everything including your heart rate, steps count, and calories meter. It uses Samsung S Health app to show you the metrics. It is splash resistant (P2i Nano Coating), while the Gear Fit2 has IP68 (dust and water resistant).
Design and Comfort
Samsung Gear IconX is a pair of wireless Bluetooth-enabled earphones having no wires, completely wire-free. Both are separately powered by a small 47 mAh battery. The Gear IconX is designed to fit in your ears. The earphones look premium and sporty due to its mixed aesthetics. We've got a Black & Lime color product while IconX is also available in White & Silver, and Blue & Cyan color options.
IconX is very light (6.3 grams per earbud) and highly portable. They are shaped in a curved triangle with interchangeable rubberized eartips and wingtips for comfortable ear-fitting. The eartips and wingtips come in three sizes, small, medium, and large.
I prefer small wingtips with large eartips because it fits me well. Choosing a smaller size rubber tips may not be comfortable and chances are they can fall from your ears easily and eventually result in losing the earbuds.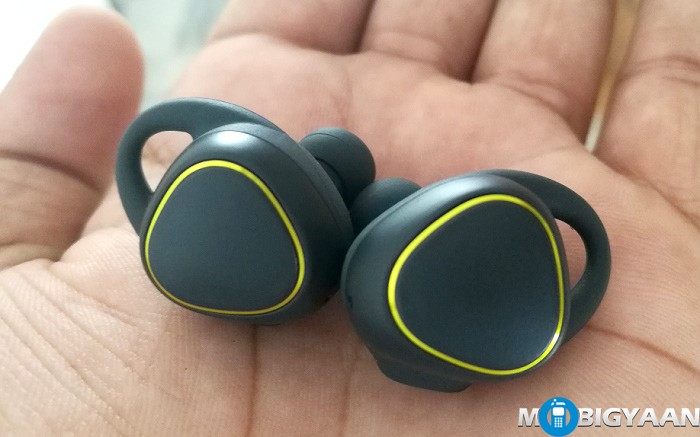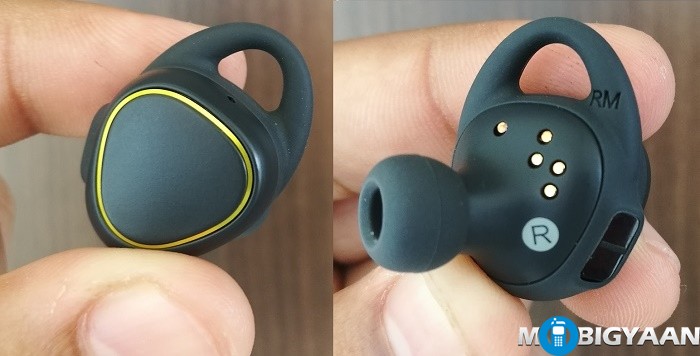 Gear IconX comes with a gesture touch control on the outside that lets you control your music. On the back, there is a heart rate sensor and other tracking sensors to tracks your fitness activities. The round pins you see on the IconX are actually the charging connectors aided by the charging case.
Samsung Gear IconX seems durable and doesn't break when it falls, it appears to be made from good plastics materials. What gets me is its unusual heating problem after prolong use, the earphone gets slightly warm, not too hot but warm enough to feel the heat on your ears causing discomfort.
Unlike IconX, Gear Fit2 is another fitness accessory from Samsung that can be worn on the hands. What makes the difference is a separate wireless headphone is required to play songs from the Gear Fit2 while IconX, being a headphone itself, doesn't. Still, both devices offer a 4 GB onboard storage giving IconX an edge over the Gear Fit2.
Each earbud headset has two microphones, one on the top area and another at the bottom, making it a total of 4 microphones delivering high-quality voice calls. They are also used for its Ambient sound feature.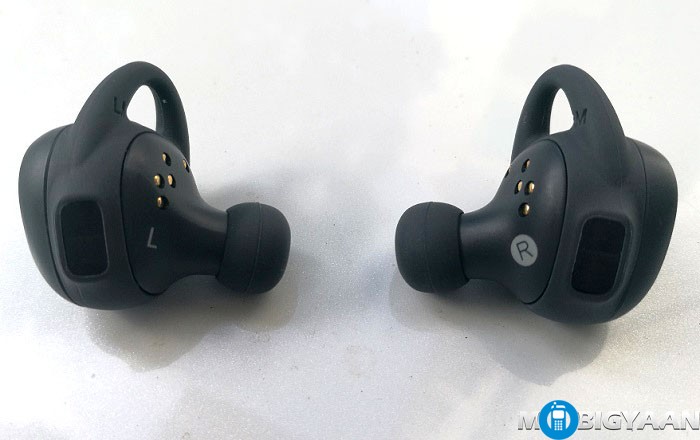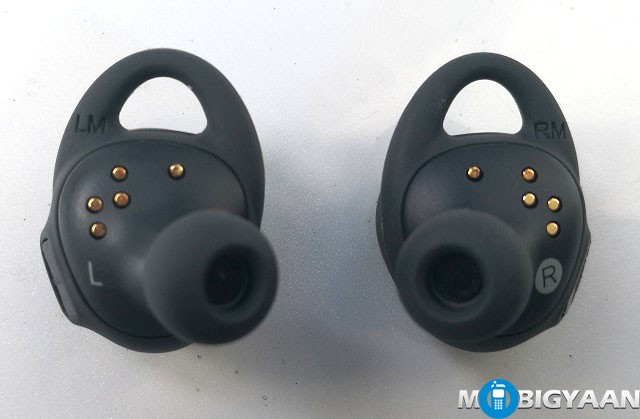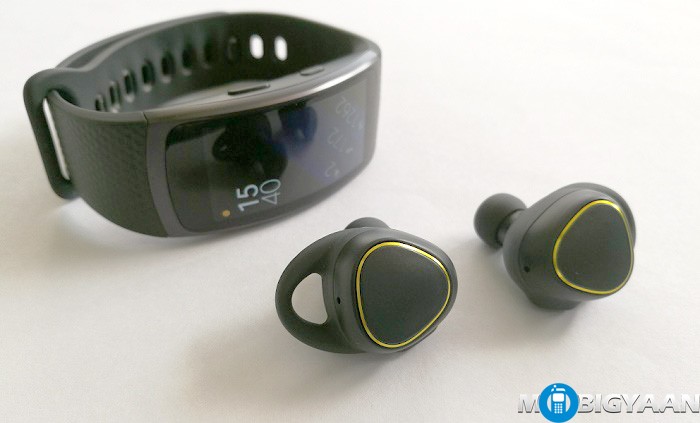 Gear IconX has to be recharged so once the battery is drained out, charging Case comes to the rescue. It's a case, which also acts as a power bank, that pops in those two wireless earbuds for charging. The red light indicates the earbuds are charging, whereas green light indicates a full charge. The case is powered using a Micro USB cable.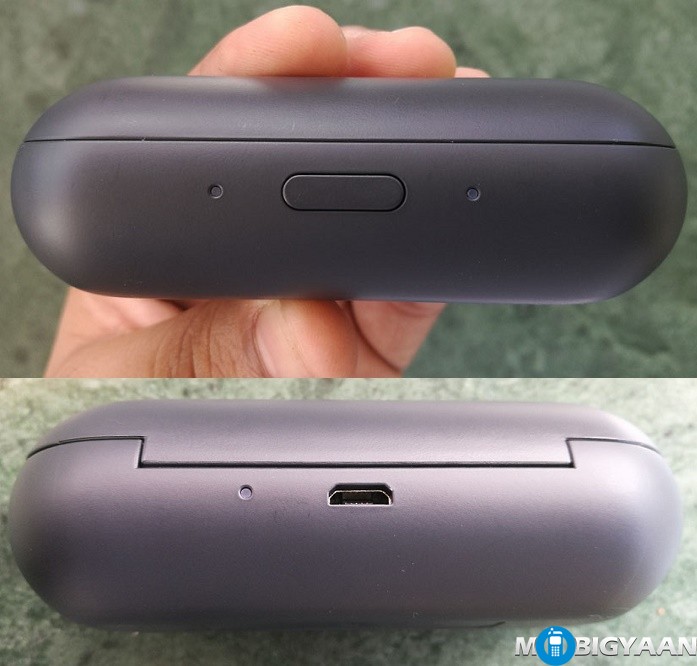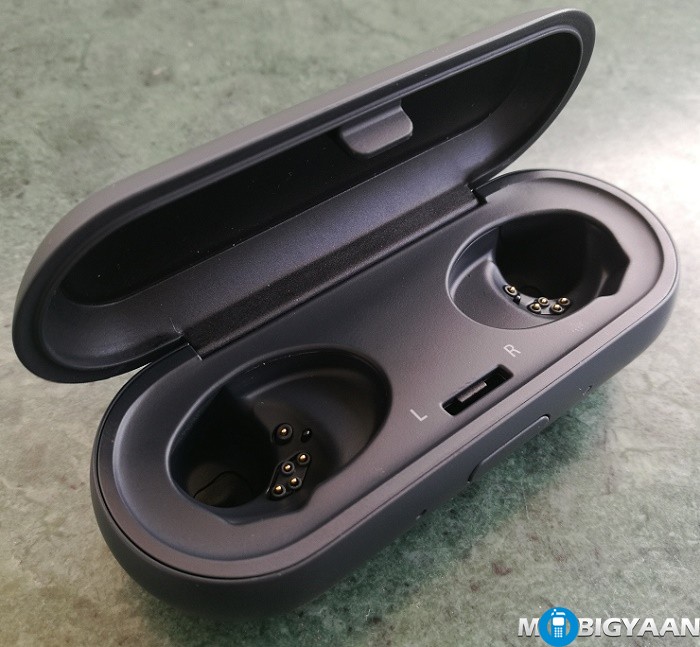 Hardware and Performance
Talking about the specifications, it has a typical headphone specifications. It uses dynamic drivers with a frequency response of 20 Hz to 20 kHz, 89.5 dB sensitivity (±3 dB per 1 mW), and 16-ohm impedance. The specs are sound modest for a pair of wireless earbuds. The audio quality is not the best out there but above average, you have to plug in your ears correctly. IconX isn't meant for audiophiles like me but I always love the design, though.
Each wireless earbud has a 4 GB onboard out of which 3.5 GB is usable. It uses Bluetooth 4.1 (BLE) for connectivity. When you want to add music to it, simply copy your music stuff from a computer and paste it . To transfer music, you need to put both the earbuds in the Case and connect it with Micro USB cable to your computer. You can also connect it with a smartphone with the provided USB OTA adapter. The IconX supports MP3, M4A, AAC, WAV, WMA v9 audio formats for its internal music player.
We tested the storage performance by copying the music (MP3 files) from a PC running Windows 10 OS. We got an average write speed of 3 MB/s while copying MP3 files. Although it doesn't matter because you aren't going to use it as a thumb drive, are you?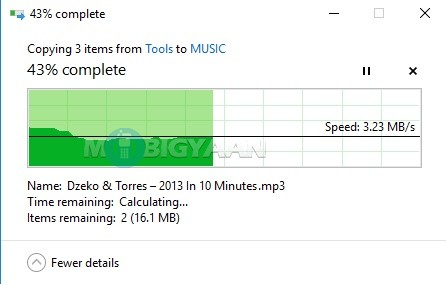 Software, Connectivity and Tracking
Gear IconX needs to be connected to the phone using Samsung Gear Android application along with a Gear IconX plugin. Similarly, Gear Fit2 plugin is required if you want to connect Gear Fit2 with your smartphone.  The fitness tracker is compatible with Android 4.4 or above, 1.5 GB RAM. Unfortunately, it doesn't support iOS or Windows Phone devices. Samsung Gear IconX was tested on the following version of Samsung Gear app.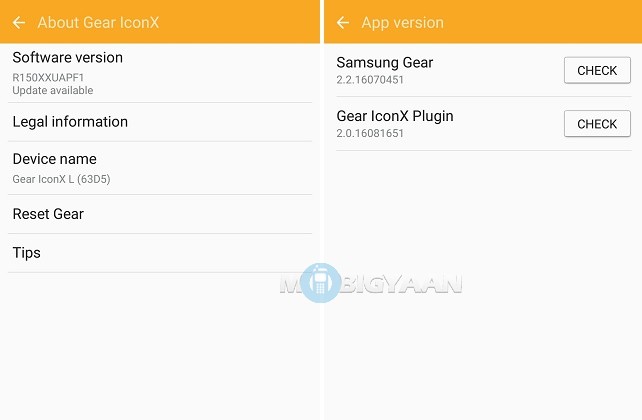 To connect IconX to your smartphone, you have to first enable Bluetooth, download the following apps:
The dashboard on the Samsung Gear shows you that IconX is connected with the phone. Here, you can switch the Earbuds, control volume, see your workout preview with S Health widget. and check the name of the song that is playing from IconX. You have two options, either play from the phone or from internal storage. It can be done from the settings itself.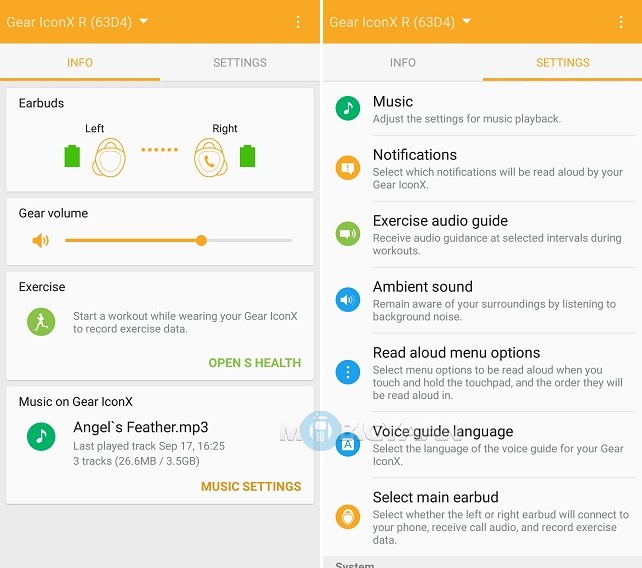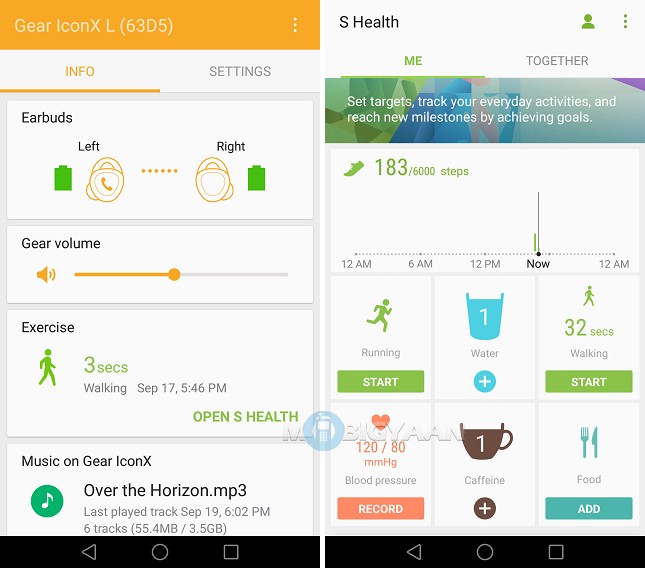 IconX can be controlled with the touch gestures. It works like this – Single tap plays or pauses the track, Double tap plays the next track, answer a call, or simply end a call. To go to the previous track, you just tap three times in a row. Upon tapping and holding, you can switch to internal storage for playing tracks. Moreover, it reads the menu options, and can decline a call. Swiping up or down will increase or reduce the volume respectively.
IconX further supports a voice menu i.e. the menu guides you for notifications such as upon receiving an email or a notification from an app, it reads the name of the app. You also have the option to select the voice the from 15 different languages.
A cool feature I like is the Ambient sound. This mode allows you to hear your surroundings no matter, your favorite track is playing behind. How does it work? It uses its 4 microphones to record the ambient noise in real-time and let you hear what is happening around you. The option can be selected from the settings.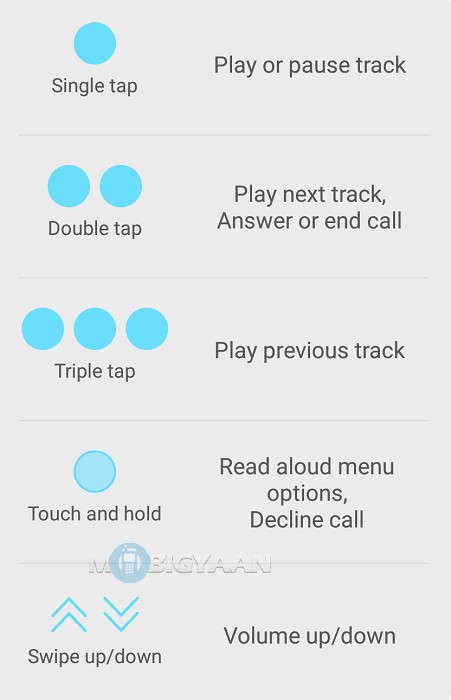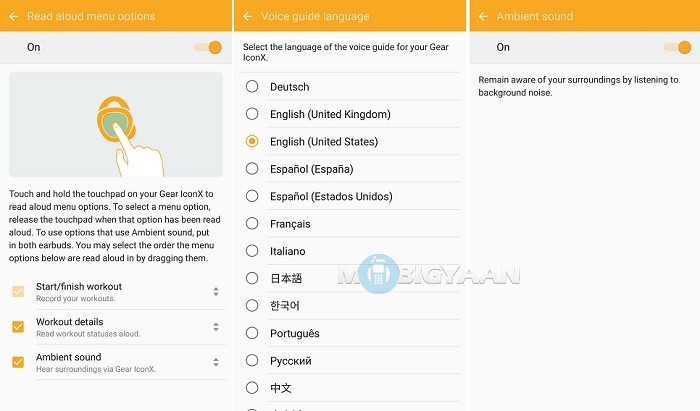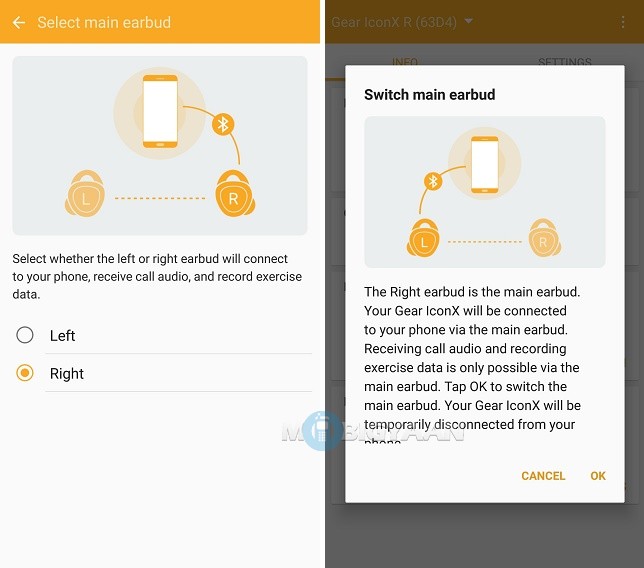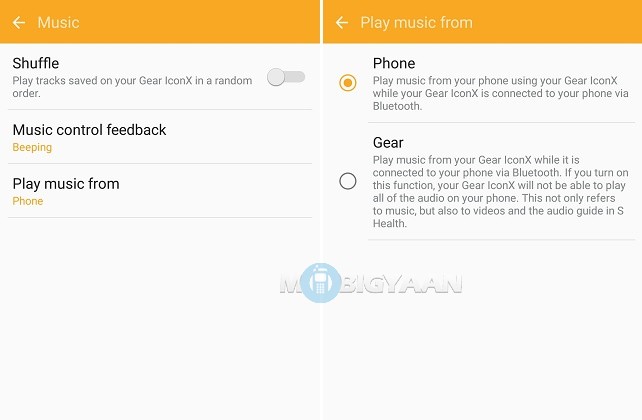 Battery Runtime and Charging
IconX comes with a portable chargeable carrying case that charges the wireless earbuds when placed inside. What's interesting is the case also works as a power bank, it can charge the earbuds without connecting it with a USB cable.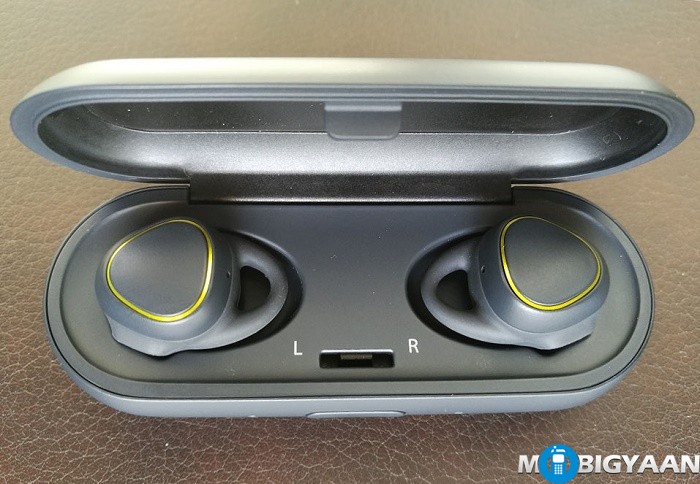 The biggest drawback to this fitness tracker earbuds is its battery. You'll only get around an hour and a half of battery life if you're playing music from your phone. If played from onboard storage, expect a battery life of three hours.
As you can see in the screenshot, I started playing music from the phone at 16:31, the battery went low in right earbud at 17:43 and I ended up charging the earbuds. The battery life is merely one and a half hours.
While charging, sometimes only one earbud turns green and another one is still red since both have their own batteries, it is justified. The Case can charge up to three times and the time it takes is less than an hour.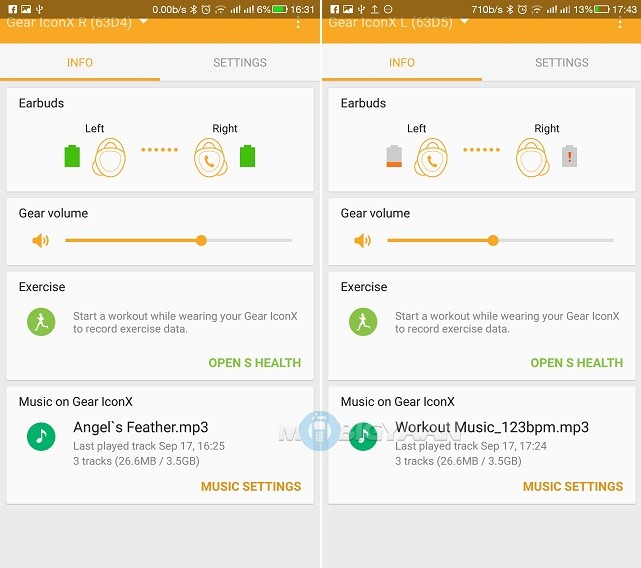 Verdict
Unlike any other fitness tracker, you won't feel that you are wearing a fitness band. It's like you just need a separate fitness tracker to fulfill the needs but all it makes is a bunch of wireless accessories around you and you end up carrying them charging their batteries. The difference with this fitness tracker earphones is it is worn in the ears and not on the wrist. The data IconX gathers can be seen in the Samsung S Health app. IconX works only on Android and isn't compatible with iOS or Windows Phone. Plus is that it feels warm in your ears.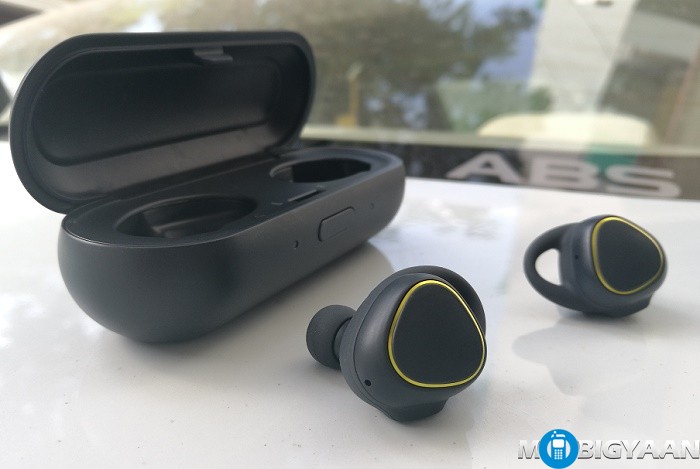 That said, all I can say is none of the wireless earphones available today you can buy under $199 or ₹13,490 price tag can track heart rate, steps count, and calories burned and other fitness activities all with dedicated earphones giving you a complete wire-free experience.
Strength
Highly Portable, Notably Light in weight
Splash Resistant
Standalone Music Player
Heart-rate sensor
Splendid Design
Weakness
Poor Battery Life
Tends to Heat on prolong use
No iOS and Windows Phone compatibility